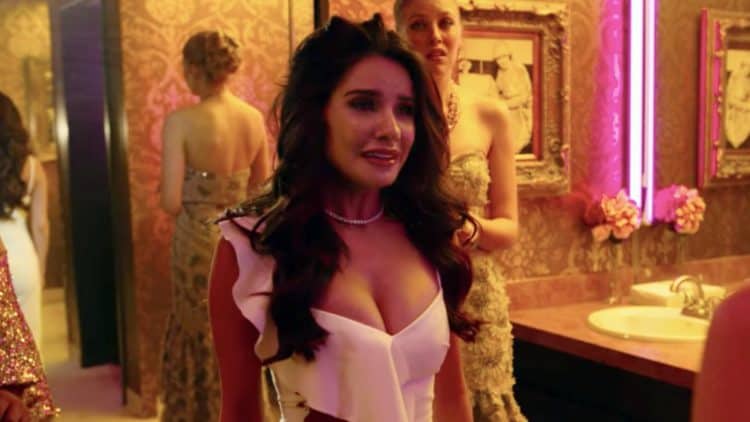 In almost a decade and a half, Mikaela Hoover has risen through the acting ranks to establish herself as a truly talented individual. During her career she has played a variety of different characters, and she has continually shown that no challenge is too big or too small. Although she has done several TV shows, her movie roles are what has gotten her the most attention. Most recently, she appeared in the romantic comedy Holidate which starred Emma Roberts and Luke Bracey. Additionally, she has some other projects in the works. She will be appearing in the upcoming DC comics film The Suicide Squad as well as the Keep reading to learn 10 things you didn't know about Mikaela Hoover.
1. She Always Loved Acting
Finding something to be passionate about is a lifelong journey for some people. Unfortunately, there are also lots of people who never find that thing. Mikaela was lucky enough to discover her passion for acting at a very early age and it didn't take long for her to realize that she was born to be a performer.
2. She Regularly Practices Yoga
Mikaela likes to stay active, but for her that doesn't always look like hitting the gym or doing intense cardio. Instead, she loves doing yoga and has been practicing for the last few years. For Mikaela, yoga is about more than the physical benefits, she also enjoys the mental and spiritual aspects as well.
3. She's A Small Town Girl At Heart
Mikaela has lived in Los Angeles for most of her adult life, but life in the big city isn't the only thing she knows. She was actually born and raised in a small town in Washington. No matter how much time she spends away from home, that town will always have a special place in her heart. Being from a small place taught her to appreciate the simplicity of life and she loves doing things like spending time outdoors and going camping.
4. She Is A Talented Dancer
Before Mikaela got involved with acting, dance was her thing. She started taking dance classes when she was just 2-years-old and she continued to dance throughout high school where she was captain of the dance team. Even though her organized dance days may be over, she still loves to dance for fun.
5. She Has A Degree In Theater
Mikaela has had quite a few roles in the horror and comedy genres which may have led some people to believe that she isn't a serious actress. That couldn't be further from the truth, however. Not only is Mikaela very serious about her graft, but she is a formally trained actress who earned a bachelor's degree in theater from Loyola Marymount University.
6. She Is Passionate About Raising Awareness For Down Syndrome
Using her platform to raise awareness to important issues has always been one of Mikaela's top priorities. She is especially passionate about spreading knowledge about Down Syndrome because of her cousin Bobby who was born with the disorder. She is currently a spokesperson for the non-profit organization Global Down Syndrome.
7. Her Parents Have Always Supported Her Dreams
Deciding to pursue a professional acting career isn't an easy decision for a lot of people because a career in the arts is often looked down upon. Since the chances of actually making it in the industry are very slim, most people are met with doubt from their loved ones. Luckily, that wasn't Mikaela's experience. Her parents have always been supportive and even encouraged her to study acting in college.
8. She Loves To Travel
Traveling is one thing that many people would do much more of is they had the time and money. Mikaela has been blessed to have both. She has done lots of traveling throughout the years. Some of the countries she's visited include St. Barths, Jamaica, and Spain.
9. She Is A Big Fan Of Scary Movies
Mikaela doesn't just like acting in scary things, she likes watching them as well. She told Sharp Magazine, "I love scary movies. Not the gross torture-porn horror movies; I don't condone them and I don't watch them. But a good psychological mind-f**k? I'm obsessed with those."
10. She Loves Doing Comedies
If Mikaela isn't trying to scare you, she's trying to make you laugh. During her interview with Sharp Magazine she said, "I love working in comedy. Especially because the people you get to work with are just so funny and so talented. There's this energy to comedy that's just so warm and happy."
Tell us what's wrong with this post? How could we improve it? :)
Let us improve this post!