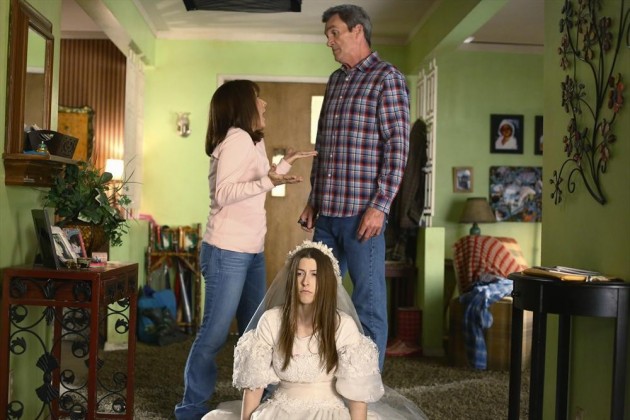 Ending last week's episode of The Middle with a cliffhanger proposal definitely made this a must-watch for even the casual viewer, I would hope. Sue's reaction, as well as the mixed emotions of her family when they eventually heard the big news, made for possibly the best episode yet this season.
It's still Valentine's Day when Sue is in complete shock over Darrin's proposal. She's unusually quiet and on edge at dinner, which is where her ring blows her cover. Right away, Mike is so angry and understandably so. Frankie doesn't agree with Sue accepting the proposal (or in her case saying a casual "sure"), but at least Frankie doesn't flip her lid completely, too. Someone has to stay somewhat sane in this family otherwise they'd be a wreck.
By giving Sue multiple chances to tell Darrin the truth, Frankie and Mike think they're helping her out. Every time, though, she always gets suckered into Darrin's surprisingly extensive wedding plans already. It takes a few tries until she can finally get the words out, and when she does, my heart broke for her. She truly does love Darrin but he's serious about being ready to settle down in the very near future. I only wish this break-up happened after her senior prom so she could've had at least one memorable night.
Obviouslym much of the episode centered on Sue and her answer, but I think the real MVP of the night was Axl. He volunteered his services to help Brick get over his social quirks by putting some of his Psych 101 knowledge to the test. At first, this seemed like typical dumb Axl, especially when he acted as Brick's therapist and asked him all about his freakish behaviors. Somehow he may have broken through and figured out the root of all Brick's problems: the lawn chair. Longtime fans will recall that Brick's chair at the kitchen table is a lawn chair because his parents were too lazy to ever buy a matching seat. We can laugh at it now just like we did back in Season 2, but the implication that Brick has never felt included in his own family is troubling. He doesn't seem to lack any self-confidence because he's such an independent thinker. It just makes you wonder what kind of a person he could have been if only his parents bought any normal sized chair after he was born, even if it didn't match the set completely.
Axl also really impressed me when he found out through Darrin about the proposal. Storming into the impromptu family meeting in Frankie and Mike's room, he flips out on everyone. More importantly, he recognizes that Sue cannot get married, and he balks at his parents for just idly sitting by as all this is going on. Simply put, Axl is speaking for all of us.
Within the last week it was announced that Charlie McDermott was cast as a lead in CBS' Super Clyde pilot. After The Middle this week, I can't help but ignore my gut feeling that this could very well be the final season. People always say it's better to go out on top, and it's true that the writers have really been firing on all four cylinders this season. If it's not intentional, then more props to them. The callbacks like Brick's lawn chair and reminder of Sue's double middle name are nice winks to the loyal audience who has been around since the beginning. I'm not sure that this quality and consistency of delivering top-notch episodes this late in the game could continue once Sue goes off to college. That runs the risk of fragmenting the family too much, and if "The Answer" proves anything, it's that the Hecks are at their best when they're together.
Notable quotables:
-"I have to do everything around here! I have to fix the sink. I have to fix the Brick. I have to fix the Sue." – Axl's frustrated but 100% appropriate reaction to his parents.
-"You are not getting married. You have too many dorky dreams to fulfill." – Axl looking out for his sister and paying her a rare compliment.
-"I just feel empowered, included. It's kind of life-changing." – Brick, after sitting on a regular chair.
What did you think about the episode? Do you agree with Sue's answer?
[Photo via ABC]