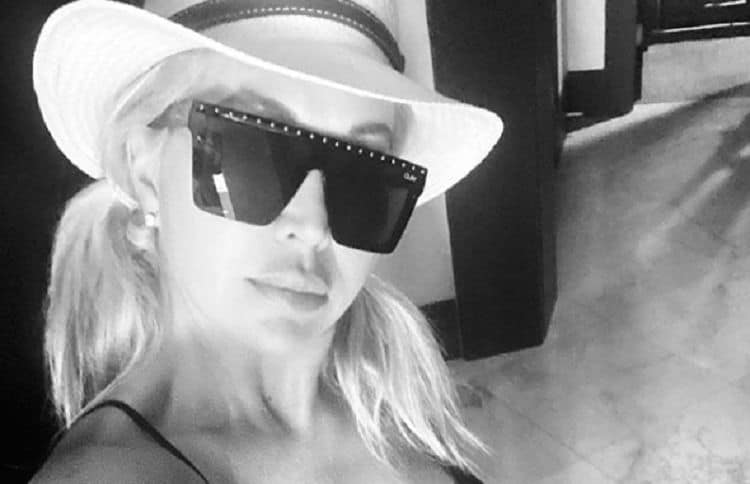 Being married to a famous person comes with a lot of perks, but it also comes with a lot of scrutiny. Michelle Damon has had to deal with a little bit of both during her marriage to former professional baseball player Johnny Damon. Reality TV fans will remember Michelle from that awkward moment on Below Deck where she was accused of wearing Spanx and decided that she wasn't going to allow someone to accuse her of such a thing, especially on TV. Despite all of the ups and downs that come with inadvertently being thrust in the spotlight, Michelle has enjoyed the ride. Continue reading for 10 things you didn't know about Michelle Damon.
1. She Enjoys Spending Time Outdoors
There's nothing better than going outside and enjoying a beautiful day, and this is something that Michelle Damon loves to do as often as she can. As a resident of Florida, Michelle is no stranger to bright and sunny weather and she enjoys doing things like going to the beach and hanging out by the pool.
2. She's The Co-Founder Of The Johnny Damon Foundation
Michelle isn't the kind of wife and mother who is content with just staying at home. She's also a business woman and the co-founder of The Johnny Damon Foundation. According to the organization's website, it's goal is "to raise and donate funds to charitable organizations. The Foundation assists local and national programs that provide leadership and growth opportunities for disadvantaged children at risk."
3. She Loves To Travel
One of the perks that comes with being married to someone who's rich and famous is the opportunity to do lots of traveling. This is something that Michelle has thoroughly enjoyed and she's gotten the chance to visit places all over the world. Some of the countries she's been to include Spain and France.
4. She Never Watched Below Deck Prior To Being On The Show
Below Deck is one of the most popular shows on Bravo, but Michelle hadn't tuned in until she was actually on the show herself. She told Decider, "we hadn't actually seen the show before. Of course, now we're big fans and have been watching it. One of my friends told me about it and then she sent an email, I showed it to Johnny and he was like, "Looks amazing!" The boat was amazing, the location was amazing."
5. She Loves Golf
Michelle may not have ever been a professional athlete like her husband, but she's got some athletic abilities. Michelle loves to play golf and, thanks to life in Florida, gets to play often. Not only does she golf for fun, but she has also participated in charity golf tournaments.
6. She Started Dating Johnny While He Was Still Legally Married
Michelle and Johnny tied the knot in 2004, just two years after his divorce to his first wife was finalized. For many years, Michelle and Johnny maintained that they did not begin their relationship until after his first marriage. However, in his book he revealed that he and Michelle did begin dating while he was still married. Both Michelle and Johnny still insist that his first marriage was already coming to an end when they met
7. She's From Missouri
Living the lifestyle of the rich and the famous probably wasn't something that Michelle ever imagined herself doing. She was born and raised in Missouri and met Johnny Damon at an event where she was working as a modeling recruiter. The rest is, as they say, history.
8. She Likes Giving Back To The Community
Helping other is something that has always been important to Michelle and she has used her platform to do just that. Over the years she has become a philanthropist and she has worked with several charitable organizations. She has a particular interest in organizations devoted to helping children.
9. She Was Afraid Of Having Children
Being a mother wasn't exactly at the top of Michelle's to-do list when she met Johnny. In fact, she was perfectly fine with being a step mother to his kids and not having any of her own. She once told Boston.com, "I'm chicken. I'm scared about it changing your life. I can pick up and go anywhere now."
10. She Didn't Know Who Johnny Was Prior To Meeting Him
Baseball fans are very familiar with the name Johnny Damon, but that may not be the case for people who are not big fans of the sport. With that being said, Michelle definitely noticed Johnny the first time she saw him in the early 2000s, but had no idea who he was.
Tell us what's wrong with this post? How could we improve it? :)
Let us improve this post!