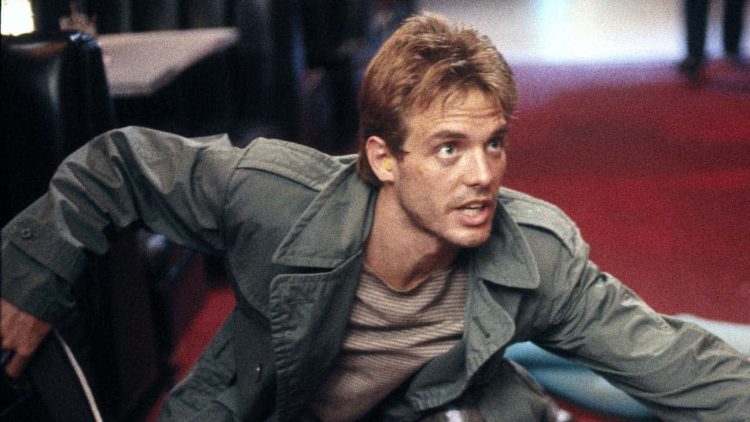 Some fans kind of shrugged off the whole idea of Bill Burr starring in an episode of The Mandalorian but a lot of people should be genuinely excited about scifi legend Michael Biehn signing on to be a part of the cast in season 2. Hopefully the second season of the show will release on time this year since fans have been waiting with baited anticipation for The Mandalorian to return following the finale of season 1. The image of Moff Gideon standing atop his ruined fighter craft with the Darksaber in hand and a resolute look on his face promised a great many things to come, but the knowledge that Biehn will be coming on board is even better, as it follows the news that Rosario Dawson will be giving rise to the first live action appearance of fan favorite Ahsoka Tano. The news that he'll be playing the part of a rival bounty hunter, as stated by Ryan Scott of MovieWeb, is even more welcome since there are likely a few roles that Biehn could play, but taking on the part of a grizzled old mercenary just sounds right to a lot of fans given the kind of work he's done on Aliens, The Terminator, and several other movies. Whoever is in charge of casting is definitely taking great pains to find some of the best names they can to keep the The Mandalorian as one of the top shows available to fans.
A big hope is that Biehn's character will be recurring and will see him last throughout the season, but then it kind of depends on if he and Mando are at odds with each other or if they're bound to work together towards a common goal. It would also be nice to see Cara Dune return as well at some point since Gina Carano was a fan favorite. Even Carl Weathers would be a welcome face, though it's too bad that such characters as Kuiil and IG-11 won't be coming back since they perished before and during the finale. It would be interesting to see Mayfeld, who was played by Bill Burr, and his return, as they have a score to settle with Mando and hopefully that arc won't be closed out without some sort of resolution. But considering that Ahsoka Tano is said to be making an appearance it's easy to think that Mando's world might be expanding a bit since with Ahsoka comes a slew of other characters that Favreau could likely write into the story if it's allowed. Paul Tassi of Forbes has more to offer on this point.
Michael Biehn has been a scifi fixture for years now and also an action star that a lot of people easily recognize whenever he's cast for a role. In a big way it would have been surprising had the show gone for anyone else to guest star but it would have likely been just as acceptable in many ways. Bringing him on though gives the show a little more oomph to it since he's been one of the action badasses of the past that doesn't always get enough credit but is always a solid presence and someone that is more than capable of standing in with just about anyone. After all, he starred in a movie with Arnold Schwarzenegger and came out as one of the most recognized characters that was actually lamented when it came to the fact that his character was going downhill with each new version. Plus, he starred alongside Sigourney Weaver, who became one of the baddest women in the movies when they were a part of the Aliens movie. Hicks might not have been the star of the flick but he was definitely someone that gained a good deal of attention for good reason. Bringing him into The Mandalorian at this point is a good call since it gives Mando yet another heavy hitter to deal with and to hopefully show in a positive manner, even if he ends up being the competition. In a big way though it's a hope that Biehn's character will be more of a help and a mentor of sorts to Mando, kind of like Greef Karga but in a very different capacity.
Given how the show has gone so far it wouldn't be too hard to think that Mando is going to be running into a Jedi or two eventually, apart from Ahsoka, since Baby Yoda, aka The Child, has become his responsibility. It'd be nice to see the Armorer again at some point, though whether she has any part in Mando's story at this time is kind of hard to say. Moff Gideon will definitely be around, but it's also likely that we'll see a few other characters as well as the story progresses. All in all, season 2 of The Mandalorian is already shaping up to be something that fans will hopefully enjoy just as much as the first.