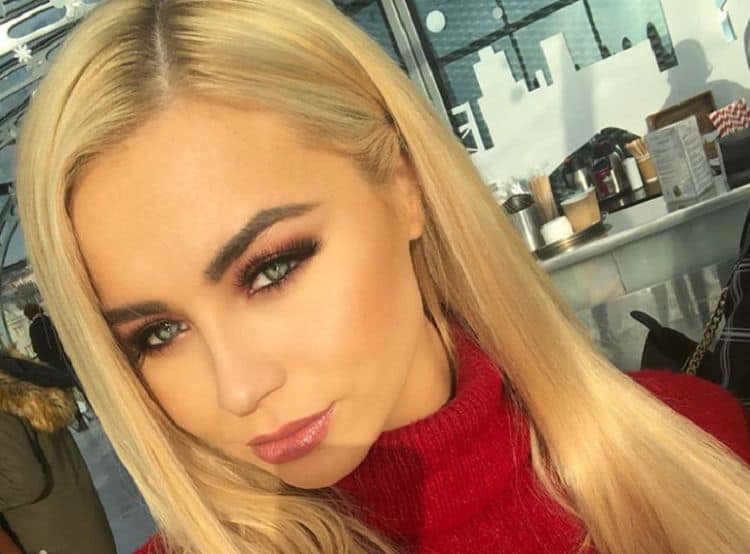 Melissa Reeves is a reality television personality who is best known for her appearance on the reality show "Ex on the Beach." Reeves has recently made the headlines in gossip columns as she gave birth to her baby, which drew a great deal of speculation about the father until she revealed his name recently. If you haven't been keeping up with the ongoing drama since she left the show, here are 10 things you didn't know about Melissa Reeves.
1. She was in several seasons of the show
Melissa Reeves first appeared on "Ex on the Beach UK" during season 2. She returned for another round of competitions for season 5 of the show. Reeves competed on three main events including Vendettas, Final Reckoning, and Total Madness. By the second time around he was a seasoned pro at it.
2. Melissa is a Liverpool native
Reeves' home town is Liverpool, England. She was born on April 27, 1993, and as of the Spring of 2020, she is 27 years old. Melissa spent years of her life in beauty pageant competitions so she is no stranger to engaging in heavy competition. She is a former pageant queen which tells us all that she knows how to win a title.
3. Melissa Reeves came back for Season 35 but left abruptly
Melissa made her first appearance on "The Challenge: Vendettas" She was friends with Kayleigh Morris until Morris hooked up with the guy she liked, instigating a bitter rivalry in a previous edition of "Ex on the Beach." For her return to "EOTB" paired her alongside Casillas in a hard-core competition for the million dollars, but her return was short-lived. She let the show without giving a specific explanation after she made it all the way to the finals of the show.
4. Announcement of her pregnancy started a slew of rumors
Reeves announced her pregnancy on January 18, 2020, and let the world know that she was pregnant. She further explained that her baby would arrive sometime in the summer of 2020. The news kicked off a flurry of rumors and speculations about who the father could be. The first suggestion was that it was Kyle's baby, but she confirmed that Christie from season 35 of the show was definitely not the baby's dad.
5. She left the competition because of the pregnancy
We learned that the real reason that Melissa Reeves left the 35th season of the "EOTB" competition is that she learned that she had become pregnant. It's unclear whether she conceived while at the Challenge House or if it was a few weeks before she settled in there. She kept this a secret for a long time after she made the announcement of the impending birth. Reeves even left a teaser on social media that informed everyone she planned to protect the privacy of her friends and we're assuming that it meant the father of her child.
6. She had a traumatic labor and delivery
When Melissa Reeves' baby was finally born it was under a very stressful labor process. She was in labor for three days before physicians made the decision to take the baby via C-section. It was an emergency procedure that had to be conducted because the labor was not progressing efficiently. Reeves had been induced three days prior to the date of the surgery that delivered a healthy baby girl that came in weighing a whopping 8 pounds and 11 ounces.
7. The Baby's daddy is Danny Simpson
In March of 2020, Melissa made a post that dropped a little bit of a hint that Danny Simpson could be the father of the child. Later she confirmed that he was in fact the dad. The couple had engaged in a brief relationship that didn't go anywhere that would lead to a more permanent arrangement. They discontinued the relationship and remain just friends, but connected by their daughter together.
8. Melissa's Ex has a record
Simpson, the father of Reeves' new daughter, is a professional footballer who played in the Premier League in 2016. The 33-year-old player was accused of throttling the mother of his first child Skye, who is now 8 years old. Although he denied having committed the violent act, the courts found him guilty of the allegations and he was found guilty of the crime against Stephanie Ward. ​​​​​​He was arrested prior to the court hearing when neighbors reported hearing a row in the house that the two were living. He was taken into custody at the time and now has an arrest report for domestic violence and a conviction on his record.
9. Melissa Reeves is a DJ
We also learned that Melissa is a DJ by trade. This is how she earned her living prior to appearing on the EOTB franchise. We're not sure if she is still working in the profession because when we visited her Instagram page, she did list the activity in her address, but it's not something that she mentions beyond that.
10. You can follow her on Instagram
If you'd like to keep up on what's currently trending in Melissa Reeve's life, her Instagram page is a great resource. So far she has 154,000 followers on the site. There have been a whopping 1.522 posts made and there are some amazing photos of Melissa, her new baby, and some that chronicle important events in her life. She also provides some great links to clips of her Tiktok, her challenges, and a few other great links. We can tell that for right now, her entire world is centered around her new baby daughter and we've also heard that although she and Simpson are no longer in a relationship, he is standing by her as the father of the child, but she doesn't ask for any financial support.
Tell us what's wrong with this post? How could we improve it? :)
Let us improve this post!