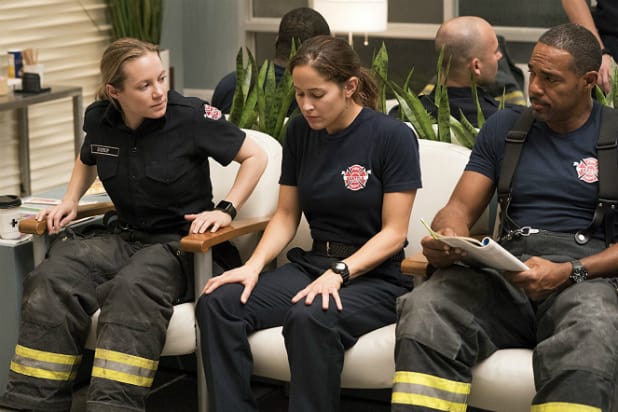 Station 19 is pretty much what you would expect from a drama concerning firefighters and it's based in the Seattle, Washington area. These kind of shows don't always have a long life but those that manage to reach the audience on a level that is far more than just entertainment do tend to stick around for a while. With these articles it seems that we're almost always asking where the cast is now that the show is over, but this time it's great to report that Station 19 was renewed for a third season and will be starting up again in another day. The cast aren't entirely unknown since they've all had experience elsewhere, but it might be fair to say that they've kind of jumped in and out of shows and other productions without gaining any huge amount of recognition. Of course now that might all change given that the show is proving to be something that people like.
So let's meet some of the cast members.
Barrett Doss
Having started her career in 2013 Barrett does have quite a few credits to her name at this time but her resume is still expanding as she continues onward. In fact she was even seen in the Broadway version of Groundhog Day, a very loved film and one that has been kind of buried throughout the years until someone decides to dig it up and play it. She has also showed up in the Netflix show Iron Fist prior to joining the cast of Station 19.
Grey has had an interesting career so far. He's been in a large number of TV shows and even a few movies, and he's even been on American Horror Story for a brief stint. Hollywood seems filled to the brim with actors that have the looks and the talent or at least one of the two and it tends to take a lot to really break out and be noticed these days, especially since even doing that doesn't guarantee one's continued fame. But he's still plugging along and has the career to prove it.
Jason Winston George
His career started back in the late 90s so it's almost enough to call him a veteran of the big and small screens, though it's also enough to say that a lot of people still don't know who he is despite the fact that he's been around so long and has done a few things with his career. "Old reliable" should be a term that gets coined for a lot of actors that do their part and able to show up and act convincingly since there seem to be so many of them.
Brenda Song
One big thing that Brenda Song has going for her, aside from her movie career, is the level of interest she's drawn from dating Macaulay Culkin. It almost seems as though things have gotten pretty serious and that the two are considering moving forward. In terms of her career however she's already done quite a bit and is a proven actress, so Station 19 seems like a fine resting place for the time being as she continues to build on her reputation.
Danielle Savre
It's not too often that a person would think that a TV show appearance would be an upgrade to film, but in this case since Danielle did manage to land a role in the cringe-worthy Deep Blue Sea 2, which was essentially just like the first movie and failed to garner any more support than it's predecessor, Station 19 is a HUGE upgrade since it will keep her on as a character that people can actually admit to liking.
Jaina Lee Ortiz
In terms of TV and movie credits Jaina really hasn't got a lot on her resume, but when you look at what she's done and how long she's stuck around certain shows then you can rest easier thinking that she's one of the main characters of Station 19. She has the kind of staying power that is great to see in any actor since it means that she'll be into a show for the long haul so long as she sees it as a great way to continue her career.
With so many dramas such as this one on TV it's kind of difficult at times to really pick and choose which ones you want to see make it and which ones need to go back to the drawing board. The thought that some of them do get to continue on however is usually enough to think that enough people liked them that the producers are willing to keep taking the chance and hope that the ratings remain stable or continue to climb. One can only hope that such shows will manage to keep the audience they have and build on it as the years go by.
Tell us what's wrong with this post? How could we improve it? :)
Let us improve this post!