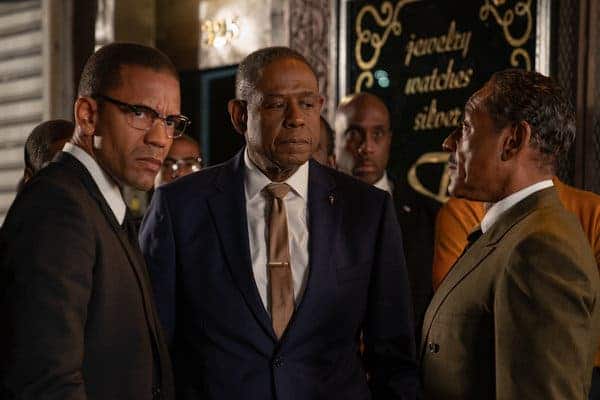 If you enjoy crime dramas, then 'Godfather of Harlem' is one to watch. This series premiered on Epix on September 29, 2019. The series was written by Paul Eckstein and Chris Brancato. The latter is also acting as the showrunner. 'Godfather of Harlem' is based on the true story of Bumpy Johnson, an infamous crime boss. When Johnson was released from prison after serving a 10-year sentence in the 1920s, his neighborhood has become a shambles and has been taken over by the Italian mob. This means he must take on the Genovese family if he wants to regain control of the area. During this time, he develops an alliance with Malcolm X, a radical preacher. Much of the story revolves around social upheaval, political rise, and mob wars. Here is your chance to meet the cast of 'Godfather of Harlem.'
Forest Whitaker
Not only does Forest Whitaker play the lead role of Bumpy Johnson, but he also acts as one of the executive producers of the series. Whitaker is an actor, producer, and director, who is originally from Teas. He has earned a reputation for his intensive character work in films. Some of the films for which he is famous include 'Ghost Dog: Th Way of the Samurai', 'Bird', 'Platoon', 'The Crying Game', 'Arrival', 'The Great Debaters', and 'The Butler'. He has also played Zuri in 'Black Panther' and Saw Gerrera in 'Rogue One: A Star Wars Story'. His most successful role was probably playing the Ugandan dictator Idi Amin in the 2016 film 'The Last King of Scotland'. For his portrayal of this role, he won a BAFTA Awards, an Academy Award, a Screen Actors Guild Award, and a National Board of Review Award. Whitaker met actress Keisha Nash on the set of 'Blown Away' and they married in 1996. He already had a son, Ocean Alexander, from a previous relationship. Similarly, Nash has a daughter, Autumn, from a previous relationship. Together, they had two daughters, Sonnet and True. They divorced in 2018.
Ilfenesh Hadera
In 'Godfather of Harlem', Ilfenesh Hadera plays the role of Mayme Johnson, Bumpy's wife. This film and television actress is best known for portraying Opal Gilstrap in the Netflix series 'She's Gotta Have It'. She made her film debut in the film '1/20′ and has since co-starred in the 2017 film 'Baywatch'. Hadera has also played Kay Daniels in the series 'Deception' and had a recurring role in 'Billions'.
Antoinette Crowe-Legacy
Bumpy's heroin addict daughter Elise Johnson is played by Antoinette Crowe-Legacy. Prior to playing this role in 'Godfather of Harlem', she has had roles in the 2019 series 'Inpatient' and the 2018 short film 'Expectations.
Nigel Thatch
Thatch plays the role of Malcolm X, who is a leader of the Nation of Islam and a friend of Bumpy's. This actor comes from St. Louis, Missouri, and he is known for his roles in 'Valour', 'Selma', and 'American Dreams'. He also starred in Budweiser adverts. Prior to becoming an actor, Thatch was a professional baseball player in the minor league.
Vincent D'Onofrio
This actor plays the role of Vincent 'The Chin' Gigante. Vincent D'Onofrio is an actor, singer, director, and producer. He has had multiple supporting roles in both film and television. He won a Saturn Award for his supporting role in 'Men in Black'. He has also had roles in films and television series including 'Law & Order', 'Full Metal Jacket', 'Daredevil', and 'Jurassic World. D'Onofrio was in a long-term relationship with actress Greta Scacchi, with whom he has a daughter, Leila. He then married model Carin van der Donk in 1997. They had one son before they separated. When they reconciled, they had a second son
Lucy Fry
Vincent's daughter Stella is played by Lucy Fry. This Australian actress has worked in the television and film industries since 2007. She is known for her roles in 'Lightning Point', 'Mako: Island of Secrets', and '11.22.63'. She also had a role in the film 'Vampire Academies', played the lead in the 2016 horror series 'Wolf Creek', and appeared in the Netflix film 'Bright'. She has also worked as a model after being a runner-up in Girlfriend Magazine's Model Search.
Kelvin Harrison Jr.
Kelvin Harrison Jr. was born in New Orleans on July 23, 1994. He is an actor and director who has had roles in 'Luce', 'It Comes at Night', and 'Monsters and Men'. In 'Godfather of Harlem', he is playing an aspiring musician called Teddy Greene who is also Stella's boyfriend.
Rafi Gavron
Gavron plays the role of Ernie Nunzi, who is a violent associate of Vincent's. Rafi Gavron is an English-American actor who was born in Hendon, London. He has been an actor since 2006, and he has had roles in 'Breaking and Entering'. 'The Cold Light of Day', 'A Star is Born', 'Nick & Norah's Infinite Playlist', 'Snitch', and 'Inkheart'. He comes from a famous family. His grandfather was Robert Gavron, a British printing millionaire, and Labour Life Peer, and his great-grandfather was writer Tosco R. Fyvel. Director Sarah Gavron is his father's half-sister.
Giancarlo Esposito
The character Adam Clayton Powell Jr. is portrayed by actor and director Giancarlo Esposito, who was born in Copenhagen, Denmark. However, he is of Italian ancestry and now lives in the United States. Esposito won several awards for his portrayal of Gustavo 'Gus' Fring in 'Breaking Bad' and 'Better Call Saul'. He has appeared in several Spike Lee films, including 'Mo' Better Blues', 'School Daze', and 'Do the Right Thing'. The feature films in which he has appeared include 'Harley Davidson and the Marlboro Man', 'Fresh', 'King of New York', and 'The Usual Suspects'. In television, he has had roles in 'Once Upon a Time', 'The Get Down', and 'Dear White People'. Esposito is set to take on a role in the upcoming live-action Star Wars series 'The Mandalorian'. He was married to Joy McManigal from 1995 to 2015 and he has four children.
Tell us what's wrong with this post? How could we improve it? :)
Let us improve this post!