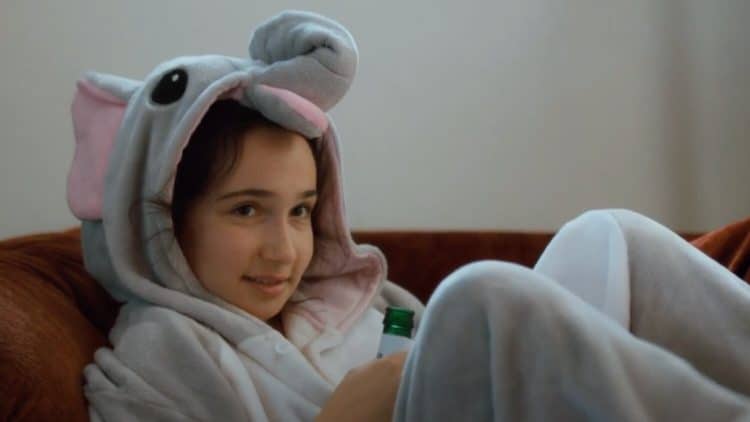 From the moment Matreya Scarrwener entered the entertainment industry, it was clear that there was something special about her. Over the years, she has continued to show the world that that special feeling was much more than just a fluke. The talented young actress has already built a very impressive resume, and she has plenty more where that came from. Many people will recognize her from her role in shows like Ties that Bind and Once Upon a Time. She has also worked her magic on the big screen and she has some movie roles in the pipeline that are sure to continue to solidify her place in the industry. Here are 10 things you didn't know about Matreya Scarrwener.
1. She Comes From A Creative Family
Even before Matreya started acting, she was always around the arts. Both of her parents spent years being heavily involved in the theater scene in Vancouver. Her father was a director and her mother was an actress. Despite being exposed to acting at a very early age, Matreya didn't develop an interest in doing it herself until she was about 14-years-old.
2. She's Also A Casting Director
Acting is clearly Matreya's main focus but it isn't the only thing she does. Matreya's IMDB page reports that she has also worked as a casting director on a few projects. At some point in her career, she may try her hand at some other behind-the-scenes aspects of the process.
3. She Booked a Job After Her First Audition
Typically, the process of landing an acting job can be long and grueling. Some people spend years interviewing before something legitimate comes along. Fortunately for Matreya, that wasn't her experience. She landed the first role she auditioned for which was a TV show called R.L. Stine's The Haunting Hour.
4. She Loves Nature
After spending a long day indoors, there's no better feeling than getting out and taking a deep breath of fresh air. This is something that Matreya would probably agree with. She spends a lot of time outside and she has lots of love and appreciation for the beauty of nature. She enjoys everything from swimming to hiking.
5. She's A Proud Aunt
Family is something that has always been important to Matreya, and now she's passing that down to the next generation. Although she doesn't have any children of her own, she is a very proud aunt. Since her nephew is less than a year old, however, he has no idea that Matreya is the cool aunt.
6. She Never Attended Acting School
Acting school is a great way for actors to hone their skills, but Matreya's success is proof that it isn't always necessary. Although she took a couple of local acting classes when she was younger, she has never received a formal acting education. During an interview with My Devotional Thoughts, Matreya said, " It's really interesting to see the different perspectives that different acting teachers can have. You can learn a lot. But I say my training was when I started acting, I did a lot of community theater and student films. I think that is a really, really good way for actors to train because what better way to learn than to be immersed in it?"
7. She Loves To Cook
Cooking is an interesting thing because everybody needs to eat, but there are a lot of people who don't like spending time in the kitchen. During the COVID-19 pandemic, Matreya found herself with a little extra time on her hands, and she decided to spend it cooking. Turns out, she's got some serious skills.
8. She Has a Boyfriend
On top of finding lots of success on the professional front, things have also worked out nicely in Matreya's personal life. Matreya is in a relationship with actor Harrison Houde. Harrison has also had a successful acting career and one of his most noteworthy credits is the 2010 film, Diary of a Wimpy Kid.
9. She Wants To Go To College Some Day
Since her acting career took off at such an early age, Matreya's school experience was a little unorthodox. After high school, she decided to continue acting instead of following the more traditional path and going to college. That doesn't mean that higher education is completely off the table for her, though. She told My Devotional Thoughts that she would love to go to college someday.
10. She's Already Won Awards
Winning awards in the entertainment industry isn't an easy thing to do. There are plenty of very talented people who will go their entire careers without winning anything. That said, Matreya is very thankful that she's already had her hard work recognized. She is the recipient of two Joey Awards as well as a Leo Award.