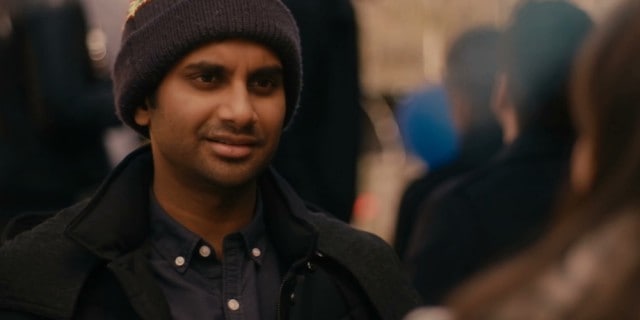 When I initially heard about Master of None and that it was starring Aziz Ansari, I immediately thought we would be getting something close to Parks and Rec's Tom Haverford in a leading role. While you'll always receive a little bit of Tom in Ansari's delivery, Master of None tones down the usual high energy that he brings to the table and shows off his writing skills and ability to create realistic ideas that will make us laugh while punching us straight in the heart at the same time. Plenty of shows on television right now are both well-written and entertaining, but they can lack an ability to make the conflicts truly relatable. Master of None accomplishes that with no problems at all.
Whether it's relationships, career paths or battling adversity, Master of None manages to spread itself pretty wide on topics that are all too familiar to us viewers. The season opens up with "Plan B," an episode that immediately places both men and women in the modernly familiar spot of having to pick up a morning after pill just in case. It's these types of situations that we can relate to, whether we've personally experienced them or not, but regardless, they are all too familiar.
Although Master of None is going to bring a lot of comedy to the table, that doesn't mean it won't address interesting or deeper topics. In "Plan B," we see a great opening that provides plenty of laughs, but for someone Dev's age, it really causes him to stop and think about what it might be like if he had kids of his own. As we travel throughout the episode, Dev realizes that most of his friends are starting to have children or already have them. Master of None portrays Dev's inner conflict about being a parent really well; the series presents it along the same lines of when you learn the make and model names of a car and begin to feel like you see it everywhere all of a sudden, when really you're just more aware of it.
"Plan B" shows that Dev clearly isn't ready to have children. When he attends the birthday party of one of his friend's kids, it initially seems like a wonderful experience being a parent; Master of None incorporates the classic lines that new parents toss around, such as "I looked at this thing I created," or their reactions to seeing their baby smile at them. While there is no doubt in my mind that these moments are extremely important to parents, Master of None brings us back down to Earth when Dev talks to his friend alone, away from the party, where he reveals how tough his life truly is.
What I love about this episode is that it fairly assesses the positives and negatives of having a family and being a parent. On one hand, it's rewarding to watch your offspring grow up and learn about the world; however, on the other hand, you're also going to have to give up a whole part of your life for a child. We witness Dev daydream about how his life might be as a parent; sometimes it's good while other times it's utter chaos. We even get to see Dev play parent for a day when watching Amanda's kids, where he quickly becomes overwhelmed by their trouble-making behavior.
Dev feels like he did a horrible parenting job despite being told he did fine, but in the end, he really isn't prepared to have kids. He spends an entire day bonding with Amanda's children, and they showing their appreciation and approval for Dev with a very gross-looking peanut butter, lettuce, and ketchup sandwich; however, he turns it down for the delicious chicken parm. In the end, Dev feels no full attachment to the time he spent with the kids. Parents make sacrifices to inspire their children and make them happy, which is exactly what Amanda does by eating the disgusting sandwich, but is something that Dev just clearly isn't ready for right now.
Master of None really came out of the gate strong with "Plan B." I thought that the writing was extremely solid, and the directing was great as well. The episode definitely has an introductory feel to it, so I'm hoping to see things pick up a little bit once it settles in more. The situations that Dev experiences feel extremely real and relatable; I felt that his thought process and response to everything was very honest for someone around his age encountering the idea of being a parent, which gives me high hopes for Master of None going forward!
Other thoughts:
The UberX or Uber Black joke was amazing, especially followed up with Dev getting excited when the drug store has Martinelli's apple juice.
"Highlight of my year was when I crashed Zachary Quinto's Halloween party."
[Photo via Netflix]
Tell us what's wrong with this post? How could we improve it? :)
Let us improve this post!