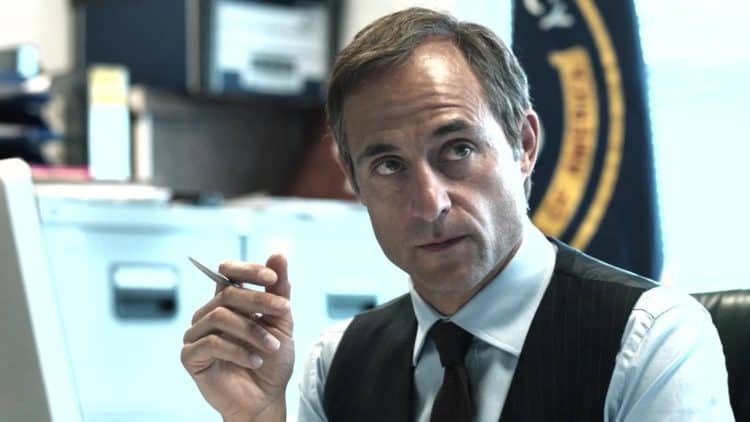 There are lots of actors who spend their entire careers playing different versions of the same character, but not Mark Strong. During his time in the industry he has proven that he is capable of portraying a wide variety of characters. Essentially, there is no challenge too big or to small for Mark. From the big screen to the small screen, Mark has become popular for several roles. In fact, at this point in his career you may have seen him in so many things that you've lost track. What makes it even better though, is the fact that he's nowhere near finished yet. He has a role in the upcoming film Cruella which is set to be released in 2021. Keep reading for 10 things you didn't know about Mark Strong.
1. His Name Wasn't Always Mark Strong
He may be known to the world as Mark Strong, but that isn't the name he was given as birth. Mark was born Marco Giuseppe Salussolia. While some may think he came up with Mark Strong as a stage name, that isn't the case. His mother legally changed his name to Mark Strong when he was a child so that he would fit in better in England.
2. Alain Delon Inspired Him To Get Into Acting
Almost every actor has at least one person who has been instrumental in inspiring them to get into acting. For mark strong, that person is French actor, Alain Delon. Mark loved watching Alain's movies when he was a kid even though Mark doesn't speak French.
3. He Originally Planned On Becoming A Lawyer
Despite developing an interest in acting at a young age, Mark wasn't always planning on becoming one himself. Instead, his focus was on the legal field. He attended Munich University where he studied constitutional law with the hopes of becoming a lawyer. he told The Guardian, "I had fantasies of being a European lawyer, but I quickly realised I probably just had fantasies of wearing a raincoat and carrying a briefcase and driving a BMW. I thought that would be cool. But the study of law is so dry, especially constitutional law in German."
4. He Has Over 100 Acting Credits
Mark's career so far has been nothing short of impressive. He made his on screen debut more than 30 years ago and he has been fortunate to be working consistently ever since. He already has over 100 acting credits on his resume and there's no doubt that list is only going to grow.
5. He's A Family Man
Even though Mark has devoted a lot of time and effort to his work, that hasn't stopped him from also dedicating a lot of time to his loved ones. He is a devoted family man. He is happily married to film producer Liza Marshall and the couple has two children together.
6. He Loves Staying Active
Keeping himself looking and feeling good have always been important to Mark, and he knows that living a healthy lifestyle is the best way to do that. Now in his late 50s, Mark is still very adamant about staying active and taking good care of himself both mentally and physically.
7. He's Good Friends With Daniel Craig
Being an actor has been a rewarding experience for Mark in more ways than one. On top of giving him success on the professional front, it's also introduced him to some great people. Mark has been good friends with fellow actor Daniel Craig for many years. In fact, Daniel is the godfather of one of Mark's children.
8. He's Been In Video Games
On top of his TV and film roles, Mark has also had a successful career as a voice actor. He has voiced characters in several video games including Battlefield V and Squadron 42. Mark has also voiced Ordin in the animated series The Dark Crystal: Age of Resistance.
9. He's Serious About His Privacy
Fame may seem like the coolest thing in the world, but Mark wouldn't agree. During his interview with The Guardian Mark said, "Over the years I've been doing it I've seen people I know very well become extremely famous and there is nothing about it that I would recommend. I can't imagine anything worse than being in a position that you're not allowed to live your life privately."
10. He's A Soccer Fan
There's no information to suggest that Mark has ever played competitive sports, but that hasn't stopped him from loving them. As someone who was born and raised in London it's only right that Mark be a soccer fan. His favorite team is the London based Arsenal F.C.