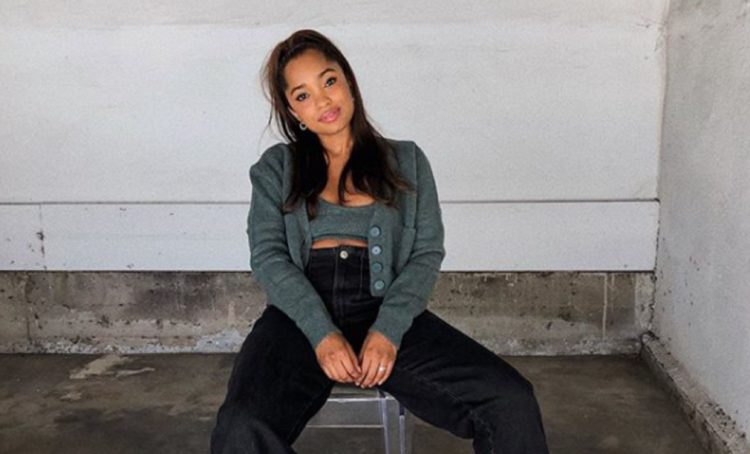 There are so many people working every day in Hollywood, but it's the Brad Pitts and Jennifer Aniston's of the world we hear about all the time. What they ate for breakfast, if someone gained 7 ounces this week, or if they have a new gray hair or wore jeans instead of slacks. Sure, we all love that, but it's the Mariah Robinson's of the world we want to hear more about. Why? Well, she's not nearly as famous as they are, but she's making some serious waves. She's starring in a new Lifetime movie "Cheer Camp Killer," along with some other brand-new faces, and we've been getting to know them all. What's she like? Who is she? Let's find out.
1. She's Not A New Actress
She's worked for a long time, and she's worked on our favorite kinds of movies. The Christmas kind. She's been in movies like "Our Dream Christmas," in 2017, but it's 2020 that's been a big year for her. She's worked on three new films this year alone, and that works out well for her. She's going to be a star before this year is over.
2. She's a YouTube Star
She's got more than 4,000 people following her on YouTube. She loves to film herself sharing her own secrets about beauty and lifestyle and things of that nature, and she's very good at it. People love her, and we can see why. She's vivacious and interesting, and she's articulate and she's aware of what she's talking about. She's not just another girl with a camera and nothing to say.
3. She's a College Grad
Mariah Robinson knew she wanted to go to college. She knew she wanted a degree, and she wanted to do big things in her life. We know she went to college and got herself a degree, and she made that dream come true at the University of Southern California. We suppose it doesn't really matter that much, but we love that she is excited about being a new grad and trying new things in her life.
4. She's A Fashionista
She's a fashionista. She calls herself self-proclaimed, but that's good enough for us. Fashion has no rules. You make your own rules, you do your own thing, and you live your own life. It's a beautiful situation. She's one of those women who just loves to dress up and to find some excitement in what she's wearing, and we love that for her and about her.
5. She's From Texas
We don't know where in Texas, but she's a girl from the Lone Star state, and she is proud of it. She was born there. She was raised there, and we have a feeling that she's always going to consider Texas her home.
6. She's a Dog Lover
We know this because she has photos of herself with dogs on her Instagram page. We love dogs. We love people who love dogs. She's automatically in our good graces with that small fact. Dog lovers are the best of the best, and we aren't mad about that.
7. She's All About Balance
She's got a great sense of humor, and that's another thing we love about her. She posted a photo of herself drinking diet coke out of a wine glass, and she said she worked out for the first time in 3 weeks. It's balance, and we get that. We feel that, and we are all about that.
8. She's Private
She is not a woman who likes to give too much away. She keeps her private life to herself. She keeps her feelings to herself. She keeps things light and airy, and she shares just what she needs to share with the world. Everything else is up to the imagination.
9. She's Married
She is a married woman, and she's very happy about it. She's married to a man whose name is Joey, and he adores her if you take a look at his Instagram page. They were married in 2019, and it seems like they had the most wonderful wedding imaginable. The photos her groom shared online are lovely.
10. She Loves the Ocean
I knew when I began reading about her life that Mariah Robinson and I could be friends, and this only solidifies that theory. She loves the ocean. Looking at it. Being near it. Seeing it. Hearing it. But she's not touching it. That's my life. A lifelong Floridian….and I won't go into the ocean. She's got an irrational fear of it (I just hate the sticky saltwater touching me….and the things I cannot see in the water), and she's basically so many people with this thought.