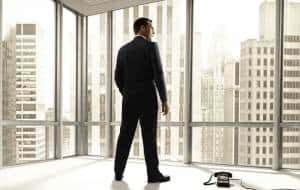 For a long time, Mad Men was a show that everyone told me to watch but I never seemed to be able to. Well, that is, until I bought season one on DVD and spent an entire weekend watching it. Now it's undoubtedly one of my favorite shows on television; now I'm the one telling other people to watch. In fact, if you haven't watched Mad Men yet, consider this me telling you to watch. That's not a big request, considering that AMC has announced that they'll be airing every episode of Mad Men on marathon starting tomorrow and leading up to the season 5 premiere.
Every Sunday, starting November 27 at 6am ET, AMC will be playing every episode of Mad Men. Of course, they don't expect you to get up at 6am and watch it then, but if you've been looking to fill your DVR over the holiday season, this is certainly a brilliant starting place.
Mad Men, for those who don't know, tells the story of Don Draper (Jon Hamm), an ad man who lives in 1960s New York and is considered a genius of the business. But Draper, despite his great career, has a dark past that's just starting to seep through the perfectly constructed new life he has created. The show also stars January Jones as Don's wife Betty, Elisabeth Moss as eager new secretary Peggy Olson, John Slattery as Don's employer/friend Roger Sterling, Christina Hendricks as office manager Joan Holloway, and Vincent Kartheiser as the ambitious young employee Pete Campbell.
Mad Men wrapped up its fourth season last October, and after a long and protracted negotiation between creator Matt Weiner and AMC, the show was renewed for a final three seasons, to end on its seventh.
Mad Men season 5, which began production back in August, will premiere sometime in March 2012.