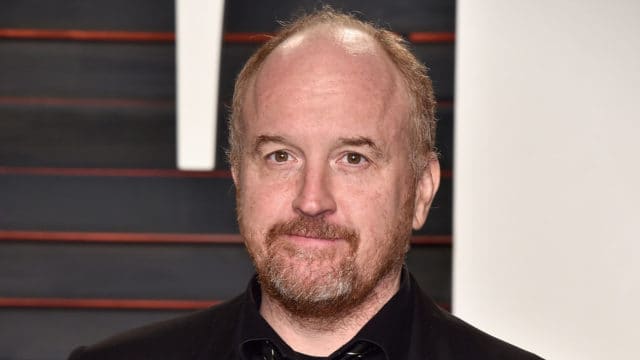 After Harvey Weinstein and Kevin Spacey, Louis C.K. became the latest man in Hollywood accused of sexual misconduct. The New York Times published an expose which revealed the accounts of five women who experienced sexual misconducts from C.K.
According to the report, in 2002, comedy duo, Dana Min Goodman and Julia Wolov, were invited by C.K. to hang out in his hotel room for a nightcap after their late-night show, they did not think twice. The bars were closed and they wanted to celebrate. He was a comedian they admired. As soon as they sat down in his room, still wrapped in their winter jackets and hats, C.K. asked if he could take out his penis, the women said. "He proceeded to take all of his clothes off, and get completely naked, and started masturbating," said Goodman in the interview. Wolov also said, "I think the line gets crossed when you take all your clothes off and start masturbating."
In 2003, Abby Schachner called C.K. to invite him to one of her shows, and during the phone conversation, she said, she could hear him masturbating as they spoke. Another comedian, Rebecca Corry, said that while she was appearing with C.K. on a television pilot in 2005, he asked if he could masturbate in front of her. She declined.
A fifth woman, who spoke on condition of anonymity to protect her family's privacy because she has not been publicly linked to the incident with C.K., also has disturbing memories about an incident with the comedian. In the late '90s, she was working in production at The Chris Rock Show when C.K., a writer and producer there, repeatedly asked her to watch him masturbate, she said. She was in her early 20s and went along with his request, but later questioned his behavior.
"It was something that I knew was wrong," said the woman, who described sitting in C.K.'s office while he masturbated in his desk chair during a workday, other colleagues just outside the door. "I think the big piece of why I said yes was because of the culture," she continued. "He abused his power." A co-worker at The Chris Rock Show, who also wished to remain anonymous, confirmed that the woman told him about the experience soon after it happened.
After the incidents that these women have been experienced, they were advised to not report it to the police. Dave Becky, C.K.'s manager, was upset that the women were talking openly about the incident. But, Becky denied making any threats toward the women. "I don't recall the exact specifics of the conversation, but know I never threatened anyone," he wrote by email to The New York Times. In 2009, six years after the phone call, Schachner received a message from C.K. on Facebook in which he apologized for his behavior. She accepted the apology but the original interaction left her deeply dispirited since it was one of the things that discouraged her from pursuing comedy.
Corry also received an email from C.K. back in 2015 saying that he owed her a "very very very late apology." When he phoned her, he said he was sorry for shoving her in a bathroom. Corry replied that he had never done that, but had instead asked to masturbate in front of her. Responding in a shaky voice, he acknowledged it and said, "I used to misread people back then," she recalled. The call confounded her, Corry said: not only had he misremembered the incident, which made her think there were other moments of misconduct, he also implied she had done something to invite his behavior. "It is unfair he's put me or anyone else in this position," Corry said.
There have been rumors for a long time about C.K.'s sexual misconducts but it was overshadowed by his achievements lately in his career. He created, starred, written, and directed the Emmy-winning series Louie and sleeper hit Horace and Pete. He is the co-creator and executive producer of Better Things and Baskets on FX. He is also the executive producer of the Amazon series One Mississippi. He has appeared on films like Blue Jasmine, American Hustle, Trumbo, and The Secret Life of Pets. Recently, he directed, starred, and co-write the film I Love You, Daddy.
Tig Notaro, the star of One Mississippi, has publicly spoke out against C.K. Her career received a huge boost when he released her 2012 comedy album, about her cancer diagnosis. But their relationship has crumbled and she now feels "trapped" by her association with him, she wrote in an email to The New York Times. Her fear is that "he released my album to cover his tracks," she said. "He knew it was going to make him look like a good guy, supporting a woman." Notaro said she learned of his reputation after they sold the series to Amazon, and a recent story line is a fictional treatment of the alleged masturbation episodes.
FX Networks has issued a statement regarding the C.K. sexual misconduct allegations: "We are obviously very troubled by the allegations about Louis C.K. published in The New York Times today. The network has received no allegations of misconduct by Louis C.K. related to any of our 5 shows produced together over the past 8 years. FX Networks and FXP take all necessary actions to protect our employees and thoroughly investigate any allegations of misconduct within our workplace. That said, the matter is currently under review."
Before the article was published, the red carpet premiere of I Love You, Daddy was cancelled due to "unexpected circumstances" as well as his supposed appearance on The Late Show with Stephen Colbert. The allegations might not be a surprise at all. If you will look at C.K.'s stand-up routines in the past, he frequently talks about masturbation which obviously has a different meaning now. In I Love You, Daddy, a character pretends to masturbate at length in front of other people, and other characters appear to dismiss rumors of sexual predation. The Orchard, the film's distributor, announced that the release of the film has been cancelled as well.
HBO has dropped C.K. from appearing in its upcoming autism television special, Night of Too Many Stars, as well as removing his stand-up specials on the network from their on-demand services.
The women who spoke out are angry and betrayed by an artist that they all looked up to. They are brave for speaking out and we owe them so much. We hope that, with all these exposes and allegations, the sexual harassment culture in the entertainment industry will finally come to an end.
There have also been reports recently of sexual misconducts by Jeremy Piven, Jeffrey Tambor, Ed Westwick, and Matthew Weiner. After Weinstein, Spacey and C.K., I wonder if there's another big one coming next. But, let's just hope that more victims will speak out without fear and this will signify the end of sexual harassment culture in any workplace, not just in Hollywood.
Tell us what's wrong with this post? How could we improve it? :)
Let us improve this post!