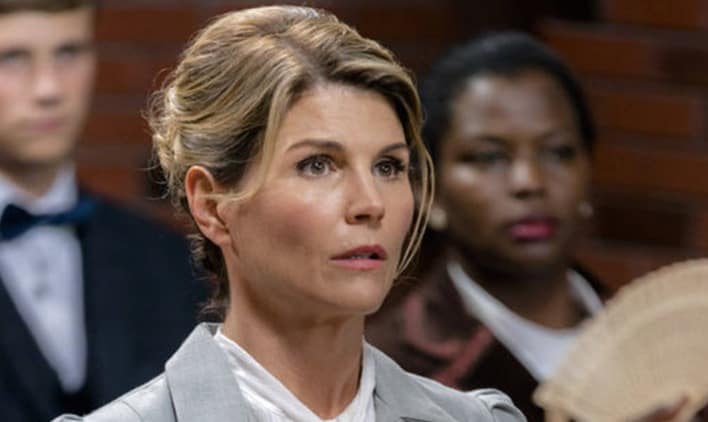 Until recently, Lori Loughlin was best known as an actress, model and producer. She came to our attention as Rebecca Donaldson in the ABC sitcom, Full House, and it's 2016- 208 revival, Fuller House. You may also remember her as Jody Travis in The Edge of Night, Debbie Wilson in 90210, Jennifer Shannon in Garage Sale Mystery, or Abigail Stanton in When Calls the Heart. Even if none of those names ring a bell, you may still know the actress further to her embroilment in the 2019 college cheating scandal, which saw Loughlin and her husband arrested (along with several other well-known names) on a charge of conspiracy to commit mail fraud and honest services mail fraud. At the time of writing, its uncertain how that particular story will end… what is clear is that we'll be hearing Loughlin's name a lot more in the coming months. Get yourself prepared with these 20 fast facts about the popular actress.
1. She's a New York native
Loughlin was born on July 28, 194 in Queens, New York. When she was a year old, she and her parents, Lorellee and Joseph Roy Loughlin (a foreman at the New York Telephone company), moved to Hauppauge, New York on Rhode Island. Shortly after the move, Loughlin's younger brother, Roy, was born. For her education, Loughlin would attend Oaks Elementary School before graduating from Hauppauge High School.
2. She's Catholic
Loughlin was raised as a Catholic and remains devout to this day. Reconciling her faith with her career has occasionally been challenging, but Loughlin has a tried and tested way of choosing which roles to take, and which to decline. According to Loughlin, the best way of deciding whether a project is "morally" sound enough not to disturb either her faith or her family is to ask herself whether her father could watch it. "If my father couldn't watch it, I didn't do it", Loughlin revealed to CBN, "And then when I had children … I always thought, I don't want to do anything that one day might rear its ugly head and my children have to pay the price for that".
3. She became interested in acting at a young age
Loughlin developed a keen interest in acting from a very young age (we're talking 5 or 6, the age most kids are still struggling to do up their own shoelaces). The young Loughlin was struck with the idea of pursing a career in the industry after watching The Wizard of Oz, the 1939 classic starring Judy Garland as Dorothy, the little girl swept away to the magical word of Oz. The movie must have made quite the impression, as Loughlin would later reveal that watching it and thinking of how much fun it seemed was her first real memory.
4. She started modeling at 11
As a child, Loughlin was nothing if not enterprising. At the age of 11, she took her first steps in fashion with a gig as a print model. She got the job by accident rather than design, after accompanying a friend to a casting. Loughlin had no real aspirations to be a model but tagged along after her friend's mom convinced Lori's mom to let her go. "My mom reluctantly let me go", Lori explained to the Washington Post. "But I don't think she ever thought anything would come of it. And I went in and they handed me a contract and said, 'We'll take you.'
5. She's been married twice
Loughlin has been married a grand total of two times. Her first marriage was to Investment Banker Michael R. Burn, who she wed in 1989. The pair divorced in 1996, and a year later on Thanksgiving 1997, Loughlin eloped with new love interest, Mossimo Giannulli. Giannulli, a fashion designer famous for creating the eponymous Mossimo clothing line, first met Loughlin in 1995, but the pair were forced to wait until the end of Loughlin's first marriage before declaring their love.
6. She has 2 daughters
Loughlin has 2 daughters with current husband Giannulli, and is also a step mother to Gianni, Giannulli's son from a former relationship. Her first daughter, Isabella Rose, was born 16th of September 1998. Oliva Jade came alone almost exactly a year later on September 28, 1999. Leaving the college entry scandal to one side for a moment (more on that later), both of Loughlin's daughters have achieved a fair amount of success already. Olivia is something of a social media sensation, with over 1 million followers on both her Instagram and Youtube accounts, while Isabella has a budding career as an actress, with roles in 2016's Every Christmas Has a Story, and 2018's Alone Together.
7. She's kept in touch with her Full House cast mates
In 1987, America got its first look at Full House, an ABC sitcom starring (amongst others) John Stamos, Bob Saget, Dave Coulier, Mary Kate and Ashley Olsen, and of course, Loughlin herself. The series ran for 8 seasons, finally coming to an end on May 23, 1995. The show would eventually come back under the guise of Fuller House in 2016, but in the intervening years, Loughlin remained in close contact with her castmates. "I keep in touch with everybody from that show", Loughlin shared with the Washington Post,"They [the Olsen twins] turned into great young women. And I'm in touch with John Stamos all the time. We are truly a family, and I think that's a large reason we were as successful as we were."
8. She's a producer
Not content with restricting her ambitions to acting, Loughlin has carved out a successful career as a producer. Her first big producing gig came with the 2004-2005 The WB drama series Summerland. As well as co-creating and producing the series, Loughlin took a starring role as the character of Ava. The series was cancelled after 2 seasons further to disappointing ratings.
9. Her part in Full House was meant to be much smaller
Loughlin was initially contracted for only 6 episodes of Full House. Her original storyline premised on the idea of her being Danny's co-host; the 2 were set to go on one date, realize they weren't meant for each other and resolve to keep things strictly professional from there on in. However, the Full House audience took to Loughlin's character too much for producers to risk losing her. Her contract was subsequently extended, and her role expanded to become a main character.
10. She got her first acting role at 15
After working as a model for most of her teens, Loughlin got her first big break in TV at the age of 15 with the ABC soap opera, The Edge of Night. Loughlin played the part of Jody Travis in the series, appearing for three years between 1980 and 1983. The soap opera was set in the fictional Midwestern City of Monticello, and centered around the friendships, vendettas, corrupt cops and scheming attorneys of the city. During its time on air, the show built up quite the prestigious fanbase, with legendary actress Bette Davis, author P.G. Woodhouse and first lady Eleanor Roosevelt all rumored to be loyal followers.
11. Her first movie was Amityville 3-D
After leaving The Edge of Night, Loughlin was cast in her first movie, 1983's Amityville 3-D. The supernatural horror film, which starred Tony Roberts and Tess Harber, was the first, and only, Orion Pictures film to ever be filmed in 3D. Despite its novel filming technique, the film was panned on release, with many criticss ranking it one of the worst films of 1983.
12. She has a net worth of $20 million
As a result of her long career in the entertainment business, Loughlin has amassed quite the personal fortune. Thanks to her turns on TV's Spin City, The Drew Carey Show, Summerland and her various film projects, CNW reckons Loughlin is worth a cool $20 million. Her combined fortune with husband Mossimo Giannulli (who's built a very healthy fortune as a fashion designer) is an envy- inducing $100 million.
13. She started out in TV commercials
We may now know her as an accomplished actress of well-respected TV shows and films, but Loughlin started of her TV career by featuring in commercials. She got her first screen role in a commercial for TAB Cola, in which she played a cheerleader with a leg injury.
14. She's an award winner
Not all of Loughlin's projects have been successful, but those that have have been very successful indeed. As a result, Loughlin has won her fair share of gongs at award season, starting in 1982 when she scooped the Best Young Actress in a Daytime Series at the Young Artist Awards for her stellar work on soap opera, The Edge of Night. In 1987, she won at the Young Artists Awards again, this time claiming the Michael Landon Award for the CBS Schoolbreak Special. She also claimed a nomination for the same show at the Daytime Emmy Awards in 1989, but that time, failed to come home victorious. Her luck returned in 2006, when she claimed the PRISM Award for Best Performance in a Drama Series Storyline for Summerland. In 2009, she earned another nomination, this time at the Teen Choice Awards for her work on 90210.
15. She's endorsed a supermodel's beauty line
In 2016, Loughlin took on a new project: the endorsement of former supermodel Cindy Crawford's Meaningful Beauty skincare line. The line, which Crawford co-created with acclaimed skin care expert, Dr. Jean- Lois Sebagh, was launched to critical acclaim in 2005. Loughlin has taken part in a number of commercials for the brand, and seemed to have a lot of fun with her pal Crawford during the shooting of the first one. "That's a wrap! Fun day on set with @MeaningfulBeauty and @LoriLoughlin!" Crawford told her Instagram followers.
16. Her family is her priority
As any working mother knows, juggling the demands of a busy career with the challenges of parenthood can be a strain. Add to that the stress of being in the public eye, and Loughlin could be forgiven for the occasional "off-day". However, the busy actress managed to maintain a healthy perspective during her children's formative years by always putting her family first. "Clearly my family is my priority". Loughlin revealed, "I always take my girls to school whenever I can . . . if I get off early I jam right home so I can be there for dinner and put them to bed."
17. She guest starred on Seinfeld
Despite being best known for her re-occurring, starring roles on shows such as Full House and Summerland, Loughlin isn't averse to taking on the occasional guesting appearance. In 1997, she appeared in a number of singular episodes for shows such as The Larry Saunders Show, Suddenly Susan, Cursed, Missing and, most notably for comedy fans, Seinfeld. Loughlin appeared as Patty in the long- running sitcom, which also saw guest appearances from the likes of Sarah Silverman, Jeremy Piven and Kathy Griffin during its 9-year run.
18. She was rumored to have married C. Thomas Howell
In 1985, Loughlin starred alongside C. Thomas Howell in the romantic feature, Secret Admirer. Such was their on-screen chemistry that rumors soon started to fly that the pair were hooking up off- screen as well as on, and even that they'd married. Loughlin was keen to put rumors to bed, telling reporters" "That's a very big lie. I was never married to C. Thomas Howell. I know that that's on there [the Internet]. I did a movie a long time ago with Tommy called "Secret Admirer." I've been friends with him a long time, but never, ever married to him.
19. She's been charged with conspiracy
On March 12, 2019, Loughlin and her husband were arrested and charged with the allegation of participating in a nationwide college entrance cheating scheme. The scandal, which has also involved several other big names, saw parents parting with huge sums of money ($500,000 in Loughlin's case) to secure their children's entry into college. Loughlin was released on a $1 million bail shortly after her arrest. Despite being offered a plea bargain, Loughlin and her husband pleaded not guilty to the charges; if found guilty, they now face up to 40 years in prison.
20. She's lost her sponsorship deals
As a consequence of her alleged involvement in the college cheating scandal, the bottom has well and truly fallen out of Loughlin's career. Just a few days after reports of the allegations emerged, the Hallmark Channel cut all ties with the beleaguered actress. On March 16, Netflix followed suit when they dropped her from Fuller House. Whether Loughlin will be able to come back from the scandal, only time will tell.
Tell us what's wrong with this post? How could we improve it? :)
Let us improve this post!