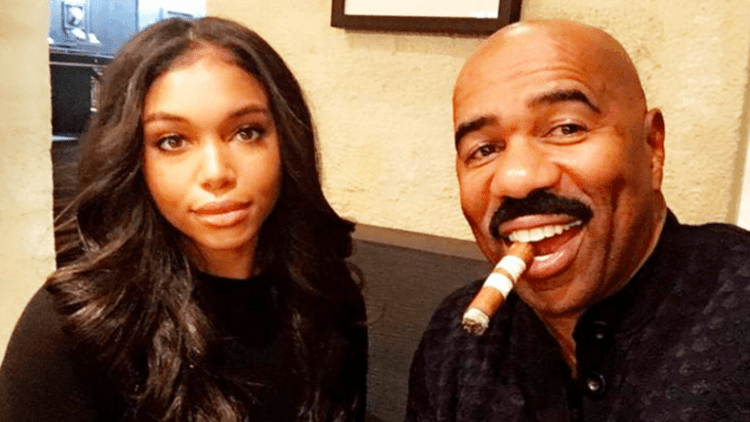 When thinking about the name 'Harvey' it's likely that a lot of people will start talking about funny man Steve Harvey without much prompting. But this article is about his stepdaughter Lori, who is famous enough in her own right to be trending at this time. As you can see the two are pretty close and Lori is quite beautiful so it's no shock that she's been a model for a while and is quite popular in her line of work. It doesn't sound as though she's banked off of the names of her stepdad or her mother all that much in acquiring her own career, but it's easy to assume that they did lend a good deal of help along the way. Hey, why not take it when it's offered after all? That being said though it does sound as though she has both feet on the ground and is doing her thing as she needs to, and is enjoying a good bit of success along the way.
Here are a few things about Lori you might not have known.
10. Up until 2015 she was very much into horse-riding.
This is a sport that requires a great deal of money, time, patience, and yes, even conditioning since being up on top of a horse for extended period of time can wear a person out. But when she suffered an accident in 2015, which included a severe back injury and a torn MCL, Lori had to step away from the saddle since her injuries were too severe. She began focusing on modeling after that and by 2017 her career was in full swing.
9. She's been a model for a while now.
Lori has proven to be quite good at what she does and has excelled as a model thus far given that she's had a good deal of help and has exhibited the kind of charm and grace that one needs to make their way along the catwalk. It's almost a tangible thought as to whether or not she'll pursue an acting career eventually, since this seems to be the natural progression for some folks. Maybe, or maybe not.
8. Her social media presence is understandably large.
She does have well over a million followers and while some of them might be on account of who her stepdad is others are no doubt those that want to know more about her and follow her career so as to be there if she gets to be an even bigger star.
7. She's in her early 20s at this time.
As of right now she's still pretty young and has a lot to look forward to. The injuries she sustained while riding however seem likely to bug her later on in life since such damage doesn't just go away without leaving a mark. But for now, she has a lot of time and a lot of opportunity to look forward to.
6. There have been a couple of rumors floating around about who she's been dating.
Rumors are usually just that, rumors. There's some truth to a few of them now and then but overall who a person is dating usually isn't a big deal until they or the media make it one. As of now though she's engaged to a soccer player so those rumors are best left in the rear view.
5. She does enjoy traveling.
Some people love to travel, others can't stand it. Lori seems to be the type that loves to pack a bag and make for another location as it seems to be something that she simply enjoys doing from time to time. When you have the money and the freedom to do so, why not?
4. Lori's net worth is around $640,000.
Obviously modeling and being an internet celebrity haven't really paid off yet, but once again, she's young and she's still working on a career that's moving upward, so it feels just fine to say that these numbers will be changing eventually as her career continues to rise.
3. She was home-schooled since the 7th grade.
Some folks might think that home-schooled kids miss out on the social opportunities and other benefits of going to school as is seen to be normal, but in many ways home-schooled kids are still allowed to mingle with their peers and are able to take part in school functions through a system that's been set in place to keep them from being ostracized.
2. Lori is shorter than many models.
Standing at only 5'3″ she is pretty short for a model, but at the same time she's able to walk the walk as much as talk the talk and considering that she gets it done and does so with style her height, or lack thereof, isn't that much of an issue.
1. Funny enough, her stepfather had her fiance, as of now, followed to make sure he was okay.
This is the natural response of a lot of fathers, including stepfathers, who want to make sure that their daughter, step or not, is okay and that they're not about to waste their lives on a guy that's not worth their time. As Caroline John of Earn The Necklace seems to indicate, it's overprotective to be sure and Lori wasn't too happy about it, but eventually her beau won Steve over and things turned out okay.
It doesn't matter if she's a stepdaughter, Steve's got her back all the way, and that's simply awesome.