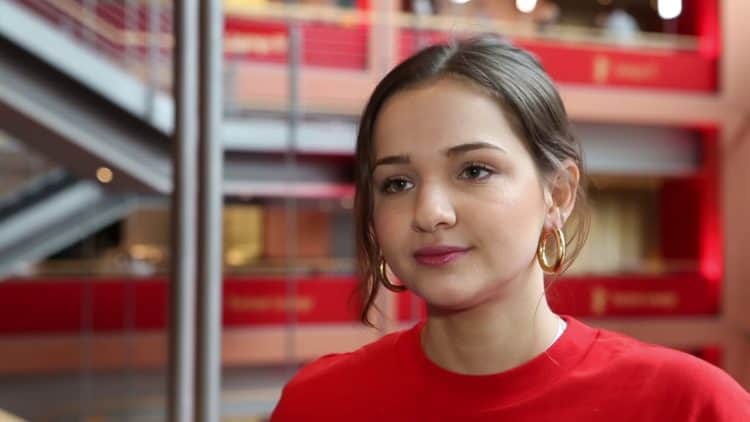 Lisa Vicari is only 23-years-old, but she's always got a lot of experience in the entertainment industry. She made her on-screen debut over a decade ago, and she hasn't slowed down since. Although she is best-known for her work in European productions, she is well on her way to becoming known to American viewers as well. In 2017, she was cast in the Netflix series, Dark, which has since become an international hit. As the show gears up for its third season, viewers are excited to see what the series has to offer, and Lisa Vicari's fans are equally as excited to see what her character brings. Keep reading for 10 things you didn't know about Lisa Vicari.
1. She Started Taking Acting Classes At 10
Lisa caught the acting bug at a very young age. Although she doesn't come from a family of actors, the desire to entertain has always been with her. When she was 10-years-old, she decided that she wanted to learn more about acting and take it seriously. She asked her mother to enroll her in acting classes, and she approved.
2. Her First Major Role Had To Be Approved By Law
Lisa was just a child when she landed her first major role in the German film, Hell. The film was s psychological thriller, and the type of movie Lisa wouldn't have even been allowed to watch at that age. In order to work on the film, the job had to be approved by German child protective services.
3. Martin Scorsese Is One Of Her Favorite Director
As an actor and a student of the craft, Lisa also admires lots of other people in the industry. Martin Scorsese is one of her favorite directors. She also lists Christopher Nolan as another director she loves. Hopefully she'll get the chance to work with them some day.
4. She Would Love To Do A Period Piece
Even though Lisa has had a lot of great opportunities over the years, she's already thinking about the things she'd like to do in the future. Lisa says that her dream is to do a period piece at some point. If her career keeps going the way it has been, I'm sure she will definitely get the opportunity at some point.
5. She Likes Spicy Food
There are two kinds of people in this world: those who love spicy words and those who start sweating at the thought of it. Lisa is part of the first group. Lisa is a vegan, but she doesn't let that limit her.She loves a good spicy dish, and she also enjoys her food with a hint of sweetness.
6. She's A Model
Lisa is truly a natural in front of the camera, and that isn't just true for video cameras. She may not be a professional model, but she definitely has what it takes. Her Instagram is full of professional looking photos which show that she has the potential to strike a serious pose. Since acting and modeling often overlap, it wouldn't be surprising if she truly ventured into the modeling world at some point.
7. She's A Marilyn Monroe Fan
Every actor has someone who came before them that they look up to and respect. For Lisa Vicari, one of those people is the legendary Marilyn Monroe. Even though Monroe died decades before Lisa was born, she is still a fan. Lisa has posted several photos of Marilyn throughout the years, and seems to have lots of respected for the talented actress.
8. She Likes Taking Pictures
We've already established that Lisa is a pro in front of the camera, but she also has the same energy when she's behind it. Capturing awesome moments is one of her natural talents. She seems to love taking pictures while she's out on her daily adventures.
9. Shooting Dark Felt Like 'Home' To Her
Not only has Dark been a great opportunity for Lisa, it's also been a great experience. She told Sleek Mag, "We had this German crew, and German cast, and everything felt like home. They even sent us to an adventure park, so we could get to know each other before filming."
10. Her Parents Have Always Supported Her Dreams
Acting can be difficult and unpredictable. For those reasons, lots of parents don't feel good about their children becoming actors. Fortunately for Lisa though, she's always had the support of her family. She is very grateful for the foundation they've given her throughout the years.
Tell us what's wrong with this post? How could we improve it? :)
Let us improve this post!