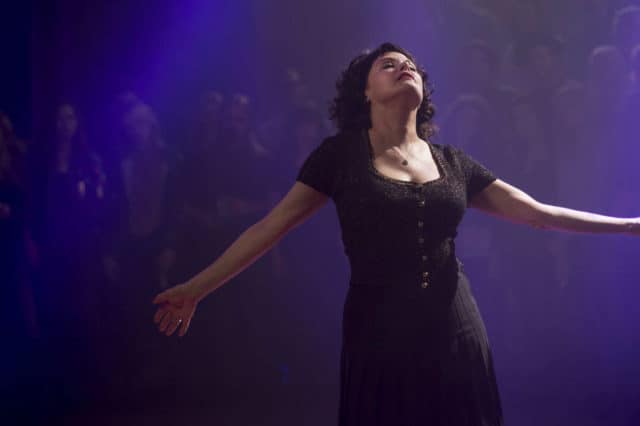 A lot of fans have been waiting of Audrey Horne to return and were initially disappointed when it took around 12 episodes to FINALLY catch sight of her. 12 episodes! Even when she was seen she still wasn't as big a part of the story as we would have liked, as she was for some reason wrapped up in a conversation with characters we'd never seen or even known about. The teasing of this character came down to the point that we were really hoping to get a reason as to why she's still seeking her lover while the vitriol launched her current husband seemed to never end. Eventually though patience was allowed to pay off in a sense considering that we were allowed to see Audrey return to the Roadhouse still tracking down her beau. Unfortunately we were also shown that despite the seeming reality of it the whole thing was essentially a dream. Don't you simply hate when shows do this? You think you're finally being rewarded for staying loyal and then they drop the bottom out on you with a big HAHA!
Hollywood is really mean sometimes.
At this point you can go back to thinking that trying to sort out David Lynch's universe is about as pointless as it gets. But you can still kind of speculate on what might be coming in regards to Audrey for the two part finale. None of the options that people have come up with are that great really, but they're something to go on.
Audrey's in a coma.
This stands right now as the most popular and engaging theory but as you already know with Twin Peaks nothing is ever as it initially seems. It could be that Audrey never fully recovered from the effects of the bank explosion over two decades prior. She could still be in a coma at the local hospital where she's continually cared for without any hope of waking up. Her family could certainly afford it after all. This could in fact line up with Richard claiming to be her son and could indicate that Mr. C raped her, nasty, in the hospital, disturbing, with then produced Richard. There are a couple of comments that poke a lot of holes in this theory though.
When Doc Hayward says to Sheriff Truman that she WAS in a coma, meaning past tense, you get the idea that she woke up at some point. Also there's really no mention of Audrey being a part of Richard's life at all.
Audrey's in a psych ward.
The stress of everything she's had to deal with following her high school years put her into such a state that she had to be institutionalized. Mr. C, who she thought was so great, betrayed and raped her in the hospital. Having to take on the burden of being a single mom at a young age could have made life excruciatingly difficult, especially when Richard turns out to be such a bad seed. That could have broken her in so many ways that controlling her emotions and remaining a calm and rational person would have been impossible. This could explain a lot of things that are going on with her and why she seems so out of it when she is on screen. In any case it could be an entire dream sequence that she's going through minus the coma. Her mind simply snapped and made up the best story possible.
Whatever the case is it's time to find out what's really going on with Audrey. So let's peel back the layers and find out already.
Save