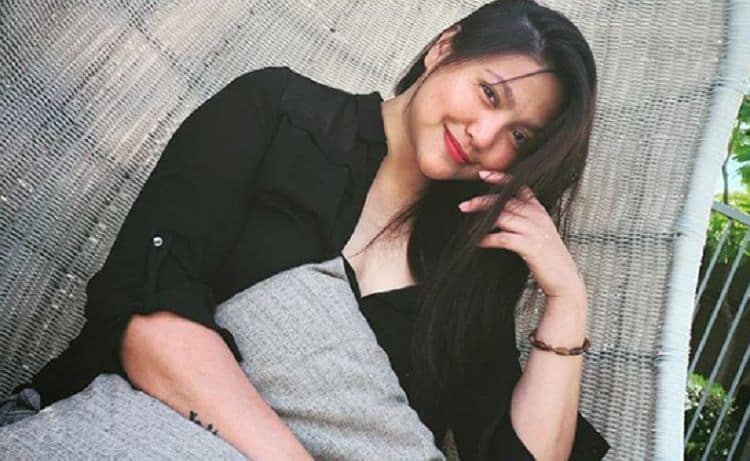 90 Day Finance is the ever popular TLC show which showcases various couples, where one or both have received or applied for a K-1 Visa.. One of their most well-known and at times, infamous reality stars is Leida Margaretha. Leida was born in Jakarta, Indonesia and has a son, Alessandro from her first husband, Daniel. Unfortunately, information regarding her life in Indonesia is scant, but it is said she studied medicine to become a doctor. Her fame in the states is due to her appearance on the 6th season of 90 Day Finance, and she continues to keep her fans updated on her various social media accounts, where her handle is Aya Cohen. If you're a fan of Leida, or just trying to learn a bit more about her, we've dug up a few off-screen tidbits, just for you.
1. Leida Margaretha States Eric is Not the Love of Her Life
That's right, Eric is not the love of Leida's life, and this comes directly from her. Leida was doing an interview on Instagram Story, and a fan inquires as to who the love of her life is. Without hesitation, she states that it's her ex, Daniel. She continued by stating that they still keep in contact every day. But they broke up due to constant family squabbles. What does Eric think of this? Well, he's still with Leida, and loves her, so as you can see, love takes all forms.
2. Leida Won Her Case Against Tasha Due to Fan Interaction
On screen, viewers saw the tense situation growing between Eric's daughter Tasha, and Leida. However off screen, that's where the real trouble occurred. While the show played out, Leida made it a point that she was Erics priority, and not his daughter Tasha. This caused a rift between all involved, and texts were sent. As a result of this situation, Tasha's fans allegedly sent Leida hateful messages. Leida was able to get a 4 year restraining order against Tasha, due to the off camera texts that were sent to Leida by Tasha. The judge determined that it was these text messages which riled up Tasha's fans to send Leida hate mail.
3. Leida is a Serious Gamer
As you can see by her video on Instagram, she's deeply immersed in the Resident Evil 3 remake. Leida is a serious gamer, and often includes the hashtag #womeningaming on her posts. She's also fond of Halo, Warframe, and a host of other games. She enjoys portraying her favorite gaming characters at conventions such as Wizard World. This pleasant and outgoing lady is proud to be called geek, and counts meeting the voice actors of Master Chief and Cortana, Steve Downes and Jen Taylor, one of her life's favorite highlights.
4. Leida is an Active Cosplayer
Cosplay involves anyone who creates fabulous depictions of their favorite film, comic book or anime character. We've already told you that she is a superb gamer when it comes to Warfreame, Halo and Resident Evil, but did you know that she also performs cosplay as Volt Prime, a major character from one of her favorite games, Warframe? Her Instagram account also features images of her performing as Arbiter. But be warned, she does Gore Cosplay too. Gore cosplay is exactly as it says, it's more adult orientated cosplay that involves blood, horror, and of course, gore! When you look at Leida's cosplay, you'll be astounded as to how detailed her costumes are!
5. Leida Has Her Own Shoe Line
During an online Q and A, Leida discusses many things, such as how much she enjoys making people happy, her cosplay adventures, to the fact that she's like 1 or 2 more kids with her husband, Eric. But that's not all, fans of Leida will be happy to know that you can actually purchase a pair of custom crafted shoes that Leida herself, has designed. The shoes are hand-made in Italy. Once you purchase a pair, they are then made just for you, and shipped out. The reviews of her shoe designs are positive, stating they are a well made, casual design that provides a great fit.
6. Leida Claimed that Eric Abused Her
On 1/20/19 Leida and her husband, Eric had a fight, where Leida grabbed a knife with the intention of committing suicide. We get this information from 90 Day fiance blogger, John Yates. Leida sent John texts stating"He pulled my hairs really hard and grab it until I can stand up," referring to Eric in a text message. She follows up with the statement, "I don't wanna live with him anymore." Leida demanded that Eric call the police, which he did, afterwards he left to spend the night at a nearby hotel. Needless to say, no arrests were made, and today, they remain a very happy couple!
7. Leida Crashed into a Semi Truck
In early 2020, Leida had the unfortunate experience of crashing into a semi truck. According to Leida, it was a wet, icy and snowing evening. Her car began to slide sideways, and ended up slamming right into a giant, semi-truck! Fortunately for Leida, she emerged without so much as a scratch, her car however, wasn't so lucky and took two weeks to be repaired. In her video, she states that driving in the United States is much easier than driving in her home country of Indonesia!
8. In 2019, Leida Finally Got Her Green Card
On August 14, 2019, Leida uploaded a video to her channel where she announced that she finally received her green card! In it, she describes the hurdles she and her husband, Eric, had to overcome in order to get her card. This was a particularly good thing, for her, as many of her trolls and haters were hoping that she'd be deported. In the video, she said that she's the first immigrant from the show, 90 Day Finance, to obtain one.
9. Death Threats Caused Leida and Eric to Consider Quitting the Show
On 12/12/18, the publication Newsweek, reported that both Leida and Eric were considering leaving the show, 90 Day Finance, due to death threats. She states, "No, we won't be on the next season," Leida wrote in an Instagram story. "Sharp doesn't care about the death threats. We will deal with everything on our own." Sharp produces the show, and allegedly gives no concern whatsoever regarding the threats.
10. Leida Joined the Ranks of 90 Day Fiance Cast Mates to Have an Only Fans page
For those fans of the show who are unaware of the Only Fans page, will definitely be in for a pleasant surprise. Only Fans is a platform where people can post over 18 material for their fans, something they are forbidden to do on other social media platforms. What does Leida post? Well, her posts are mainly concerned with center around Gore Cosplay mostly, and she posts photos you can't get anywhere else. An expert prop maker, Leida saves her more adult cosplay themes here. But just know that it's artistic material, nothing that is raunchy or without taste.
Tell us what's wrong with this post? How could we improve it? :)
Let us improve this post!