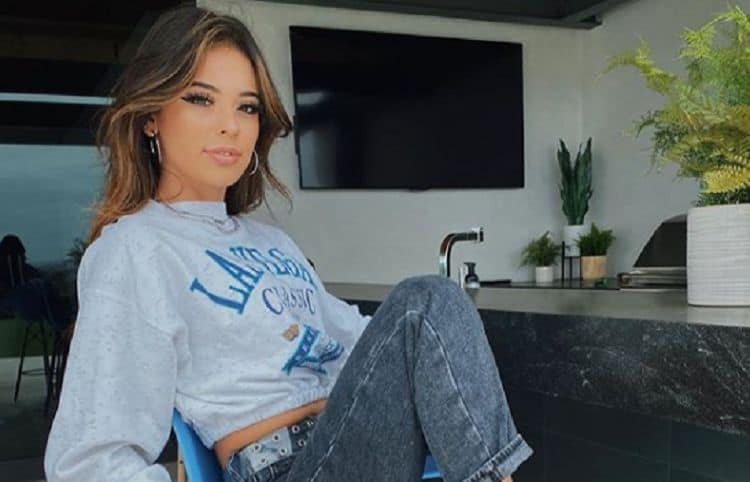 With moves that belong in a music video, Lauren Kettering has danced her way into the hearts of millions of people on TikTok. Despite being just a teenager, Lauren has created her own career path that allows her to have fun and make the most of her skill set. In the years since she joined the platform, Lauren has become a major influencer and she's enjoying every minute of it. She isn't just entertaining, though. She also has a good head on her shoulders and she hasn't let her online fame go to her head. Her success on TikTok has helped her earn other opportunities and it has become obvious that the possibilities for her future are endless. Keep reading for 10 things you didn't know about Lauren Kettering.
1. She Started Dancing At Two-Years-Old
Lauren is popular for her dancing videos on TikTok, but social media the only place where she likes to show off her moves. In fact, she was dancing long before she ever heard of the internet. Her dance career started when she was two and she has been performing and competing for most of her life. Although her dance schedule can hectic, she is thankful for all of the opportunities dance has given her.
2. She's Been On TikTok Since Musically
Lauren has been on TikTok since before it was TikTok. She joined the platform in 2016 when it was still known as Musical.ly. TikTok and Musical.ly are essentially the same, but many users on Musical.ly were focused on making lip syncing videos while TikTokers prefer dance challenges and comedy skits.
3. She Likes To Say Positive
Some TikTokers have built a reputation for being obnoxious and ungrateful, but that isn't Lauren's vibe. Even though it's not always an easy thing to do, Lauren is really big on staying positive. No matter how stressful or busy things get, she is the type of person who likes to see the cup half full.
4. She Loves The Beach
Lauren was born and raised in California and she loves the beautiful weather much of the state has to offer. When she has free time, one of her favorite things to do is go to nearby Huntington Beach with her family and spend the day hanging out by the water.
5. She Started A YouTube Channel
TikTok is the platform where Lauren is most well-known, but she's working on expanding her reach. She started a YouTube channel in the fall of 2019. She's only posted six videos so far, but her channel has already gotten 26,000 subscribers and more than 140,000 views.
6. She Made Her Acting Debut
Having a social media following that includes millions of people certainly isn't anything to laugh at. Some people may not understand the significance of social media popularity, but it can actually lead to some great opportunities in real life. Lauren recently got the chance to make her acting debut with a role in the web series, Attaway General. The cast of the show is made up by other popular people from TikTok.
7. She Goes To School Online
Lauren's school situation is a little unconventional. She attends a local public school, but recently started started taking classes online as well. Lauren decided to incorporate online classes. Many people thought she made the decision because she was being bullied at school, but in reality it was because her dance schedule makes it difficult to stick to a typical school day.
8. She Dated A Fellow TikToker
Any time two social media stars get into a relationship, it becomes the talk of the internet. So when Lauren and Diego Martir announced they were dating, their relationship was considered a big deal. However, as with other teenage romances, the couple hit a rough patch and things didn't quite work out between the pair.
9. Her Mom Is Counselor At Lauren's High School
Most teenagers would dread the thought of one of their parents working at the high school they go to, but it doesn't seem to bother Lauren. Her mother, Yvette, is a counselor at her high school who works specifically with upperclassmen. Lauren has a great relationship with both of her parents and they often make appearances on her social media account.
10. She Would Love To Dance With Beyonce
Okay, first of all, who wouldn't love to get a chance to dance with Beyonce? As one of the most well-known entertainers of all-time, Beyonce has impacted billions of people all over the world. But while dancing for Queen Bey is a farfetched idea for most of us, it could actually be a possibility for Lauren if she continues to hone her skills.
Tell us what's wrong with this post? How could we improve it? :)
Let us improve this post!