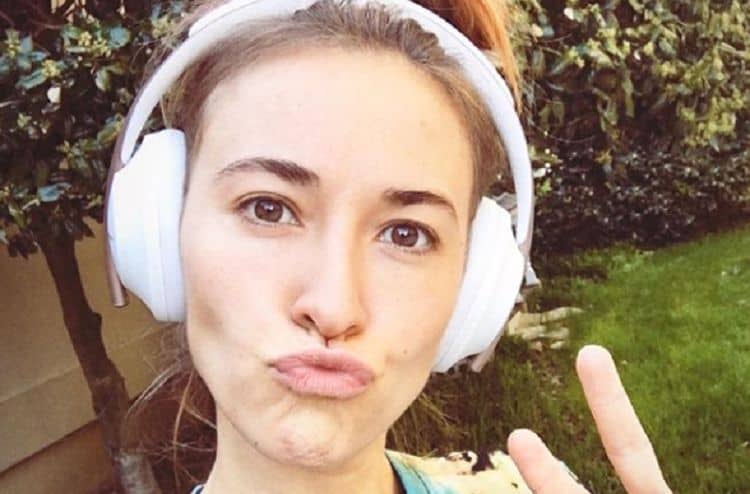 When the most exceptional contemporary Christian musicians are mentioned, it is a breach of justice to leave out the household name Lauren Daigle. She is one of the most outstanding members of the pack having basked at the top of the pinnacle of this music for almost four years now. Her style and talent secure her relevance all these years. Her career is highlighted by multiple awards and accolades, which she continues to collect each other day. Rarely does any award in contemporary music category pass by, without her appearance in the nominations. Here are several outstanding things about this superstar that you probably don't know:
1. Her Personal life
According to her profile on The Famous People (TFP), Lauren Daigle was born on the 9th of September 1991 in Lafayette, Louisiana. Her parents are Laura and mark Daigle. She has two siblings, a brother and a sister whose names are Brandon and Madison respectively. As a young kid, singing was all she did all the time prompting her mother to nickname her "The Music Box." She did not give taking music as a career much thought not until she contracted infectious mononucleosis and was to sit out school for almost two years. Over this break, she perfected on her singing.
2. Her Relationship Status
According to AnswerAfrica.com, Lauren Daigle's relationship status is single. She claims she is focused on her music hence got no time for any relationship engagements. She is, however straight but picks no side when it comes to LGBTQ. She opts to sit on the fence on this issue.
3. Her education
Lauren Daigle went to a charter school where she worked hard enough to complete her course in one and a half years. She consequently, graduated earlier than expected. After completion, Lauren Daigle opted to stay off school for a while. Over this break, she went for mission in Brazil. After her missionary work, Lauren Daigle went on to join Louisiana State University for her college studies. She successfully graduated with a degree in Child and Family Studies.
4. Her Most Outstanding Projects
Most of Lauren Daigle's work has always been a success, ever leaving her fans wanting more and more. However, the following one particular album is the most career-defining and most successful amongst her many works. The hit song "You Say," still rocks the airwaves up to this day. The moving song has been adopted as an ultimate inspirational song by her fans and contemporary Christian songs' lovers. The hit was released in 2018 from her popular album "Look up Child' and went on to top multiple charts. The song appeared in the first position on the Hot Christian Songs chart and even most outstandingly scooped a Grammy Award earlier this year. It is a massive achievement for any Christian female songbird to win such a prestigious award in a category previously dominated by male musicians. Furthermore, the album "Look up Child," also won in the category of Best Contemporary Christian Music Album. The record further went to leave a mark on the Billboard 200 chart as the highest-ranking Christian album by a female musician since 1997. The album until now is still Lauren Daigle's most significant work.
5. She participated in American idol in 2010 and 2012
In a bid to make a breakthrough in music, Lauren Daigle appeared in the famous American Idol back in 2010 and 2012 respectively. She, unfortunately, did not make it to the finals in both appearances.
6. Her Awards
Lauren Daigle's music career is highlighted by multiple awards and accolades. She has been nominated in numerous awarding platforms, banging many and taking proud positions. Some of her awards and nominations include the following: Lauren Daigle has been nominated in three consecutive American music awards in the contemporary inspirational music category. She has gone on to win two out of the three, one in 2017 and the other in 2018. Furthermore, she won multiple awards in both 2017 and 2019 Billboard Music Awards. In 2017, she won the Top Christian Artist Award and Top Album for her album "How Can It Be." Her song "Trust in You" was also nominated in the Top Christian Song. In 2019 her album "Look up Child" won the award for the Top Christian Album while the song "You Say," won the Top Christian Song award. Lauren Daigle has also made the famous Grammy Awards, her trophy shop. Since 2016 she has been nominated four times. She has won twice and lost twice. Back in 2017, her song "You Say" won the best contemporary Christian song ward while the album, "Look Up Child" won in the same category for records. Lauren Daigle has also earned nominations in other awards systems such as the GMA Dove Awards where she has done really well, getting multiple awards.
7. Her Social Media Presence
Lauren Daigle, like many other celebrities, is very active on social media platforms as witnessed from the vast following she attracts on her social media accounts. The contemporary Christian musician has 1.5 million followers on her Instagram account, 123.9k followers on her Twitter and over 1k others on Facebook. She posts pictures and video clips of her tours, concerts, and music videos on these platforms. She also introduces and garners support for her works on social media.
8. Her Popularity
Lauren Daigle is one of the most famous artists in the world of music. According to Famous Birthdays, she is ranked at position 3524 in the top artist category. She comes 12th in the category of the musicians with whom she shares her first name and 8th in the group of those born on 8th of September. Amongst the 27-year-old musicians, Lauren Daigle comes 17th. She attracts not only gospel music fans but also secular ones.
9. Her Charity Works
Lauren Daigle uses her celebrity status to impact on society positively. She does this by engaging in acts of charity. According to Represent, she led her "You Say," initiative which collected donations to help care for children, the elderly, and the needy. Furthermore, her "Cure" initiative drive raises funds for sick children's treatment. She is also a member of the "Food For The Hungry" that seeks to feed the hungry people around the world. These are just samples of the extension of the singer's kindness; she is even involved in more humanitarian projects.
10. Her Net Worth
With hard work comes success, such is an accurate description of Lauren Daigle. She earns millions from her music, and as of 2019, her net worth is estimated by multiple sources to be around $6 million.
Tell us what's wrong with this post? How could we improve it? :)
Let us improve this post!