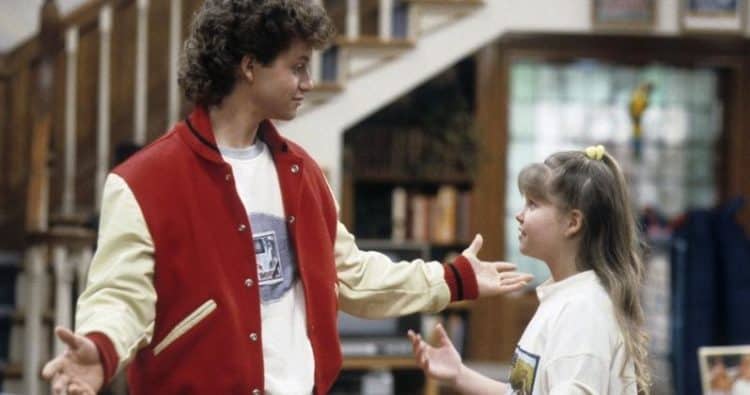 Thankfully for Candace Cameron-Bure, her big brother Kirk didn't seem ready to do or say anything to challenge her role as director, as he was reported to be coming back for a brief showing on Fuller House. If anyone remembers he played her cousin Steve back in the day for a short while, and she was even seen on his show, Growing Pains, as well. The two haven't shared the screen ever since and if you've been following Kirk Cameron you might have seen that he's done plenty of TV movies and specials, one that actually got him the less than coveted Golden Raspberry award for worst actor. It might be kind of hard to see Kirk gaining such an award but after Growing Pains and well into his time on the Left Behind series that kind of stalled he didn't exactly shine as he did when he was on his own show or even a guest on his sister's set. Jeremy Dick of TVWeb seems excited to see him come back if only for a short time, and while it's not certain whether he'll be taking on the role of cousin Steve again, it would make more sense that he did since the rest of the cast have been taking up their old roles. This time around though it sounds as though he was on his best behavior and did everything that was asked of him, which for Candace was obviously a big event for her as she stated:
"My brother Kirk is in an episode this season, so that was a really fun surprise… It's a little bit of, like, a '90s episode, so Lisa Loeb is in it as well as my brother Kirk. And that week I was directing as well… it was a dream come true to direct my brother."
In a way it almost seems as though a lot of older actors are starting to gravitate to old roles once again if only to help close them out or possibly reprise them if they get the chance. With this particular role and show however it would seem that Kirk might actually just be looking to tie things up and settle the character before moving on since Fuller House isn't looking like it's going to be coming back at this time according to Megan Elliott of the CheatSheet. The popular show is looking to wrap things up and as it comes to a close one can't help but think that they might be pulling out all the stops that they'll be able to in order to make sure that things will go out on a high note. It's not likely that we'll be seeing the Olsen twins since they haven't been around for the last four seasons, and it's not likely that they'll make one last-second appearance since they've already made it clear just how they feel about going back on camera. In truth the excuses they did give sounded pretty flimsy since there are plenty of child actors that have been around just as long as they have and they're still doing their thing without any huge difficulty. Their situation might very well be different however so people aren't pushing and they aren't making any insane demands, and it's best to let it go at that it would seem.
But bringing back Kirk Cameron seems to indicate that the show might actually think about adding in whoever it can that's been around the set at least once or twice in the past, so if there are any other guest stars waiting in the wings it's a big hope that they'll be announced eventually, otherwise we'll have to wait and see if the show has any other surprises hidden up its sleeves. Things have certainly changed since the kids were young and the adults were still considered to be some of the most popular faces in the business. Well, John Stamos still is and the others are still considered a great bit of nostalgia that takes us back to a time when we were still young and were able to find the show cute and enjoyable. Many people still feel that way about Fuller House, though a lot of us could sense in some way that the show was leaning towards an eventual ending even before it was announced since sitcoms that come back after so long don't often have a long shelf life. At this point Fuller House lasted far longer than a lot of people thought it would, and as a result a lot of folks are starting to wonder just when it was going to finally fold. At least at this point we know that it's going to go out on its own terms and do so with a few familiar faces showing up to send it off in the best way possible.