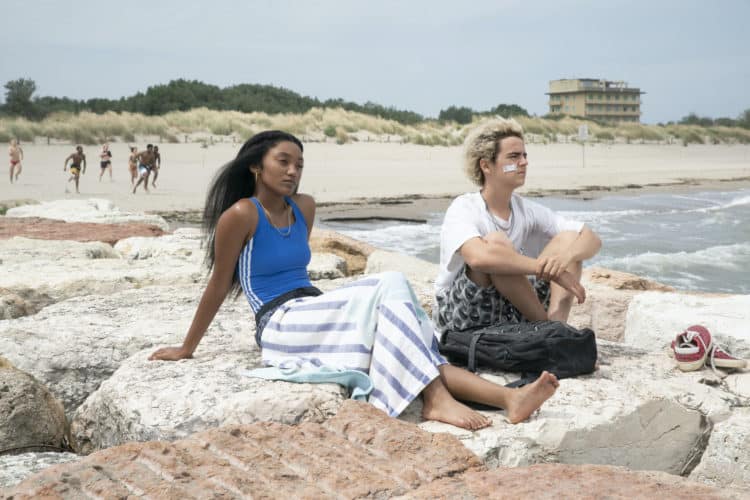 2020 has been a very sad and disappointing year in a lot of ways, but for Jordan Kristine Seamon, it's been an amazing year for hew career. Jordan was cast in her first major on screen role in the new HBO Max series, We Are Who We Are. The series is about two American teens living on a military base in Italy as they try to navigate the twists and turns that come with self discovery and growing up. Despite being early in her career, Jordan has the confidence of someone who has been in front of the camera for years. As the show begins to gain popularity, we firmly believe that Jordan's career will take off. Continue reading for 10 things you didn't know about Jordan Kristine Seamon.
1. She's A Singer
One of the reasons Jordan appears to be so experienced in her role on We Are Who We Are is because she's not actually new to performing. In addition to acting, Jordan is also a talented singer who has been writing and recording music for several years. She began her music career as part of a duo called JX2. She has since gone solo and recently released an album called Identity Crisis.
2. She's A Philly Native
Jordan is originally from Philadelphia which is where she got her start in music. Philadelphia is well-known for its rich history and unique culture and the city has given us lots of great artists such as Patti LaBelle, Jill Scott, and Will Smith. Jordan is currently based in Georgia.
3. She Likes To Travel
Even though she's still only a teenager, Jordan has already gotten the chance to explore other parts of the world. She spent several months in Italy while filming We Are Who We Are. In addition to exploring some of Italy's famous cities, she also ventured over to France.
4. Her Pronouns Are She/They
How would you like it if people were constantly calling you the wrong name after you introduced yourself as what you wanted to be called? You'd probably get annoyed pretty quickly. With that being said, respecting people's pronouns is an important part of respecting who they are. In her Twitter bio, Jordan says that her pronouns are she/they.
5. She Wants To Continue To Explore Her Artistic Talents
Jordan has already gotten her foot in the door when it comes to music and acting, but she doesn't plan on stopping there. She is a creative person to her core and she wants to continue to explore the arts and find more ways to express herself. At some point, she hopes to get into writing and directing.
6. She Was In An Episode Of The Vampire Diaries
Jordan's IMDB profile lists her role in We Are Who We Are as her first on screen appearance, but according to her resume that isn't exactly the case. While We Are Who We Are is the first major role she's had, she has had minor roles in several TV shows including The Vampire Diaries.
7. She's Family Oriented
Jordan may be on her way to the top, however, it doesn't look like she has any plans to forget about the people who have been with her since the beginning. She has a great relationship with her parents and, unlike lots of other teens, seems to really enjoy spending time with them. Having a strong support system will definitely help as she continues to move forward in her career.
8. She's On TikTok
Are you really a part of Gen Z if you aren't on TikTok? The social media platform has become incredibly popular in 2020 and Jordan has decided to join in on the fun. At the moment, her TikTok has just 8,880 followers but nearly 160,000 likes. Her content consists of a vide variety of videos including funny skits.
9. She's A Chadwick Boseman Fan
People all over the world were incredibly saddened when news broke that Chadwick Boseman passed away. Through his work, especially his role as the Black Panther, Chadwick touched countless people and Jordan was one of them. After his passing, she posted a Tweet sending her condolences and explaining how much he inspired her.
10. She Likes To Interact With Her Followers On Social Media
One of the best things about social media is that it allows you to directly connect with people – including actors, musicians, and other people in the entertainment industry. People who follow Jordan will be pleased to know that she actually takes the time to interact with her followers. It's not uncommon to see her replying to comments or retweeting posts from her fans.