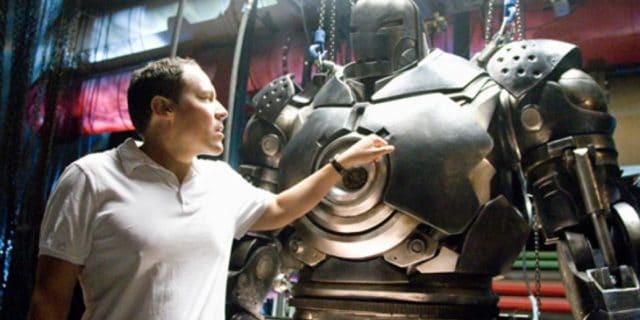 You don't often hear someone referencing Dungeons & Dragons when it comes to their more creative side, but Jon Favreau doesn't seem to have a problem with it. After all D&D is a fun game that takes a lot of imagination and a strong sense of storytelling as well as a certain level of balance that allows the DM, the Dungeonmaster, to run the game. If the story is balanced then the campaign can be a lot of fun, but if the story is so horribly out of whack then you really have no game and no fun.
A movie can be the same way.
If a director has the imagination and creativity to make something unique and interesting, but also balance, then the movie can be something wonderful. Otherwise if something is missing and a key element doesn't get included or gets overworked then the movie can swiftly fall apart. Favreau has created some very impressive visuals in his movie and has managed to bring the audience more than one picture that's worthy of praise. To realize that part of how he does this comes from D&D is actually pretty cool.
Some people might think that D&D is for nerds and geeks but what you don't seem to realize is those same nerds and geeks are rather proud of how they get to use their imagination and go nuts when it comes to being creative. The idea of being able to do just about anything with a character and take a story in any direction you want is absolutely liberating. It's allowing your imagination to run wild while at the same time imposing order where you feel it's necessary and rules where they need to be in order to keep the story on a steady course.
I do believe I'd love to play a D&D campaign with this man just to see where things might end up and what kind of adventures our characters would take. Yes, I have played D&D before and yes, I am a writer so you can imagine that taking advantage of the D&D structure and the type of adventures that are so enjoyable is a very big part of some of my stories. I agree firmly with Favreau that D&D can bring about a very vivid and concrete idea of how things should be and how swiftly they can change. The dynamic of a story is far more enjoyable when one realizes that while the overall structure is bound to be something that doesn't change that often, the rest is up for negotiation and can be seen to change as needed for the story to progress.
Favreau's movies tend to take on a different kind of feel than the D&D stories but this is also easy to see since he doesn't necessarily create movies that are so prone to change that often during their course. However if you really take a good look at some of them you can see how, through balance and a creative lean, he creates something that's not entirely by the book and kind of takes a creative jog in a direction that you weren't fully expecting. That's the D&D experience.
Save