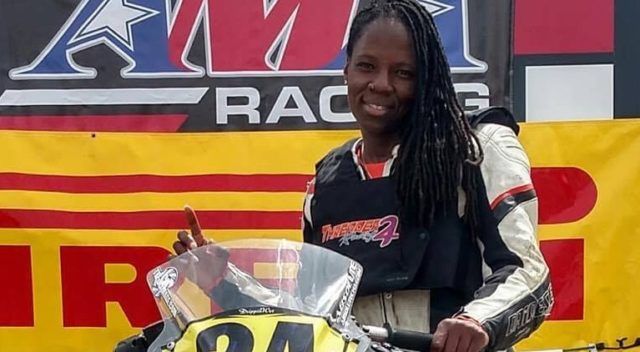 The life of a stuntperson can't be easy. Joi "SJ" Harris was lauded as the first African American female professional road racer and she was a professional stunt woman on the set of Deadpool 2. Unfortunately during filming a tragic accident cost Joi her life recently when a stunt went horribly wrong.
Harris went through a plate glass window after losing control of her motorcycle during an action sequence. Unfortunately she was not wearing a helmet as the character she was portraying was not wearing a helmet in the scene either. It might seem a bit irresponsible of the director to not watch out for the safety of the stunt people but in their defense the inclusion of the helmet would have thrown off the scene and taken a great deal of time from filming. Still, it is less than acceptable to think that safety would be circumvented in any case.
However the fact remains that stunt performer often know the risks and are well aware that anything can happen at any moment. It's small comfort really to her family, but Harris had practiced this stunt many, many times. This one time however something went wrong, and the results were disastrous.
The set of the movie she was working on, Deadpool 2, has been suspended without any word on when it will resume. This is as it should be many feel, especially considering that many stunt people put their lives on the line just by clocking into work each day. Their actions are what help to make the movie believable and even more entertaining as they allow their bodies to be beaten, bruised, and broken in order to provide a cushion for the star actors so that they are not encouraged to do their own stunts.
Some actors have gone so far as to do their own stunts, but more often than not stunt doubles are used in order to keep the stars in tip top shape. A good example of why stars are usually not allowed to do their own stunts is the current news about Tom Cruise. His next Mission Impossible movies has been all but derailed following a serious injury that he incurred on set. Some might see actors as less than tough for not doing their own stunts, but many actors would have the active careers they have today if they did participate in their own stunt work.
The life of the stunt person is to take the hits, the fall, the burns, and anything and everything that comes in between. They aren't there for the glory or the recognition. They're there to make the movie look better and make sure that the stars don't have to hurt themselves to make the film worth anything.
Joi Harris is a tragic loss to the business and to her family. She was on her way to becoming a very valuable stunt woman no doubt, as she had already proven she had what it took to get into the movie business. On behalf of all us it is with great sorrow that we extend our condolences to her family.
Save