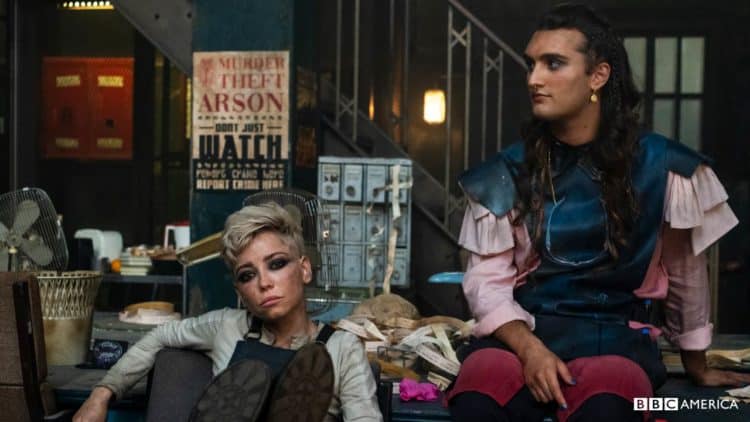 In many cases, gaining traction in the entertainment industry can take a very long time. In just a couple of years, however, Jo Eaton-Kent went from being a relatively unknown actor to gaining recognition all over the world. They got their first big break in 2019 when they were cast in the TV mini-series, Don't Forget the Driver. Since then, the momentum has continued and it's been very powerful. In 2020, Jo landed a role in the series The Watch, and it has earned them lots of acclaim from viewers and critics. Even though they only have three on screen credits at the moment, it is clear that they will have a lot more over the course of their career. Continue reading for 10 things you didn't know about Jo Eaton-Kent.
1. Their Parents Are Also In The Entertainment Industry
Some people who want to pursue careers in the arts have a hard time convincing the people around them that they're making a good decision. Lots of people have a hard time understanding why someone would forgo the 'security' of a traditional job. Jo was fortunate not that that problem, though. Both of their parents are creatives. Their father is a theater director and their mother is a writer/composer.
2. They Are A Formally Trained Actor
There's no denying the fact that creativity runs through Jo's veins and they have a lot of natural talent when it comes to acting, but they've also put in the work. Jo studied acting at Rose Buford College in England and have been fortunate to find plenty of work since graduating.
3. They Have Lots Of Theater Experience
Jo may be new to on screen work, but as you can tell, they're definitely not new to the world of acting. Prior to getting their first TV role, Jo had built up years of experience doing theater productions. Although acting on stage is definitely different than being on camera, their experience has come in handy.
4. They Are Non-Binary
Jo is a non-binary person, which means they don't identify with the gender binary of being male or female. Jo uses the pronouns she/her and they/them. We've referred to Jo as them in this article as that is what they're most commonly referred to in other articles about them.
5. They're A Private Person
When people work in the entertainment industry, there's often an expectation that they become open books and share all sorts of personal details about themselves. Jo doesn't seem to be that kind of person, though. They appear to prefer keeping the focus on their professional life.
6. They Play Instruments
Acting isn't the only talent Jo has. They've also got some musical skills as well which is something Jo's mother has always believed to be very important. Jo can play several instruments including the piano, the violin, and the trombone. They were even in a ska band for several years.
7. They Love Connecting With Fans
Even though Jo is still early on in their acting journey, they've already gotten a lot of support from fans. Jo is grateful for all of the people who have shown them love and they love getting the chance to connect as much as possible. Jo is pretty active on Twitter and enjoys engaging with people who like their work.
8. They Are Passionate About Human Rights
As a member of the LGBTQ+ community, Jo knows what it's like to be ostracized and treated as less than. As a result, making sure other people never have to feel that way is very important to them. Jo is a very strong supporter of LGBTQ+ rights as well as the fight to end racism. Jo also loves spreading positivity and giving back to others whenever they can.
9. They Aren't On Instagram
Despite being active on Twitter, Jo doesn't appear to have an Instagram account. We weren't able to find any information on why they've chosen not to join the popular platform, but it could have something to do with the fact that they do really enjoy their privaacy.
10. They Work Hard To Not Be Controlled By Ego
Ego is something that everyone struggles with at one time or another. People whose careers put them in a position to get lots of attention and praise are usually forced to deal with this more often. While it can be very easy for ego to take over, Jo works hard not to let it. During an interview with Collective Creative Initiative, Jo explained that leading with ego always ends up being a recipe for disaster.
Tell us what's wrong with this post? How could we improve it? :)
Let us improve this post!