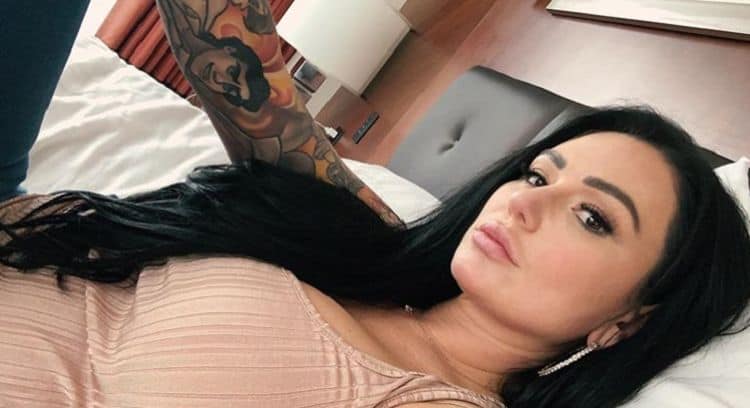 Jenni Farley rose to fame in 2009 as one of the original castmates of Jersey Shore. Fast forward to 2020, and 'JWoww' (as she's known to fans) is a divorced mom of two, a business owner, a writer, an actor, and an autism advocate. But it was Jersey Shore that made her name, and it's Jersey Shore that keeps her in the public eye- something that, judging by her willingness to appear in each and every reboot that comes her way, is not something she exactly minds. Keep reading to find out more.
1. The Wedding Speech
Rewind to November 2019, and Angelina Pivarnick's wedding to Chris Larangeira was go-go-go. Among the guests were Jersey Shore: Family Vacation castmates Nicole "Snooki" Polizzi, Deena Cortese, and Farley. What transpired was a roasting that saw the bride walk out of her own wedding party. Among the many things said about Angeline, "trash to our bags," the "throw up to our hangovers," and the "dump to our island" are about the only things we can print. Despite the threesome's later claims that the roasting was all in good fun, their "joke" resulted in Angelina leaving the party in tears, not to return until over an hour later.
2. Autism Advocate
Ever since her son Greyson was diagnosed with autism, Farley has been an active advocate for the condition, keen to create an open platform in which other parents and sufferers can talk openly about their experiences. "My biggest thing with the platform is – and I know a lot of people that try and deny it or brush it under the rug or just not speak about it – speaking about anything, especially autism, can break the stigma," she's said. "I just want to make the world a little less harsh and sweeter, so there will be fewer critics and more people that want to help and understand what it's like to have autism. That's my goal."
3. A New Face
When Farley tripped down the red carpet at the Jersey Shore: Family Vacation premiere party in 2018, long-time fans couldn't help but notice she seemed to have acquired a very different look since her Jersey Shore debut in 2009. Although she's previously denied having any work done to her face, experts disagree, with Life and Style Magazine reporting the general consensus on her surgery as including a Rhinoplasty, lip fillers, cheek augmentation, breast implants, and a chin lift.
4. Happily Never After
In October 2015, Farley married her boyfriend, Roger Matthews. For a while, all seemed rosy in the Mathews/ Farley household, and within a year of the wedding, they'd welcomed their 2nd child, Greyson. 2 years later, and the story couldn't have been more different. In September 2018, Farley filed for divorce, citing irreconcilable differences. And when she said irreconcilable, she wasn't exaggerating. With restraining orders, constant allegations, and no shortage of bitterness on either side, theirs has been one of the bitterest splits to ever rock Jersey Shore.
5. A Bad Romance
Farley's acrimonious break up with ex-husband Roger Mathews isn't the only sore spot in her romantic history. In December 2018, her ex-boyfriend, Thomas Lippolis, was arrested and charged with third-degree extortion after attempting to bribe $25,000 from Farley "in exchange for not divulging secrets to the media." The pair, who dated for around a year, had split over 10 years prior to the event.
6. Best of Frenemies
In April 2019, Farley started dating professional wrestler, Zack Carpinello. By October, the relationship was over (albeit temporarily), thanks in no small part to the actions of Farley's friend and castmate, Angelina Pivarnick. During the filming of an episode of Jersey Shore: Family Vacation, Carpinello was spotted getting handsy with Pivarnick. Pivarnick, for her part, didn't exactly seem to mind the attention. "After seeing tonight's episode I'm pretty hurt," Farley wrote on Instagram. "I feel disrespected by someone I called a friend and by someone who stated they loved me." Despite Carpinello issuing a groveling apology straight away, a once bitten twice shy Farley refused to take him back until she'd felt he'd probably paid his dues. The two reconciled in December 2019, and, at least at the time of writing, are still happily together.
7. Artistic Soul
You might not know it from her exploits on Jersey Shore, but Farley has the heart of a true artist. During her time as a student at the New York Institute of Technology, Farley created a vast portfolio of paintings, still-life sketches, and nude drawings. The work was discovered years later by Gawker, who issued a "glowing" review in which Farley's efforts were described as "not totally horrible".
8. Her Net Worth
Thanks to Jersey Shore, it's various reboots, her books, business efforts, and media appearances, Farley's not exactly short of cash these days. According to Celebrity Net Worth, the reality star is currently worth the eye-popping figure of $4 million.
9. Entrepreneur
Say what you like about Farley, she's nothing if not astute. Rather than relying solely on Jersey Shore and its spinoffs for her income, she's been wise to capitalize on her fame, spending the last few years milking her celebrity for all its worth. In addition to launching a design company called Jenni Farley Designs Inc., she's also created a clothing line called "Filthy Couture", and written a book, 'The Rules According to JWOWW: Shore-Tested Secrets on Landing a Mint Guy, Staying Fresh to Death, and Kicking the Competition to the Curb', which, thankfully, is only marginally longer than its title.
10. LGBTQ Supporter
Whether you like her or not, the one thing you can't say about Farley is that she's afraid to put her money where her mouth is. After Bristol Palin came out against Barack Obama's support of gay marriage, Farley waged a Twitter war in protest. She took to the barricades again in 2012 when her on-off friend and castmate, Angelina Pivarnick, made the eye-wateringly misjudged remark that gay people could change their sexual orientation if they really wanted to.