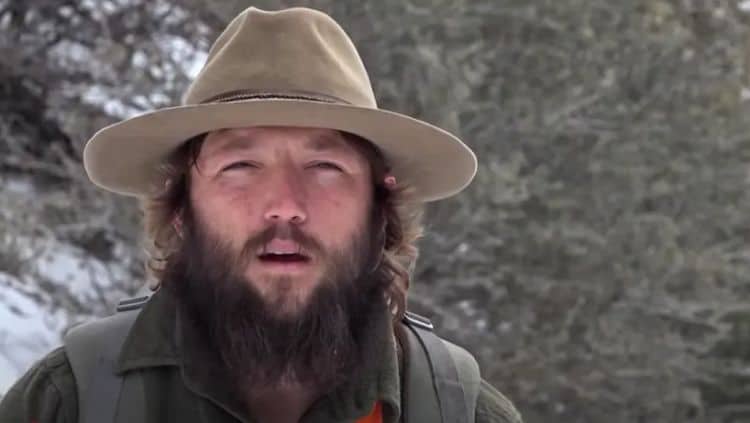 There are lots of people who love to spend time outdoors, but Jake Herak takes being an outdoorsman to a whole new level. As a member of the cast of Mountain Men, Jake has brought a younger presence to the show. Since joining the cast in season 7, Jake has given viewers a glimpse into his life in the Montana mountains and he has shown that he can survive all sorts of conditions. Although his appearance may be rugged, Jake's bright personality shines through every time he pops up on the screen. Viewers are excited to see what kinds of knowledge an adventures Jake will bring to season 9. Continue reading for 10 things you didn't know about Jake Herak.
1. He Loves To Take Pictures
Not only is Jake skilled with a hunting rifle and a camera, he's also skilled with a camera. Jake loves snapping pictures while he's out on his adventures. Over the years, he's captured some very cool pictures of mountain lions and other animals that he's come across.
2. He's A Hunting Guide
Jake's passion for the outdoors is something that he enjoys sharing with others. He has put in a lot of work to become as knowledgable as he is, and he enjoys teaching people the ins and outs of hunting. He has a profile on Guide Fitter where people can contact him if they are looking for a hunting guide.
3. He Saved A Man From Drowning
Jake can be described in lots of ways, and now he can add hero to the list. In early June, Jake saw a car almost fully submerged in a near by pond. He saw a man out in the water struggling to stay a float, and he instantly jumped into action. In a Facebook post, Jake said, "I'm being called a hero for something I feel anyone should have done… fact is when I saw the man 60+ years of age treading water next to a 3/4 sunk car my heart stopped all I could think was his family was inside so I just reacted, threw my phone down and dove in as fast as I possibly could." With the help of his brother, Bo, Jake was able to save both the man and his dog.
4. He Played High School Football
Lots of viewers have commented on how young and fit Jake appears to be. What lots of viewers don't know, however, is that Jake was a competitive athlete for much of his life. He grew up playing football and was a member of his high school's varsity team. He appears to have graduated in 2008 which puts him right around 30-years-old.
5. He's A Montana Native
There are some cast members on Mountain Men who have traveled far and wide – partly to test their survival skills in different climates and terrains. However, Jake is a Montana man through and through. He has lived in the state for his entire life and doesn't seem to have any plans on leaving.
6. He Has A Girlfriend
Like most of the other guys on the show, Jake is pretty low key. He loves to share things related to his work, but outside of that he's fairly private. However, it is clear that he has a girlfriend named Anika and the two have been together for quite some time. Like Jake, Anika also enjoys hunting and fishing.
7. He Loves Connecting With His Fans
Jake never thought that one day he'd be a reality TV star with countless people eager to meet him – but that's exactly what he has become. Jake is grateful for all the support he's gotten since being on the show, and he genuinely loves getting the chance to meet and interact with his fans.
8. He Sold Merch Before The Show
Even before joining the cast of Mountain Men, Jake was already working towards turning himself into a brand. A few years ago, he had a logo created and began selling caps. He hasn't posted about the hats in a while, and he doesn't seem to have a website so it looks like he may have put them on the back burner for now.
9. His Father Battled Cancer
Jake has a very close relationship with his father and credits him with making Jake the man he is today. Although Jake's father has been his rock for years, there eventually came a time where Jake had to return the favor. In a heartfelt Father's Day post, Jake shared that his father had been diagnosed with cancer but had eventually beat it.
10. He Was Featured On ESPN
Technically, Mountain Men isn't the only show Jake has been featured on. In the summer of 2019, a clip of Jake appeared on an episode of ESPN's Highly Questionable where one his craziest mountain lion run ins was shown. Even the show's hosts were stunned by Jake's ability to outrun the large cat.