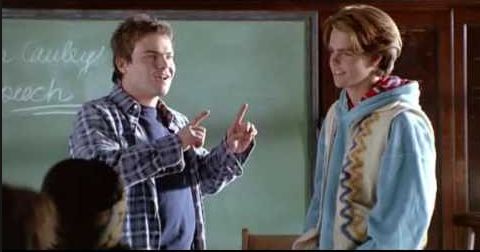 There's only one character in Jack Black's career that can hold a candle to Augie in Airborne and that's the hippy singer he played in the movie Biodome (which was actually the band Tenacious D that brought him his initial fame). For those of you who don't know the 1993 classic Airborne it's the tale of young Mitchell, a California surfer kid who has to move to Cincinnati.
When his parents go to Australia for six months to work on a zoology project, Mitchell (Shane McDermott) is sent to live with his Aunt Irene (Edie McClurg) and Uncle Louie (Patrick Thomas O'Brien) in Cincinnati. Initially dismayed by the cold climate, Mitchell's unhappiness increases when he's taunted by the high school's popular kids. As he strikes up a relationship with Nikki (Brittney Powell), Mitchell begins to win over his bullies by using his Rollerblading skills in street hockey games.
So who are these high school popular kids? It doesn't matter. All that matters is that Jack Black's character is part of this group and you could tell that even in 1993 this was vintage Jack Black. Below are a couple of videos of Black in his Augie greatness.
P.S. Seth Green might be the most annoying person in the entire world in this film.
Fast forward to 1 minute in on the first video
Here's a little more
Tell us what's wrong with this post? How could we improve it? :)
Let us improve this post!