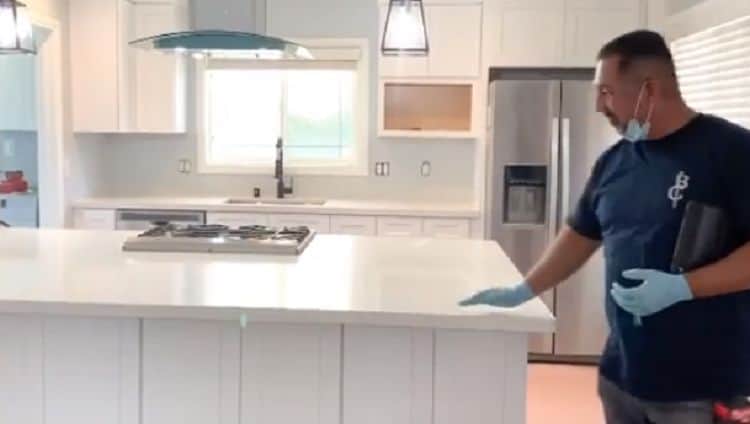 Izzy Battres has been fondly described as "America's contractor" since being on the HGTV show "Flip or Flop" where he showcased his expertise in construction. He is now a reality star, and the sky is the limit since he keeps adding more businesses to his portfolio. However, it was not overnight prosperity; Izzy had to work for it, and now he is basking in the glory of his success. Here is more about the contractor.
1. He gained his work ethic by getting a job during his childhood
Israel's father did not condone laziness in his house; anyone living under his roof had to bring something to the table. Therefore Israel and his brothers would accompany their father to his job where they had to do the minor tasks. By the age of nine, the reality star had a job at the Orange County Register working as the paperboy thus had to be up by 4 am to start making deliveries. After a while, his dedication saw him becoming entrusted with collecting monthly subscriptions, which enabled him to learn about account payables.
2. He knew the concept of value addition as a child
Everyone is obsessed with having at least two sources of income, but Israel cracked this side hustle code at nine years old. Besides working with his father in construction, Izzy also had to sell lemons from his grandmother's tree. From a selling price of 25 cents, Izzy got only a small percentage, so he decided to increase his earnings. Therefore after closing business with his grandmother, he would return to the tree, pick lemons and make lemonade. A cup of lemonade went for 50 cents.
3. Lack of jobs made him start his construction company
Having gained experience in construction from being an apprentice at his father's business, Izzy followed in his footsteps and became a construction worker. Unfortunately, his employer would sometimes lack jobs. Instead of sitting at home waiting, Izzy would go to Home Depot, hoping to be employed for the day as a casual laborer. Still, that was not enough; hence he decided it was better to establish a construction company and bid his own jobs.
4. He is committed to giving back to the community
When he talked to Hispanic Network, Izzy said that he was taught from a young age whatever he earned was to help his family and community. Therefore he feels he has to make a difference in the lives of those around him; hence he has 43 families on his payroll. He also looks out for the low-income families by doing remodeling for them while his company supports Habitat for Humanity by providing materials.
5. How he became a reality star
After advertising the company through banners, Izzy and his brothers attracted the attention of a real estate investor, Tarek El Moussa. He was impressed with what the brothers had done; thus, Tarek called Izzy, asking him to be the contractor for "Flip or Flop." Of course, Izzy saw it as an opportunity to advertise the company; thus, he joined the reality show for the first season. Although, according to The Orange County Register, they had to drag their feet to create the perfect illusion for television, it worked out for the best for both Tarek and Izzy. Battres Company returned for the show's second season, and the rest is history.
6. He was suspected to be Christina's new boyfriend
Tarek and his wife Christina became close friends with Izzy after being with them on the reality show for over five years. Therefore when the couple's relationship became strained, it was hard for Izzy to watch as he tried not to take sides. What was worse were the rumors that Christina's new boyfriend was a contractor on the show, and people assumed it was Izzy. The allegations became so bad that even Izzy's daughter was asked by her teacher if the rumors were true, yet it was a lie.
7. He is appreciative of those who are risking their lives during this pandemic
Essential workers and first responders do not have the option of locking themselves behind the safety of closed doors; instead, they are out here putting our needs before their own, and Izzy recognizes that. Therefore on his Instagram, he said he would be giving them a discount on their home renovations.
8. He met his wife Lilly in church
Lilly told Donna Clayton during an interview that after being born again at the age of nine, she slipped into an undesirable life in her teenage years. Later on, after being divorced and recognizing she needed to return to God's fold, she went back to church. Lilly was looking for a place where she could serve God and rededicate her life to Him when she met Izzy. At the time, Izzy was single and also a faithful churchgoer.
9. His wife suffered from depression in her younger years
We have all hit a rough patch in our lives, and Lilly can only testify God's doing when she looks back at where she came from to where she is today. She remembers being divorced and feeling rejected so much that she even hated herself. She fell into depression since taking care of her two children at the time was a struggle. Luckily, her resolution to seek God's face again became her saving grace, and every time she recalls her past, she gets emotional as she recognizes God's goodness in her life.
10. He believes his success is because of his wife
They say behind every successful man is a woman, and Izzy knew Lilly was the one for him during one coffee date. When he was single, the contractor's business was not as big, but he quotes the bible verse that says, "he who finds a wife finds a good thing." As a married man, he sees how much he has accomplished since getting married.
Tell us what's wrong with this post? How could we improve it? :)
Let us improve this post!