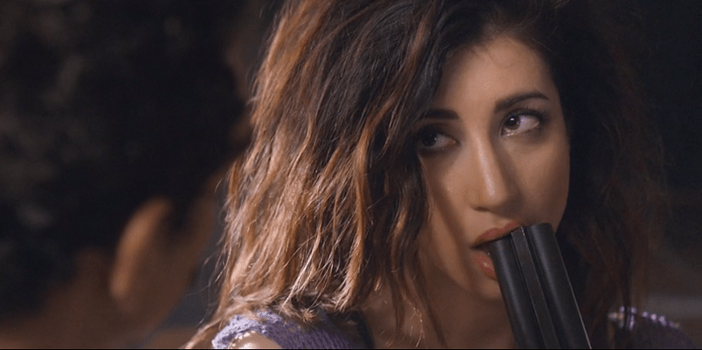 Dana Delorenzo is one of those comics you might like, love, or look at and wonder if she's okay half the time. Her style of comedy is kind of out there but it's still funny enough that you can't help but laugh. As of now her most notable role has been Kelly on Ash vs. Evil Dead and to be honest she's been pretty hilarious. She's been aggressive, combative, and a little crazy, but definitely funny, and that's what matters. She's come a long way from making commercials for her father's clothing store. And to think at age 11 she was performing weekly dinner shows cabaret-style as her first paying gig. You can say that she's grown up quite a bit and has taken to her career in a way that has most definitely enhanced her standing among her peers and is worth being followed.
Dana is very grateful for what she has.
Having worked with a few of the best in the business at this point, namely Bruce Campbell and Lucy Lawless among others, Dana has expressed little more than gratitude for the opportunity and has been as humble as she can possibly be. While her comedy and her acting are fully out there and ready to do battle with anyone you can't fault her for the fangirl moments she's admitted to, like having Lucy Lawless sign just about anything Dana can get her hands on. There's been a camaraderie among Dana and her costars that transcends the usual working relationship and it's worked for the most part since she is simply too overwhelmed being a part of the shows she's been on. To say that she's grateful is an understatement, but to say that she's simply pleased to be there is a good start.
Her skills are still developing.
This doesn't take away anything from what she's already done but instead indicates that she's getting better with every appearance. One can't help but wonder just how far she's going to take her career and what show she'll be seen on next since her role in Ash vs. Evil Dead was something quite interesting and a little special. Dana seems like the kind of talented individual that could easily break out on her own and become a well-known figure that could pull in a crowd. As her skill continues to increase however it stands to reason that she could eventually take the lead and be the star of her own show or movie. It might be that this is taking things a little fast but given how much she's evolved since her earliest days of performing it's not too hard to believe that such a thing could happen.
She's still got a lot of time left to establish herself as a major player.
Many people would argue that she's already done this but the truth is that while she is funny and she is a welcome addition pretty much anywhere she's still not as well-known as she could be. To a younger generation she might be the next big thing and that would be great to see since she's still got a lot of time in her life to be just that. An actor's career is never over until they say it is and right now it would sound like Dana doesn't have any designs on going away. It's a bit sad that Ash vs. Evil Dead was canceled but that's a mere roadblock, not a means for panicking and thinking that things are over. She has too much talent to just go away. So long as she can be funny for even a moment, and she can do way more than that, she'll have a career to look forward to and people that are willing to support what she does.
One of the biggest reasons to follow her is that she's someone new and exciting.
Hollywood is always looking for the next big thing and while Dana has been around for a while it's important to note that she has managed to be just as entertaining from the beginning as she is now. As she continues on however her act gets more refined and her jokes change just enough to keep things at the same level as they need to be in order to entertain people. She has a good grasp of what it takes to be famous and what it takes to keep being funny. Her look and her act are great and should be able to keep propelling her forward in an era when comedy is still one of the biggest draws of all when it comes to show business.
It's easy to build her up and say as many gratifying things about her as possible, but the truth is that she's just funny and able to perform as needed when needed. So honestly and truly she's worth watching.