I'm seeing Kevin Spacey everywhere lately, despite the fact that the movie star seems to have left traditional films behind. Perhaps better than any other A-lister, Kevin Spacey has embraced a shift in media way from film being the end-all, be-all of quality, and his experimentation with other forms of alternative media is really a case study in the changing landscape of storytelling.
Before 2008, Kevin Spacey was best known as the star of such films as LA Confidential, American Beauty and The Usual Suspects. He was a movie star practically without equal, which is why many questioned his sudden switch into less traditional stories.
I think all this started in 2008 with Recount, the HBO original film that had Spacey in the middle of the 2000 Bush vs. Gore recount debate. It was arguably one of the best films of the year, and Spacey was smart enough to see that, not rejecting the role just because it was a "TV movie" as many actors may have done. This is well before many, many A-listers started migrating to TV, eons before say, Woody Harrelson and Matthew McConaughey went to HBO for True Detective, or Michael Douglas and Matt Damon did so for their Liberace biopic, Behind the Candelabra.
After that? We all know what Spacey's next big move was. In 2013, Spacey agreed to star in House of Cards for Netflix, in an age when Netflix making an original show was a bizarre concept to the general public. But between Spacey's involvement and that of director David Fincher, the show was given a legitimacy it wouldn't have had otherwise. And because Spacey delivered a great performance when all is said and done, it propelled Netflix into the realm of being a fantastic creator of original content. Without Spacey, House of Cards likely wouldn't have worked, and Netflix may have scaled back their original show plans rather than ramping them up indefinitely.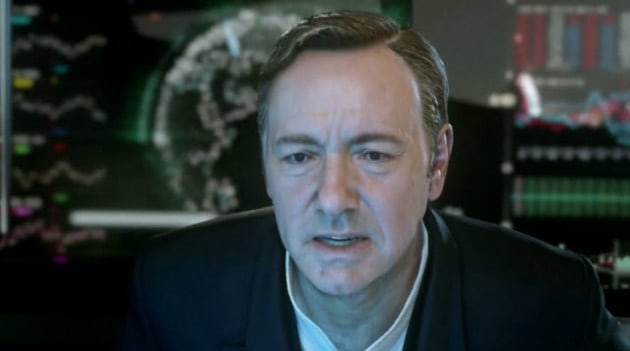 And the last place I've seen Spacey? That would be in Call of Duty: Advanced Warfare, the hotly anticipated new game in the famed series which has Spacey as the CEO of a private military contractor that eventually tries to take over the world. It's not just Spacey voicing the role, the game uses full-motion capture tech to ensure he is literally playing the part as we've seen in other new-generation video games before. And he gives a genuinely great performance and is the highlight of the game's story mode.
While other stars may have been in TV movies (Damon), TV shows (McConaughey) or video games (Ellen Page and Willem Dafoe in Beyond: Two Souls), Spacey seems to be doing all of these things first, and experimenting with ALL different forms of media rather than just one. Like McConaughey may have found success in TV, but do you think he'd agree to be in a video game any time soon? I don't think so.
Rather, it's Spacey that's pushing the bounds of what respected actors can do by being one of the first major stars to not leave film behind necessarily, but step into new and challenging roles across other forms of media including made-for-TV movies (of the non-Lifetime variety), streaming-based shows and even video games. I'm sure he's well paid, but I have to believe he's not just doing it for a paycheck, and he really is trying to push himself creatively, and demonstrate the potential of all these other new-age forms of media that expand past traditional film and TV.
Obviously other actors are starting to follow his lead, you will absolutely start to see more big name stars attached to projects that would have seem ludicrous for them 5-10 years ago. But I think that's also telling about the forms of media themselves, like how video games are finally capable of telling compelling stories (on occasion), or how Netflix can make shows that can compete with anything on network TV or cable.
So good work, Kevin Spacey, even if you did do all this for a paycheck, you were an innovator all the same. I have to believe you knew that, though. I'm sorry I killed you in Call of Duty.
[Photos via Netflix and Activision]