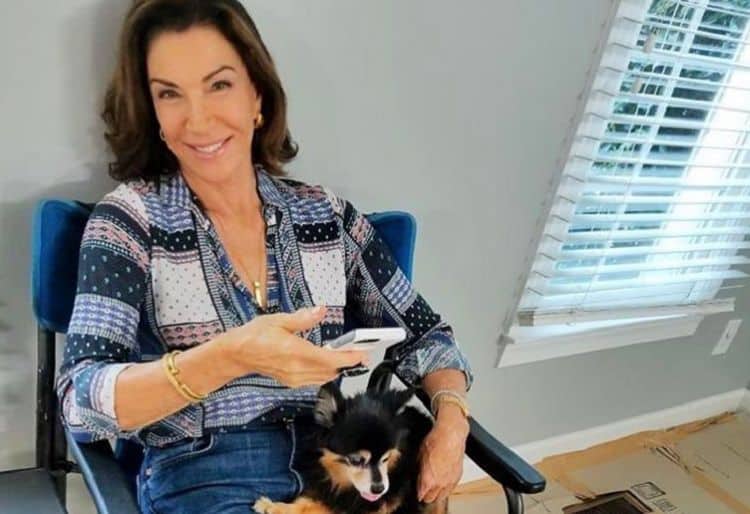 If you've never watched the hit home and decorating show on HGTV called "Love It or List It", then you may not have even heard of Hilary Farr. Hilary who? Well, for starters, "Love It or List It" is a popular HGTV show that, according to Showbiz Cheatsheet, is in its 14th season and, of course involves home sales and renovations, like most of the HGTV and DIY cable shows. It revolves around Hilary and her buddy, David Visentin, in a competition to see who does a better job for the homeowners featured, causing them to either choose to love their homes and stay after Hilary and her team have renovated it, or list it with David and choose to buy one of the properties that he has shown them as their real estate agent. Now, Hilary may look really hot even while in the midst of the chaos that comes with a home reno, but there's much more to her than meets the eye. So, here are 10 Things You Didn't Know about Hilary Farr:
1. She Was in The Rocky Horror Picture Show
This is according to Lauren Oster for HGTV.com. Hilary calls it a "fun fact" and says that she got the part because she and her family lived downstairs from Tim Curry. That's why they created a non-speaking role for Hilary. She also appeared in the 1980 film "The Return" with stars like Jan-Michael Vincent, Cybill Shepherd, and Martin Landau.
2. She's Also Been on Broadway
She was actually among the leads in a Broadway production. It was called "Run For Your Wife", a play that revolves around a bigamist named John Smith, who was a cab driver in London who had two wives. The trouble for John begins when he's mugged and hospitalized. He then must explain himself to the two angry wives as well as two local police officers who are very suspicious.
3. She Started on Her Career Path at a Very Young Age
She inherited her mother's passion for both art and design. In fact, she even helped with redecorating her family home when she was just a little kid. So, that explains her love for design but what about theater? Wel, all the way back when she was a small child, she was already mesmerized by the theatre, which explains her love for acting.
4. She Appeared Recently in "Sleeping Beauty"
A very astute casting director came to the realization that Hilary would be a great over-the-top villainess, according to TheStar. She plays Malignicent in the latest pantomime produced by Ross Petty Productions. Hilary describes her character as "truly evil from the start to the finish."
5. She's a Serious Animal Lover
Especially when it comes to Mimi, Hilary's fave four-legged Pomeranian/Chihuahua mix pal who even stars on her Instagram feed and in her Facebook photos. She also has several cats as housemates. And, you might think that she wouldn't want any wild critters around her precious house pets but you'd be wrong. She actually has had a raccoon visitor who came to her yard two winters ago and just stuck around. And, according to her Instagram feed, she also has a bat friend as well as some adorable honking Canadian geese in her yard!
6. She's Not Shy About Being Patriotic
She's proud of her love of country, or perhaps that should be countries. She loves not only the U.S. but also Canada and the UK and so you could just say that Hilary is actually from everywhere on both sides of the pond!
7. Hilary Has the Edge on "Love It or List It"
According to Showbiz Cheatsheet and Wikipedia, Hilary does have a slight edge over David, since there are more homeowners who choose to love it than there are those choosing to list it. Why? Well, it's partially due to that old nostalgia factor. A lot of families are so thrilled at seeing their beloved homes looking both fabulous and functional, that they decide against moving. That's why there have been more love-its than list-its. One reason that the results often swing in the other direction is that the majority of homes are worth quite a bit more post-renovation and then the family can afford bigger and better. However, it is really dependent upon the situation and trying to guess which homeowners are going to choose staying in their homes as opposed to those who will choose moving to a new one is half the fun of watching the show.
8. She Has a New Fabric Line and a Home Furnishings Collection
According to Home Accents Today, Hilary has launched her own fabric line called Flora, fauna and Farr in addition to her home furnishings collection that was launched in the early Fall at New York's High Point Market. Her love of animals and nature in general inspired her animal-inspired print, called Le Tigre, which shows Hilary's concern for our planet. Hilary Farr Designs is also a program that includes:
Soft accessories, fashion bedding, and sheets with Sky Home
Area rugs from Kaleen Rugs
Indoor/outdoor furniture for dining, living, and bedrooms with Braxton Culler Inc.
Lighting from Grandview Gallery
Accessories and other room décor with AB Home Inc.
9. She Has a Pretty Hefty Net Worth
Born on August 31, 1951 in Toronto, Canada, Hilary went to Ryerson University. All of that is probably fairly well-known info. But, did you know that in 2018 at 68 she was worth $8 million USD?
10. Who is Hilary Elizabeth Labow?
Well, Hilary was actually born Hilary Labow but changed it to Farr when she married Gordon Farr in 1982. They are now divorced and have one child.
So, now that you know that there's more to Hilary Farr than just her role as co-host on "Love It or List It", why not tune in to HGTV and see her in action? Her funny banter with David is quite engaging and you'll enjoy trying to guess whether the homeowners will love it or list it like many other viewers do.