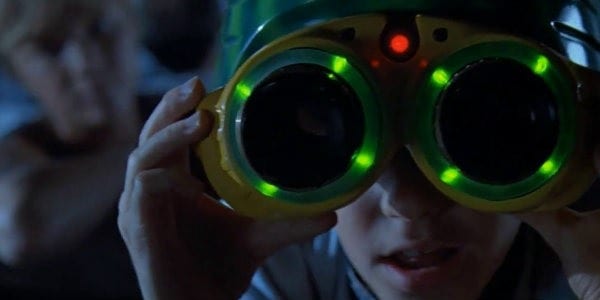 Replicas of movie props must be in high demand right now since the night vision goggles from Jurassic Park are the next on the block and will be available pretty soon. Just to be certain that people understand, these goggles won't grant actual night-vision, as the price tag for such a thing would break most fans that want to buy a pair. At $449 they're considered steal since they are after all one of the most well-known props from the original movie. If you can recall these were the goggles that Tim used to see the famed T-Rex for the first time when they happened to notice that the goat was missing from the paddock. Of course when a flying haunch of goat comes smacking into the overhead viewport of the vehicle you really don't need night vision any longer since the big critter coming after the rest of her meal will be in your face in a matter of moments.
But it would seem that the goggles have all but the one function that many people would wish for as they are colored in the same jungle motif that the goggles in the film had, and are built to scale. For diehard fans this piece of movie history would no doubt be a valuable thing to have despite the fact that they were basically used for one sequence and then ditched for the rest of the movie. But hey, people want to be nostalgic and it's not the worst thing that people could spend their money on. Honestly it'd be more fun to have something else from the films like a velociraptor egg or the 3D sculpture that allowed Dr. Grant to 'speak' to the raptors in the third movie. Those kinds of things seem like they'd be a little more prized than the goggles but some people are quite adamant about wanting to pre-order these big, ungainly things. To each their own though.
There will no doubt be other toys and gadgets that might come available when Jurassic World: Fallen Kingdom comes out, but for now this is the best thing that fans could have hoped for and it's not hard to think that some people will be salivating over the chance to own a pair of these. When Jurassic World comes out again however, the sequel, it's fair to say that the rolling ball that is a part of one of the rides might become one of the more sought-after items, though honestly one that's as big as is seen in the film wouldn't be likely. A remote-controlled toy could be fun, but a replica of such a thing, other than the plastic toys that have been made and sold, would be kind of out of the question. There are plenty of other things that will likely be put into production and a wide array of gadgets still leftover from the other films that could be explored though.
Jurassic Park opened up a whole new world of marketing that still has yet to be fully explored.
Tell us what's wrong with this post? How could we improve it? :)
Let us improve this post!