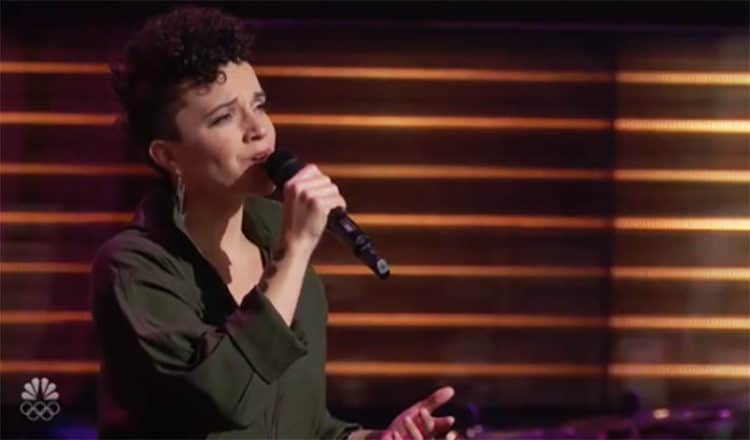 Season 20 of The Voice is off to a pretty impressive start and Halley Greg is one of the reasons why. Her rendition of Nelly Furtado's hit song "I'm Like a Bird" was unique and slightly haunting. Halley proved to have lots of control over her voice and she didn't struggle to reach the high notes. Although all of the judges seemed impressed with her vocal abilities, Kelly Clarkson was the only one to turn around in her chair. Halley will definitely be up against some stiff competition as the season goes on, but she's ready to give it her all and there are already quite a few people who think she can make it all the way. Here are 10 things you didn't know about Halley Greg.
1. She Comes From A Supportive Family
There are countless creative people who have struggled to find support from their loved ones. In reality, most people's family members would rather them pursue a traditional career path instead of something that can be uncertain like being an entertainer. Halley, however, is fortunate to come from a family that has always supported her dreams and has helped her build the confidence to believe in herself.
2. She's A High School Science Teacher
Even though Halley really loves music, she hasn't reached the point where she's able to do it full-time. Instead, she is currently working as a high school science teacher in the Seattle area. Even though she loves her job she's ready to be able to really focus on her passion.
3. She Loves To Read
Halley may be a science teacher, but she has a very special place in her heart for literature. Reading is one of her favorite ways to spend her free time and she loves a variety of books. Occasionally, she even shares photos of the books she's reading with her followers on social media.
4. She Has Already Released An Album
Despite not being able to devote all of her time to music, Halley has still put in a lot of hard work to build a solid foundation for herself. In 2020 she started a Kickstarter campaign to help raise funds to producer her album. She released her debut album, American Harlot, in 2020.
5. She Loves Spending Time Outdoors
Everybody has at least one thing they like to do to help rest and recharge after a long day. For Halley, that thing seems to be spending time outdoors. She loves to enjoy the beauty of nature and she's definitely the kind of person who always makes time to stop and smell the roses.
6. She's New To Song Writing
Although Halley isn't new to singing, she is new to the songwriting aspect. In her Kickstarter campaign Halley said, "I started writing songs seriously almost exactly a year ago. It was a spontaneous spark within me that then turned into a delicate flame, and with time and encouragement, that delicate flame turned into a roaring fire. In my lyrics, I explored themes of power, grief, anger, forgiveness, autonomy, losing and finding one's self, and standing up for what I know is right."
7. Her Name Isn't Really Halley Greg
Halley Greg sounds like a pretty unassuming name, right? For that reason, most people will probably be pretty surprised to know that it's actually a stage name. Halley chose to perform under a stage name to provide some separation between her every day life and her work as an artist. An article in the YAK Tri News reported that Halley's real name is Katie Krupin.
8. She Started A YouTube Channel
When you're in the process of trying to break into the industry, it's important to get your name out there as much as possible. Social media has proven to be one of the best ways to do that. Halley started a YouTube channel in 2019 and she's uploaded three videos so far.
9. She's Passionate About Women's Rights
Halley considers herself a feminist and that's something she's proud of. She has always made it a point to use her voice to raise awareness to women's rights and various causes that impact women. This is also something that Halley likes to include in her work as a musician.
10. The Voice Is Her First Competition Show
Some of the contestants on The Voice are no strangers to being on TV. Several of them have been on other shows such as American Idol and American's Got Talent. That's not true for Halley, though. From what we know, The Voice is Halley's first time doing any kind of TV talent show.
Tell us what's wrong with this post? How could we improve it? :)
Let us improve this post!