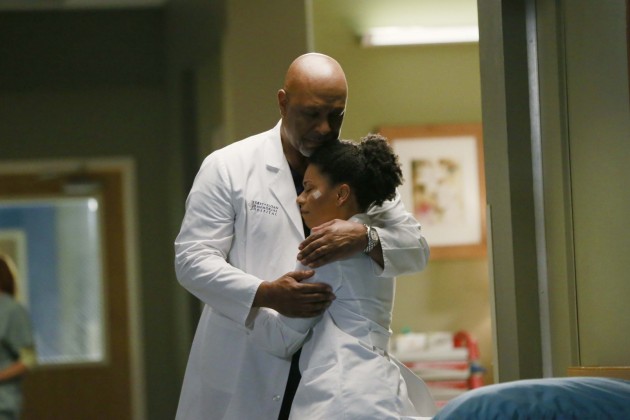 The relationship Alex once dubbed a miracle may be at the end of its life this week on Grey's Anatomy. The core relationship of the show is in a critical state, while all the other relationships take a positive step forward.
April and Jackson try to return to a place of normalcy after all of the heartbreak they have endured. Not that any such thing as an appropriate reaction after losing a child, but I'm pretty sure a quickie with your husband in a supply closet as if everything is normal again isn't the way to go. Neither is having a negative attitude with patients. Jackson is extremely concerned about his wife, and April is extremely annoyed that Jackson won't allow her to regain some normalcy treating her like a china doll. She makes a good point about wanting her husband back too, so they finally reconnect…in the car.
Callie is also getting her groove back getting back in the dating scene. Arizona has never really been in this position to see her ex with someone new, since most of their indiscretions have been on her end of the relationship. At first it seems like Arizona's attitude is due to jealousy, but it's actually a case of previous bad experience with Callie's date. So even these two exes are on good terms. Oh, and Amelia and Owen are doing very well too.
The case of a young, expecting couple hit by a disoriented man has an incredibly emotional effect on the doctors. While the father is in surgery the mother dies, and the doctors end up delivering a healthy baby when the mother has already died. Jo has a moment of being completely overwhelmed with the amount of death in this case, and Bailey is as understanding as ever knowing how fresh the loss can be for a resident.
Elsewhere Maggie is injured by a disoriented patient who turns out to have Alzheimers. It's the first chance case that starts a conversation between Webber and Maggie about the disease that killed Webber's wife and Ellis. Webber realizes Maggie has no idea her mother had Alzheimer's. When the man regains lucidity, tests are run that reveal that the man had fluid build-up in his brain. When the man realizes the damage he did to the young couple, he doesn't feel he deserves to be saved, and makes the decision to allow himself to get sick again. Watching this man's struggle gives Webber the courage to finally tell Maggie the truth about her mother, and get a moment to be a real father to his daughter.
Finally, after last week's shocking phone call between Meredith and a voice that is most definitely not her husband, Meredith is flipping out. Unfortunately this isn't a situation her friends can reassure her about completely, given the incriminating context of the phone call. Nevertheless Meredith's people give a long list of scenarios and justifications for why Derek wouldn't cheat on Meredith, including a long overdue "Team MerDer!" from Callie. It's so convincing that its believable, except that Meredith points out this would not be the first time Derek left an unhappy marriage, moved to a new city, and could be moving on with someone else. While Derek does make it home by the end of the episode, we're left to wonder if he really did cheat on his wife until next week.
Do you think Derek cheated? Even if he didn't, can the MerDer be saved?
[Photo via ABC]