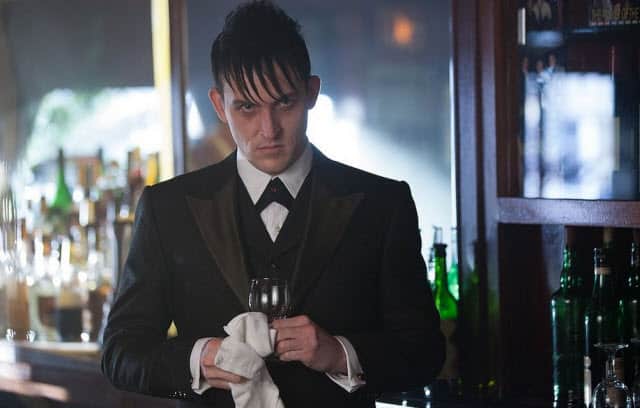 Last night's episode of Gotham stepped out of its established tone and decided to take it up a notch as "Viper" became the show's most comic book-y episode as of yet.
So far in the first season of the show, they have been sticking to a grounded tone which I have been fine with. But this week, they really shocked me when the show went from a gritty procedural to a gritty comic book drama. The villain of the week is a character named Stan Topolski that worked for WellZyn Laboratories, a division of Wayne Enterprises. Just to get this out of the way, he was an unimpressive villain, but it was his actions that intrigued me.
We see him handing out a new drug named "Viper" on the streets of Gotham City and anyone who took it, got super-strength. At first I got some Mirakuru vibes from Arrow's second season, but we see later on that it's nothing like it as it makes the people using it, fall to pieces. At this point, I wasn't really sure if I was in to this episode that much because it was one of those episodes that felt like it came out of nowhere.
However, it's revealed that the Viper drug is in fact an early version of the famous drug Venom that the Batman villain, Bane uses in the comic books as a power source. I'm slightly conflicted on the introduction of Venom here. On one hand, Bane and Venom is part of the Batman mythos so it makes sense that they would introduce it. However, I feel that it was too early to introduce something like Venom that makes people super-strong at this point in the season.
When you launch a new show, it's important to keep up with the tone that you have established in the first couple of episodes and doing something like this in your fifth episode, is odd. But I will let this pass because it made the episode stand out a bit from the previous ones and it's cool to know too see what the Venom drug was like before it became Bane's weapon. While I doubt we will ever see Bane on the show, since I assume they are sticking to the comics where he is locked up in Santa Prisca for his entire childhood, it was a good Easter Egg.
Something I also enjoyed a lot in this episode was seeing Bruce finally doing something else aside from just being at the mansion. Mazouz is doing an excellent job so far as we see this 12-year old kid forcing himself to grow up fast. I like that he really wants to get involved with the company and that he is starting to see himself that there might be some dark layers in the company that his parents created. Pertwee's Alfred is continuing to grow on me and each week he becomes an even better character. I like that they have decreased his wild side a bit and that he is starting to understand what Bruce wants to do.
These two things stood out the most in the episode as I wasn't interested in anything that involved Fish Mooney. I was however impressed with the scene that Gordon had with Maroni as Penguin spilled the beans on what had happened and after hearing what Gordon had to say, Maroni couldn't be more thrilled with having Penguin on his side. Overall, this was a mixed episode for me with the reasons above. It's not one of my favorite episodes, but it's definitely something that stood out and that is still enough for me.
Gotham airs on Monday nights, 8/7c on FOX.
[Photo via FOX]
Tell us what's wrong with this post? How could we improve it? :)
Let us improve this post!