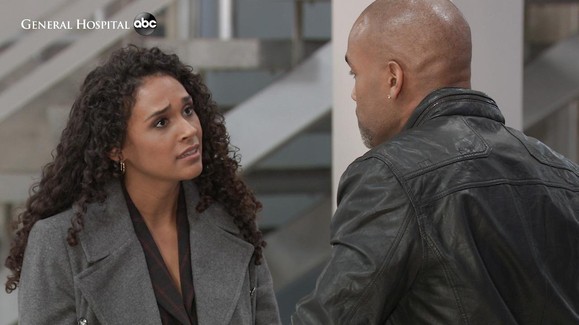 General Hospital fans ended the week last week with a gunshot would that might mean death for Taggert. He's here to try and get things done and handled, and it's not working out for him right now. It's a thing that might just change the world, but he cannot do it if he dies from this wound. We also saw a number of other casualties come into the hospital with all that is going on, and we are just not sure this is going to work out for anyone. There is a lot of horror going on in Port Charles right now, and we don't know how to focus on anything other than the many losses going on right now. It seems this is a year that is not going to be much different than the one that we just ended a few months ago. That's not good news.
Laura is feeling very confrontational, too, and we don't blame her. She's got a lot on her mind and in her life right now that is not working for her, and it's not going to help that she's got this attitude about it. Of course, she's only human, so we get it. Then there is Sonny. He's not only in need of answers, but he is demanding them, too. He's not going to stop until this is all said and done, and we do not doubt that he will get this handled in every capacity he has going on for him right now. Willow has a lot to think about. Wiley is not her son, but Michael wants her to be a part of the baby's life even though she's now aware that he is his son and not her own. Will she do it? Will she make it work for them?
What's Happening on General Hospital
https://twitter.com/GeneralHospital/status/1234116179813437442?ref_src=twsrc%5Etfw
Happy Birthday to one of our favorites.
What's Next on General Hospital
"You are never going to see Wiley again." #GH pic.twitter.com/eQ6PspvLzb

— General Hospital (@GeneralHospital) February 24, 2020
This is a day that is going to send Michael to Ned for advice. He has a lot of questions, and he's not sure how to handle all that is going on. His life just changed drastically, and he has to make some big decisions and make them official, so Ned is a good person to go to for help with these. He needs to figure out how to make sure that Nelle never gets to see the baby he just found out is theirs ever again. He needs to know how to protect himself and how to make his life a good one with his son, and he has so many questions he's not sure anyone can answer for him. He's struggling, but we are down with him being the man he needs to be in the moment. He has to do this for himself and for his baby.
Then there is Alexis, who has to offer some legal advice. We don't know to whom she will offer this, but we assume it's someone who has some big problems. We are leaning to Brad, and the fact that he knew he had a baby who wasn't the baby that he said it was, and he has to stay out of jail for this. He didn't kidnap Wiley since the baby's mother did give him to her, but she's saying a lot that has nothing to do with that to keep herself out of trouble, and this is a big problem for everyone. Though, it could be anyone else in Port Charles.
Stay tuned for more General Hospital and be sure to check out TVOvermind daily for the latest General Hospital spoilers, news, and updates.