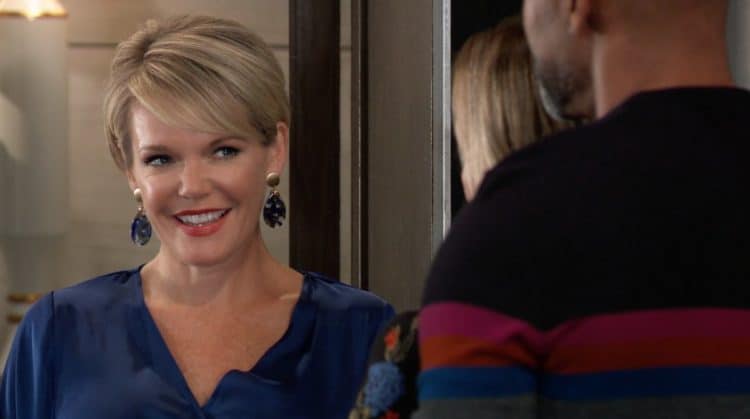 General Hospital fans come back for more everyday because we know there is always so much drama and so much to look forward to, but we also know that there are some things that are just a little better than others. One of those things that's just so good it's addicting is the relationship between Carly and Sonny. They are so good together. They are so good for one another. They are so good in general, and we just adore them. What we are doing now that our two weeks of Nurses Ball shows are over involves taking a look back at the many amazing moments that Carly and Sonny had over the course of their long history with one another. The first show we will see involving them and their marriage takes us back to May 2018 when Finn is giving big apologies, Ava is doing all she can to get Griffin to side with her, and Joss connects big time with Oscar. We will also see Valentin begging Nina, and we will see Peter realizing that his newest plan is not going to work out. We know that Joss has been a big point of contention from time to time in their marriage because of her father, Jax, and his feelings for Carly. So, let's take a look at that situation.
She's a Miracle
Joss is so young, but she was a miracle baby. Her parents, Jax and Carly, didn't think that they'd ever have a baby because of Carly's unfortunate history. She had kids with Sonny at this point, but she didn't have any with Jax because of her long history of miscarrying and other unfortunate strings of events. When they renewed their wedding vows, they also found out they were pregnant. It was a miracle, and they were very excited about their new baby girl.
Her Birth Was Traumatic
A woman by the name of Claudia had kidnaped Carly, and she was holding her hostage in a cabin. She went into labor, and Claudia helped her give birth and then tried to steal her baby. She wanted her for herself, but thankfully Michael had located his mother and came into the cabin before she could get away with the baby. He then killed her, and Carly was able to keep baby Joss.
The Cancer Diagnosis
When she was just a little girl, she was diagnosed with Stage 5 kidney cancer in both kidneys. Sure she would not survive this terrible diagnosis, her family already mourned the loss of their little girl knowing she could be gone at any moment. However, it was thought at the time that little Jake had been killed in an accident where his grandfather was driving and hit him, and she got to have his kidneys. We still find this one confusing considering Jake was absolutely not dead yet she's got his kidneys?
The Custody Issues
When Carly and Jax divorced shortly after their little girl was healthy and better, he wanted her for himself. He did not like that she was back with Sonny, and he felt that his daughter was not safe. He even went so far as to kidnap her from their home and try to go away with her when he was not awarded custody (Sonny framed him for a drug crime and had him arrested) and that resulted in a shoot out in which Sonny pulled a gun and accidentally shot Robin in the arm. It was a horrible situation, and they had a hard time with this one.
Jax and Sonny
Many other things happened with Joss over the years, but it was the problems that these two had that caused so many of the bigger problems in this little girl's life. Sonny and Jax hate one another, Jax has always made it clear he has feelings for Carly, and Sonny has always been just a little bit upset by that. They have a long and unfortunate history with one another, and it makes us wonder if they will ever find a chance to be on the same side of anything in their lives. Maybe, but we doubt it.