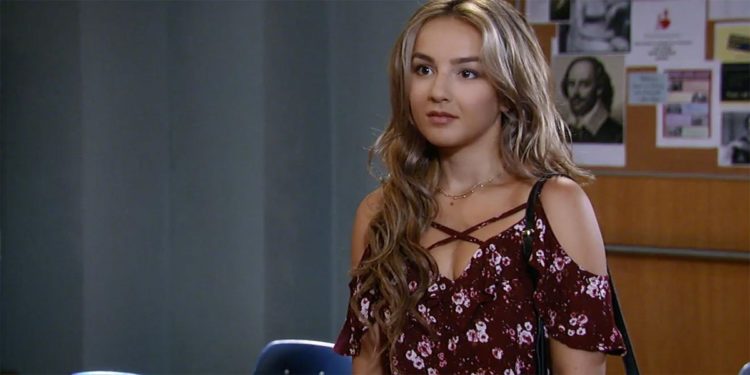 General Hospital fans haven't yet had to succumb to the moment when there are no new episodes to watch, but that moment is coming up this month (we hear). There is just not enough to go any longer, and they did all they could to give us as much as they could. But, we assume they will take the same lead as the CBS soaps and extend their season by airing old flashback episodes on a daily basis. It's not a bad deal, of course, but it is sad to sit back and wonder when things will ever change, how they will ever move on, and what will happen when we realize that we have nothing new to watch. It's hard to live life not knowing what is to come and when people can return to work or how they will return to work and still adhere to social distancing rules. It's all a mystery, but we still have some show news to share with you so that you are always in the loop. Here's the latest General Hospital news you need to know.
Kelly Thiebaud is Out
She's Britt, and she's out. She came back so recently, only in March, and we have to say that seeing her return was so good for us. She's always been someone we've liked and enjoyed watching, so to see her not there anymore was a heartbreak the first time she left. We were so happy to see her this time around, though, and it brought us a great deal of joy to see her return. But, for now, she's announced that she has no more time on the show. Of course, that might not be forever. There are simply no more production notices coming through since everyone is currently on hiatus. They have to figure things out the best way that they know how, and this is what they have for now. She might be able to do what she can to see things work out in the long run, but we don't know. She's also currently on Days of Our Lives working as Evan's attorney, Zoey, who is going out of her way to make everyone in her life as miserable and unhappy as possible. So, maybe there is hope for her to at least be part of our everyday lives somewhere on daytime television.
Lexi Ainsworth Back for Good?
We just don't know, and that is not the news that we wanted to bring to you. We know that we all love Kristina Davis, and her time on the show is good for us. She left in December of 2019 because she was having a rough time. She caused serious problems for more than a few people in Port Charles when she decided to become involved in a cult. That cult affected people like her sister, Sam, and Jason and their family. Sam had to go undercover to save her, she put her own life on the line, and she also had to put her own life and happiness on hold to help her sister. She was not happy to be removed from that situation, she had serious issues with her life as she was dealing with the brainwashing, and she had to go.
We've been loving her return, and she's been so good to have Molly confide in her so that she can figure out her own life. She didn't know that TJ was kidnapped and being held hostage, so she was crushed and slept with Brando out of sadness. But, she is miserable and has been confiding in her sister about whether she should share this with TJ or allow him to never find out she slept with Brando for any reason. Kristina feels keeping her mouth shut is the answer, but what do we know about anything? For now, we are just happy she is back, and there is no real confirmation that her return is not a long-term situation. Even if it's not officially, we know that it can be changed in a moment, and that is even more especially true with the current state of events in the world. Writers have time to make some great new changes.