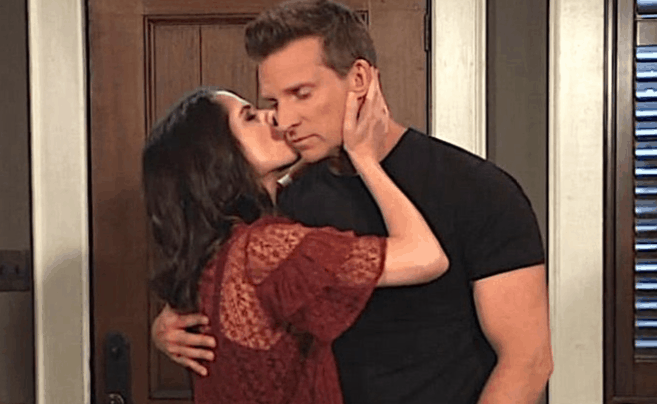 General Hospital fans know that Jason and Sam will always end up together. They belong together. They are the people who are not going to end up with anyone else in the meantime, but what will happen to them when this entire DoD situation is over? What is the situation they will find themselves in? Will they work out, or will she need some time to focus on her own life? Will she get to go back to her life in a happy manner right away, or will she end up with her mind blown and not quite right? Will she find that the level of mind control and the situations she's been living in for the past few months are too much for her to deal with, and she needs some time? Or what will happen? We have an idea that there might be a few things in her way, and we cannot help but want to discuss them.
Her Recovery
We don't know just yet what else is going to happen to Sam, but we know that she has to have some left of recovery after all of this. She's been deep undercover, and it's taking a toll on her life. She's been struggling to do this case, and we feel that she might not be able to get through this without a little damage to her mind and her body. She's not someone who is falling for this, but their level of mind control is something that might be more than she can handle. Will she get out of this with her mind intact, or will she find that things are not quite as they should be in the moment? We cannot tell, but we hope that things will work for her. She may need some time to recover before she can go back to her life and focus on things that are in her line of sight.
Oscar's Death
She's not related to him, but things are not going to end well. He will die, and he is the son of her former husband. She might not have known that her former husband was not her actual husband or that Oscar was his son, but she did spend some of her life with Drew. His son being so sick and dying in the near future is not something he will handle well, and she might feel that she needs to be there for him. She is closer to him than his own twin brother is, and that is because they have something else to focus on. They have to focus on the fact that they are not in a good place, and she might feel that her choice to openly be with Jason might not make Drew's life any easier on him in the moment.
Drew and Jason's Issues
When Oscar dies, she will probably see things change with her husband. She might not know what those things are, but she might see that her husband and his brother need one another. She might decide that Drew needs Jason, and that he needs to focus on his brother and the loss of this young man more than he needs to focus on the many things that are right or wrong about her. We worry that she cannot support him in this and still be with him at the same time, and that might be a reason that they don't end up staying together. But, we never know what might happen otherwise.
Things Will Go Awry
Anything can happen at any moment in Port Charles, and there is always a chance that something else might go down that will prevent them from being together at some point. But, there is little we can do to predict what might happen. But, we know that so many things are going on around here, and many of them might just make someone miserable. There might be someone else to help, someone else to deal with, and someone else that gets in the way of their love for one another. But, we know that they will end up together at some point, so it's merely a matter of figuring them out.
Tell us what's wrong with this post? How could we improve it? :)
Let us improve this post!