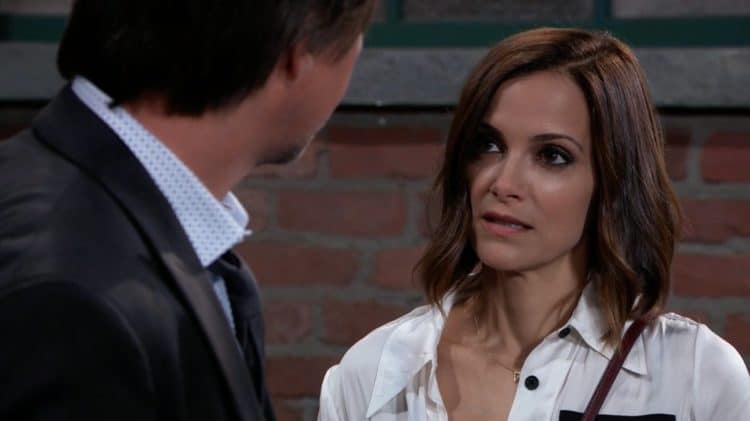 General Hospital fans aren't going back in time far today. We are only going back a year to 2019. This time, we are going to see what is going on right now with a few people who have been having some rough times. Today, Anna is perplexed. But, we know that she's got a lot going on in her life. She's had a rough few years since Valentin showed up and since everyone else was around with so many other things going on. Then there is Kristina, who is not happy with her sister, Sam. Sam is only doing what she needs to do for the cult-like situation that they are in, but it's not going well. Then there is Joss, who has a sweet note waiting on her, and then there is Sonny. He's supportive, and we do love that about him. Ava is struggling, but when is she not, if we are being entirely honest? Let's go back and see what all went down with the entire DoD situation and refresh our memories.
Kristina Joined on a Different Note
We know the Dawn of Day as a cult in which people are brainwashed and turned into virtual monsters, but it turned out that Kristina was asked to join when she was told it was a community outreach type of self-help situation. A young woman by the name of Daisy was hired by Julian at the pub where Kristina works, and she was asked to join. It was a whole situation, and it worked out very poorly for Kristina. She thought she was going to go into this to get some help and become a better person, but that is not how things turned out for her in the very least. She had a rough time of things, and that was only the beginning.
Shiloh is Hank
There was a huge situation with the DOD when Jason runs into someone who goes by the name Hank and mistakes him for his twin brother. They were, allegedly, in Afghanistan together. Drew was a Navy SEAL at the time that Hank was an independent contractor for the military. They met when there was an IED and Drew saved Hank's life. All seemed well and good at the time, but it turns out that when Kristina said she was moving into the DoD house, her sister was not happy about it. She and Jason tried hard to keep their minds open, but then they went to the house and met Shiloh — or Hank. And then there was an issue. Why was this man two people?
Willow
We all remember when Kristina was brainwashed, when Shiloh continued to lie about so many things, when he made it seem like Drew was a bad guy, too, and that he knew that he was being brainwashed into thinking he was his brother. But, more than anything, we remember a tough but very sweet young woman by the name of Willow. She was pregnant with a little boy she wanted to give up for adoption to Lucas and Brad. She was sure she could not keep this baby, but she did not share why. She was a school teacher who had once been a part of this cult. She was brainwashed into thinking that he loved her and would be with her forever.
He got her pregnant, and she knew she had to get out of there. Unfortunately, even her mother was a member of this cult. It was very ugly days. Shiloh later found out that she was a woman who gave birth. Her mother told him that the baby was his, and she did all she could to protect baby Wiley. She lied to a judge and refused to tell him where the baby was, and that led to her being arrested and held in contempt of court, but it only proved to everyone else around town that he was really that dangerous. That was when things began to get serious, Sam went undercover, Kristina was kidnapped, and everything became an even bigger mess that would take a long time to be sorted out. It's still not perfect, but it's better.