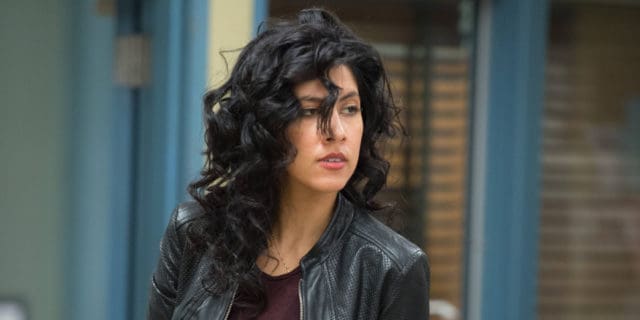 When the TV series Brooklyn Nine-Nine first hit the scene, what was initially most impressive was the star-studded cast including Andre Braugher, Andy Samberg, Terry Crews and more. But you cannot mention the show without the image of bombshell, Stephanie Beatriz, permeating your mind. Beatriz plays the role of Detective Rosa Diaz. Even when she was on Modern Family, Diaz has captivated the male audience. As with most celebrities, there are always some hidden facts that most of their fans are completely oblivious to. Well, Beatriz is no different in that regard.
Following are five things you probably did not know about Stephanie Beatriz.
1. She Has Openly Admitted to Being Bisexual
If Beatriz's beauty and sex-appeal have been driving men crazy for some time now, it is safe to say that she did not want to leave the women. She recently tweeted that she was bi-sexual and nearly broke the internet with that bit of news. According to the star, one of the first calls she received was from her father, who is a traditional catholic. I wonder how that conversation went. With all things considered, Beatriz has taken all of the backlash and media attention associated with her coming out in stride.
2. Beatriz Grew Up in Webster, TX
When you see the well-polished finished product that Beatriz has become, it is hard picturing her growing up in a small town like Webster, TX. The truth is that living in Webster is essentially like living in Houston to everyone except those living in Webster. Beatriz was born in Venezuela, and moved to the U.S. with her parents and younger sister when she was three. Shortly after graduating High School, she moved to New York to pursue acting and as they say, the rest is history.
3. She Co-host of Reality Bytes
Believe it or not, podcasts are making a comeback. In fact, Laurence Fishburne is producing on ongoing drama podcast series that has garnered a great deal of attention from the public. Not to miss out on the resurgence of podcasts, Stephanie Beatriz decided to co-host a podcast with her friend, Courtney Kocak.
4. She is Starring in a New Drama
As if comedy and podcasting weren't enough. Beatriz is reaching out to take on a role in a serious drama called The Light of the Moon. The show touches on a serious topic that can be hard for many to discuss – rape. Stephanie says that she embraced the opportunity to take on the role because the subject is so taboo, but it impacts such a large group. She stated that the director gave her the latitude necessary to bring the character to life.
5. The Scar on Her Elbow Was Caused by a Lego Block
Many stars have distinguishing scars and marks that become a part of their persona. I common question about Stephanie is, how did she get that scar on her elbow. While the star would like to provide some elaborate story, the truth is that she got the scar when she was 10 years old, after tripping on a Lego block.