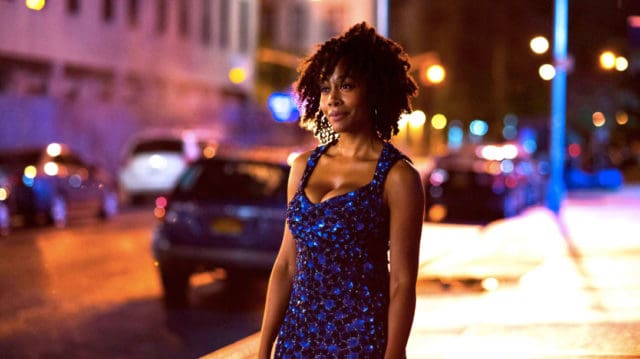 Hollywood is one of the finest examples of an industry which has made great strides towards equality. While there is still much work to be done, there are more quality roles available to women and people of color than in the past. Established stars who have stood up for the rights of all actors have been important for this change, but the courage of up-and-coming actors to speak out is equally important.
One emerging star who has not been afraid to voice her opinions on equality in Hollywood is the talented Simone Missick. Missick is best known for starring as the female lead in Luke Cage, and she will be seen later this year in The Defenders. While her portrayal of Misty Knight has earned her many fans, most are unaware of how interesting her background is. Here are five of the most interesting facts about Simone Missick.
5. Her passion grew while at college
Anyone who has seen Missick perform in Luke Cage is aware that she has incredible natural ability. However, both her ability to act and her passion for performing can also be attributed to her time spent at Howard University. Missick studied theater at this prestigious institution, graduating in 2003. She has stated that it was in her college years that her passion for acting emerged.
4. She is married to an actor
Acting is one of the most difficult and stressful jobs a person could do. For this reason, having a partner who understands the pressures and demands of working in the entertainment industry is a great advantage. Missick enjoys this support, as she is happily married to actor Dorian Missick. Dorian is an established actor in his own right, appearing in films like Lucky Number Slevin and Southland.
3. She thought she would be rejected from Luke Cage
Fans of Luke Cage will likely scoff at the idea of any other actor portraying Misty Knight. However, Missick truly believed that her audition was so poor that she would not land the part. She sent in a tape audition which she felt was poor quality and was very surprised when Marvel asked her to audition in person. To compound her stress, she had a serious cold while she met with Marvel and had lost her voice. Obviously, the casting director could see her immense talent even through her illness.
2. She is a skilled athlete
One of the funniest stories from the set of Luke Cage involved a scene where Missick's character had to play basketball. While they had a stunt double ready, nobody on set knew that Missick was the captain of her high school basketball team and was more than capable. After she sunk the shot on the first throw, the set erupted in surprise. They were so sure that she wouldn't get the basket that they did not even film the throw.
1. She is speaking up about equality in Hollywood
As a leading woman in one of television's most prominent shows, Missick is the perfect person to highlight the benefits of equal opportunities for actors. Her incredible performances as the complex Misty Knight have been one of the highlights of the show. She has stated that women are hugely important as consumers of shows and films, and they should be better represented. She feels that in addition to improving the number of quality roles offered to women, there should also be better representation behind the camera as well.
Final Thoughts
Simone Missick is quickly becoming one of the fastest rising stars in television. Her talent, hard work, and education have earned her one of the most high profile roles on TV today. In addition, she has the courage to speak up about equality in Hollywood. With prominent actors like Missick voicing their opinion that there should be equal opportunity for quality roles, the future will certainly hold bigger and better things for all actors.