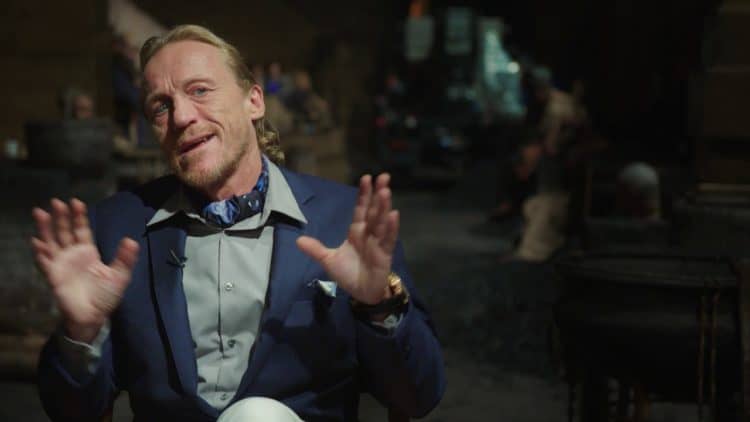 Jerome Flynn was born in Bromley Kent on March 16, 1963. He is an English Actor and singer. He shot to fame when he played the role of Kenny 'Rambo' Baines in 'London's Burning', a 1986 television film. He then starred in the hit TV show 'Soldier, Soldier'. This led to him establishing a singing career when he partnered with his 'Soldier, Soldier' co-star, Robson Green. Their first single, a cover of 'Unchained Melody', was at number one in the UK charts for seven weeks. He is now most famous for playing the character Bronn in 'Game of Thrones', the HBO television series. Here are five more facts about Jerome Flynn.
1. Flynn Didn't Sing Every Note in His Hit Singles
Despite the huge success of Robson & Jerome in the music industry, neither singer sang all the notes in their music videos. In fact, both stars had uncredited voice doubles to sing the notes they found difficult to reach, according to music producer Mike Stock. Jerome's singing double was a guy called Des Dyer who was chosen because he had a similar singing tone.
2. He Had a Ten-Year Break from Acting
When Flynn took on the role of Bronn for 'Game of Thrones' in 2010, he had taken a ten-year break from acting and hadn't taken on an acting role since playing Bobby Charlton in the 1999 film 'Best'. During this period of semi-retirement, he had moved to Pembrokeshire and directed a low-budget movie called 'Rude Tales'.
3. He Does a Voiceover for a Children's Program
It is not just being in front of the camera that Jerome Flynn enjoys as he has also provided the voice for a character in a children's television program. In the TV series 'Tommy Zoom', he is the voice of a hound called Daniel 'Danny' Zoom. The show is aired in the UK on the CBeebies channel. It had started as a feature but became a full series due to the popularity of the feature.
4. He Has Royal Heritage
Jerome Flynn once appeared on the television series, 'So You Think You Are Royal?'. This program traces the family tree of a different celebrity each episode and looks at the ancestry of celebrities to find out if they have any royal connections. The show discovered that Flynn does have a royal background. His mother's side of the family are descendants of Henry Cromwell, the son of Oliver Cromwell. It was also discovered that Flynn has more royal family connections as he is a direct descendant of three Kings of England; Edward I, Edward II, and Edward III.
5. He Has Recorded Bedtime Stories for Adults
One of his most unusual roles has been providing the voice for 'Calm', a mindfulness and meditation app. A set of sleep stories was launched in 2016 by the app with the intention of adults using them as bedtime stories that would help them to get a good nights' sleep. Flynn reads an original fiction story called 'A Magical Winter Night' for the app.