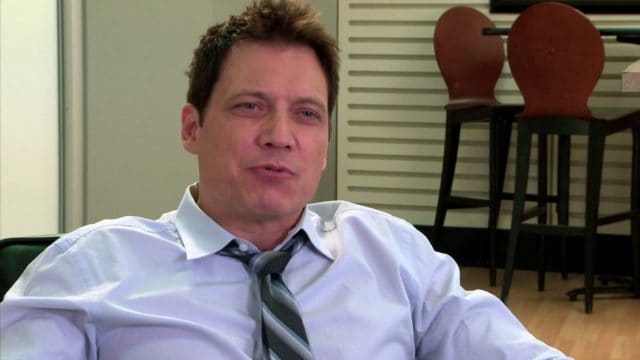 Holt McCallany is an actor, writer, and producer who was born in New York City on September 3, 1963. He began his career in theatre before landing some small roles in movies, including 'Alien 3′, 'Casualties of War', and 'Rough Riders'. Since then, he has established a successful career in television and film. He has starred in movies such as 'Below', 'Fight Club', and 'Monster Trucks'. He has also collaborated on many other projects behind the camera. Here are five things you probably do not know about Holt McCallany.
1. He is in a Long-term Relationship with Nicole Wilson
McCallany has been in a long-term relationship with actress Nicole Wilson since 2006. Nicole Wilson is best-known for her roles in television series 'As the World Turns' and 'All My Children'. The couple has homes in both New York City and Los Angeles.
2. He is From a Family of Actors
It is little wonder that Holt McCallany has established a career as an actor as his parents are also performers. His father was Michael McAloney who was an Irish actor and producer. He is probably best-known for producing 'Borstal Boy' which won a Tony Award. His father died in 2000. His mother, who died in 2015, was the actress and singer Julie Wilson. For her performance in 'Legs Diamond', she was nominated for a Tony Award. She was often referred to as the 'Queen of Cabaret'.
3. He Has Lived in Many Locations Across the Globe
From a young age, Holt McCallany has moved around a lot. He was born in New York City but his father wanted Holt and his brother to have an Irish education, so they moved to live with family in Dublin, Ireland, while their parents remained in the United States. When they returned to America, they lived in New Jersey for a while where the brothers attended school. He then moved to live with his grandparents in Nebraska before running away from home to live in Los Angeles at the age of 14. He was then sent back to Ireland to attend a boarding school in County Kildare. When he left high school, McCallany studied in France at both the Paris American Academy and the L'École Marcel Marceau and L'École Jacques Lecoq. At the beginning of his career, he spent short amounts of time living in Oxford, England, and Edinburgh, Scotland. He then returned to New York City.
4. He is a Supporter of the Atlas Foundation Charity
In the HBO telefilm 'Tyson', McCallany played the role of Teddy Atlas, a legendary boxer. This led to him becoming a supporter of the Atlas Foundation Charity. This organization is dedicated to supporting families and children who are experiencing either financial or medical hardship.
5. He is Starring in Mindhunter
Holt McCallany's latest role is as Bill Trench in the crime drama web television series 'Mindhunter'. The series debuted on Netflix on October 13, 2017. It is based on a book by John E. Douglas and Mark Olshaker called 'Mind Hunter: Inside the FBI's Elite Serial Crime Unit. The series has already been renewed for a second season.
Save