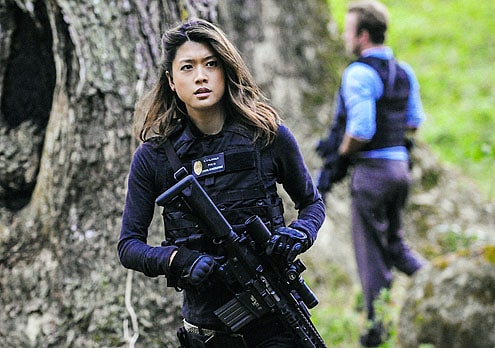 Grace Park is a Canadian-American actress of Korean heritage who has had a wide range of roles on a wide range of TV shows as well as a much smaller number of appearances in movies. At the moment, she should be best-known for her role as Officer Kono Kalalaua on Hawaii Five-0, which has come to a conclusion because the show-makers refused to pay her and Daniel Dae Kim the same as their white co-stars.
Here are five things that you may or may not have known about Grace Park:
Korean Canadian-American
Park was born in the city of Los Angeles in 1974, but since her family moved to Canada when she was less than two years, she identifies as a Canadian native. As a result, she is a Korean Canadian-American citizen who happens to speak English at home but can also speak some French as well because of the Canadian education system.
Studied Psychology
After graduating from high school, Park attended the University of British Columbia, which has campuses in the city of Vancouver as well as the city of Kelowna. It was not until after she had graduated from said school with a degree in psychology that she decided to spend a year to see if she had a future in acting, though it is interesting to note that she had been a model before that point.
Got a Boost from Edgemont
By 2001, Park had appeared in a number of small roles, with examples ranging from a one-episode character on Stargate SG-1 to an unnamed dancer in Romeo Must Die. However, it was not until that year that she managed to land her first role as a main character. In brief, Park played a high school student called Shannon Ng on Edgemont, which was a Canadian soap opera that centered around a main cast of high school students living in a fictitious suburb of Vancouver bearing the titular name. In total, the TV show lasted 70 episodes, with Park having appeared in all but one of them in spite of her other acting obligations.
Her Most Famous Roles Are in Reboots
Most people who recognize Park will recognize her from either Battlestar Galactica or Hawaii Five-0. However, it is interesting to note that both of these TV shows are reboots of TV shows, with the first being a reboot of a 1978 counterpart and the second being a reboot of a 1968 counterpart. Furthermore, both of Park's characters on these TV shows were male in the original series but changed to a woman in the reboots, which is an interesting coincidence.
Is Married to a Real Estate Developer
In 2004, Park got married to Phil Kim, who is a real estate developer. As a result, the two are now living in the city of Vancouver, having had one child so far. When she was pregnant with their son, Park was not permitted to fly by her doctors during the later stages of her pregnancy, meaning that her scenes in some of the last episodes of the sixth season of Hawaii Five-0 were actually filmed in Vancouver rather than Hawaii because of necessity.