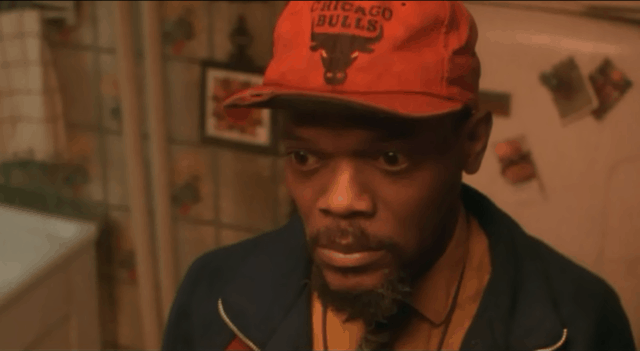 The words "epic" and "legend" come to mind when you're talking about Samuel L. Jackson. The man's done just about everything you could possibly imagine in his career with a few small but notable omissions in regards to which parts he'll play. More often than not he's the kind of guy that seeks to teach his fellow African-Americans in one way or another. He's portrayed a new and updated version of Shaft, he's been a Jedi Master, and he's even been in control of SHIELD, one of the most dominant forces in any film to date. But with all these credits it's not hard to believe that there might be a few roles that you don't quite remember him in. Stuff like Juice and Do The Right Thing might rank up there, but you won't find them here because it's too simple.
These roles are here largely because most people wouldn't remember them on their own.
5. Parnell "Stacks" Edwards – Goodfellas
Based upon a true story, Goodfellas uses Samuel L. Jackson mainly as a bit character that's there and gone in a very brief time. His role as Stacks is that of a patsy that takes part in the famous Lufthansa heist that was pulled off by Jimmy Burke and Henry Hill. Stacks was among the many individuals that was often used for heists and was a little more important than the movie made him out to be. His involvement and death were said to be quite accurate though.
4. Hold-up man – Coming to America
For a while it seems like Jackson did a lot of cameos and bit parts in movies as though to gain a bit more notoriety and increase his Hollywood presence. This was actually a smart move since he was recognized so often and eventually got people wanting to see him just pop up now and again. His brash attitude and larger than life appearances were a bonus when people got to see him, even if he was there and gone a lot of time.
3. Wes Luger – National Lampoon's Loaded Weapon
This kind of attests to the fact that Samuel L. Jackson can act and look very different in most movies despite the fact that his acting is usually very straightforward and just as aggressive in many of his movies. This time however he got to do a lighter, funnier side of his personality that many people hadn't seen yet. He's a cool character on film, but in this movie he got to show a sense of humor that hadn't been fully displayed in other features.
2. Russell Franklin – Deep Blue Sea
It kind of feels like he didn't really belong in this film. Either it was the caliber of the film and the fact that he was just too big of a presence, or it's the fact that he doesn't really seem the type to do a shark movie. I'm leaning with the former really. But his death scene wasn't just dissatisfying, it was just kind of, dumb. If you know the sharks are in the water, don't hover over a pool overlooking their domain. And second, don't make a big, long speech in a horror movie, that's just begging to be next.
1. Ray Arnold – Jurassic Park
I'm betting that a lot of you forgot he was even in this film. He didn't have the most prominent role and he wasn't the center of attention so it's pretty understandable. But as Ray Arnold he did have a fairly important job when it came to shutting down the power to get rid of the damage that Nedry had done. Unfortunately I'm not sure it works that way, especially when you have to trek through a whole world of danger and certain death to get the park running again. His death was kind of a given really.
It's hard to misplace a guy like Samuel L. Jackson due to his big presence and immense talent. But it's been done before.
Save
Tell us what's wrong with this post? How could we improve it? :)
Let us improve this post!