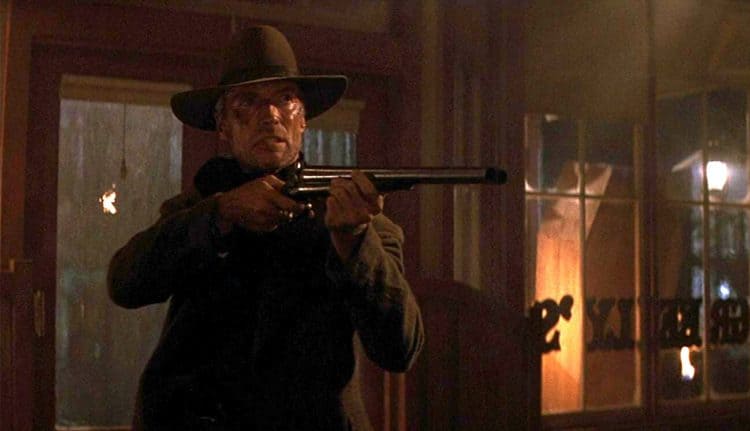 Clint Eastwood is a living Hollywood legend, and at age 91, he continues to dominate Tinseltown. Not only has he made his mark in front of the camera, playing memorable roles in Dirty Harry, The Good, The Bad, and The Ugly, and Escape from Alcatraz, he's also gained widespread recognition for his work in the director's chair. Clint Eastwood has made excellent films over the past few decades, for which he's been recognized by multiple award-giving bodies, including the Oscars. If you are new to Clint Eastwood-directed flicks, here are five movie recommendations that you should add to your list.
Play Misty For Me
Play Misty For Me is Clint Eastwood's directorial debut, premiering in 1971. He also starred in the flick, alongside actors Jessica Walters, Donna Mills, and John Larch. IMDb's synopsis of the movie is as follows: "The life of a disc jockey is turned upside down after a romantic encounter with an obsessed fan." Given that this is Eastwood's debut behind the camera, the movie generated mostly positive reviews. Roger Ebert sang praises of the movie, taking note that Eastwood must have learned so many things working with other directors. "The movie was Clint Eastwood's debut as a director, and it was a good beginning. He must have learned a lot during seventeen years of working for other directors. In particular, he must have learned a lot from Don Siegel, who directed his previous four movies and has a bit part (the bartender) in this one. There is no wasted energy in "Play Misty for Me." Everything contributes to the accumulation of terror, until even the ordinary, daytime scenes seem to have unspeakable things lurking beneath them."
Unforgiven
Clint Eastwood also directed Unforgiven, a Western film starring himself as well as Gene Hackman, Morgan Freeman, and Richard Harris. Unforgiven tells the story of a retired outlaw, who had since spent his remaining years farming, taking on one last job. The movie garnered critical acclaim during its release in 1992. It won four Oscars: a Best Picture and Best Director Award for Clint Eastwood, a Best Supporting Actor for Gene Hackman, and Best Film Editing. Eastwood was also nominated for Best Actor in the movie. Unforgiven marked Clint Eastwood's first Oscars directorial win. The Guardian's review of the movie went so far as to imply that Unforgiven was the best movie made in 1992 — both in the US and abroad. "There is unlikely to be a better movie from the States or anywhere else this year. Directed by Clint Eastwood from an eloquent, elegantly constructed screenplay by David Webb Peoples, Unforgiven (West End and selected locals, 15) is a masterpiece, dedicated to Eastwood's mentors and friends, Sergio Leone and Don Siegel and certain to take its place among the great Westerns. It is a magisterial film, a lean fable of great moral complexity, immaculately acted by a large cast, the culmination of Eastwood's 38-year association with the genre."

Mystic River
Mystic River is a 2003 psychological drama movie directed by Clint Eastwood. Eastwood doesn't appear in this one, but the movie nonetheless features a stellar cast of actors, including Sean Penn, Tim Robbins, Laurence Fishburne, Marcia Gay Harden, and Laura Linney. Here is the synopsis, according to Rotten Tomatoes: "When the daughter (Emmy Rossum) of ex-con Jimmy Marcus (Sean Penn) is murdered, two of his childhood friends from the neighborhood are involved. Dave (Tim Robbins), a blue-collar worker, was the last person to see her alive, while Sean (Kevin Bacon), a homicide detective, is heading up the case. As Sean proceeds with his investigation, Jimmy conducts one of his own through neighborhood contacts. Eventually, Jimmy suspects Dave is the culprit and considers taking the law into his own hands." Clint Eastwood once again raked in trophies for Mystic River, becoming a critic-favorite during the 76th Academy Awards. It snagged six nominations and two wins, both for Penn and Robbins, as Best Actor and Best Supporting Actor respectively. A review of the London Evening Standard sang praises of the movie: "It is a film of magisterial, slow-burning power, one of the finest examples of recent American cinematic storytelling and certainly Eastwood's most mature film."
Million Dollar Baby
Million Dollar Baby starred Clint Eastwood, alongside Hilary Swank and Morgan Freeman. The movie depicts the story of a struggling boxer, played by Swank, who is taken under the mentorship of Eastwood and Freeman. A review by Roger Ebert of the movie described how emotionally packed the movie is, despite its focus on a brutal sport. "Clint Eastwood's "Million Dollar Baby" is a masterpiece, pure and simple, deep and true. It tells the story of an aging fight trainer and a hillbilly girl who thinks she can be a boxer. It is narrated by a former boxer who is the trainer's best friend. But it's not a boxing movie. It is a movie about a boxer. What else it is, all it is, how deep it goes, what emotional power it contains, I cannot suggest in this review, because I will not spoil the experience of following this story into the deepest secrets of life and death. This is the best film of the year." Unsurprisingly, Million Dollar Baby garnered multiple nominations at the 77th Academy Awards. It won four trophies that year: Best Picture and Best Director for Eastwood, Best Actress for Hilary Swank, and Best Supporting Actor for Morgan Freeman.
Gran Torino
Last on this list is Gran Torino, which is perhaps the movie that most younger audience are familiar with. Gran Torino is Eastwood's first starring role since Million Dollar Baby. The movie is groundbreaking for featuring a large number of Hmong American actors. Alongide Eastwood, the movie featured Bee Vang, Ahney Her, and Christopher Carley. While the movie was criticized for certain cultural innacuracies, it still garnered enough praise from critics. Roll Credits wrote: "As a film, Gran Torino is powerful, moving and entertaining; as a tribute to a living legend, it's deeply, indelibly affecting." Unlike Eastwood's previous films, Gran Torino was largely snubbed at the Academy Awards, only recieving one nomination for the film.
Tell us what's wrong with this post? How could we improve it? :)
Let us improve this post!