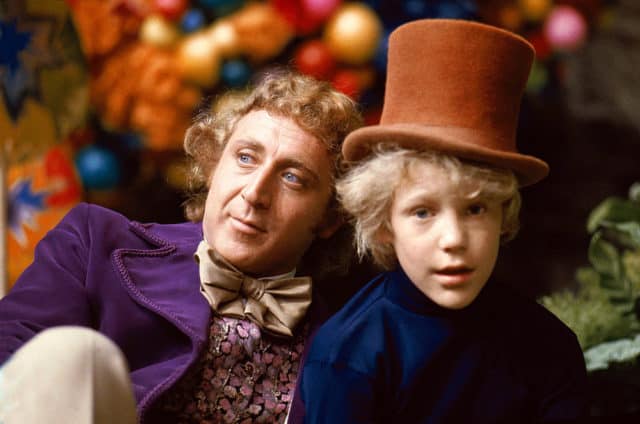 Whether a project for film school or aspiring film makers, creating recuts of movie trailers never gets old. One wonders if instead of remaking films which is done all of the time, wouldn't it be great to remake films in completely different genres? Comedy film trailers recut as horror movie trailers are often hilarious, even more funny than the original comedy film.
Here are 5 hilarious comedy trailers recut as horror movies.
Charlie and the Chocolate Factory
Two films were adapted from Charles Dahl's 1964 children's book "Charlie and the Chocolate Factory". The classic 1971 film starred Gene Wilder and the 2005 remake starred Johnny Depp. Although a children's film meant to be an adventure and amusing, it is easy to find horror in the films. Willy Wonka is a creepy, lonely man who owns the towns candy factory. Wonka lures children in by offering 5 "winners" of the gold tickets to tour the factory. As the children and an adult for each tour Wonka's factory, it's bizarre. The recut of the original movie's trailer is hysterical. It portrays the creepiness of Wonka and the factory even more than the original trailer. Wonka could easily be turned into a lonely psychopath who kills instead of a man simply wanting to share his love of candy with children.
Toy Story
Animated toys can be creepy, and this recut of "Toy Story" shows just how creepy they can be. Pixar and Walt Disney studios released "Toy Story" in 1995 as an animated buddy comedy for kids and the movie and its sequels are endearing to generations. The cute story of Woody (voiced by Tom Hanks) and Buzz Lightyear (voiced by Tim Allen) is about how much toys get attached to children as much as children get attached to their toys. This recut of the original "Toy Story" trailer portrays Woody the toy cowboy as obsessed with keeping his owner, Andy's love. When Buzz Lightyear comes in, Woody sets out to destroy the spaceman.
Mrs. Doubtfire
This 1993 comedy follows Daniel Hillard (played by Robin Williams) as a down on his luck family man. When his wife kicks him out, divorces him and fights him for full custody of their 3 children, Daniel is desperate. He can't stand the thought of not seeing his kids on a daily basis without supervision because his ex-wife and the Court don't think he's responsible and question his goofy lifestyle. Daniel becomes desperate and basically snaps. While it's a great comedic film of a man dressing up as an old English nanny to be with his kids, it's a set up for a horror movie. This recut of the original trailer is almost funnier than the original movie. It shows a different view of the comedy, one where there is an obsessed, dangerous man who cross-dresses to be with his kids.
Dumb and Dumber
The Farelly brothers wrote and directed the 1994 road comedy starring Jim Carrey and Jeff Daniels. Carrey and Daniels play Lloyd and Harry, 2 not so bright guys who travel from Rhode Island to Colorado to return a suitcase to a woman that Lloyd has fallen in love with. Along the way, the guys are hilarious as they are naïve and "dumb" and "dumber". This recut of the movie's trailer is almost funnier than the original trailer. It portrays Lloyd and Harry as psychotic stalkers being chased by the FBI. The trailer does a great job portraying suspense in a film that had absolutely no suspense at all.
Meet the Parents
This 2000 comedy about a man meeting his fiancée's parents for the first time. Almost always an awkward moment, "Meet the Parents" makes the scenario funny because the future son in law, Greg (played by Ben Stiller) and father of the future bride, Jack (played by Robert De Niro) take the angst to the extreme. The movie is funny as it shows Greg's insecurities and Jack's overprotectiveness of his daughter which, the secret CIA agent takes to extremes to get rid of Greg. In this recut of "Meet the Parents" we see just how scary Jack can be. We also see scenes where Greg gets tough and seems to want revenge on Jack. After all, hits his fiancée's sister with a volley ball and sets fire (accidently) to the backyard wedding scene.