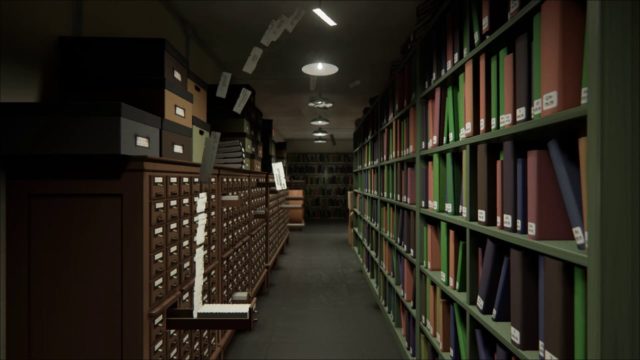 Library scenes in movies don't seem like they'd be that intense. There's no running, shouting, screaming, or even loud whispering allowed in the library. I get the feeling that someone forgot to mention that in a few of these movies. At least in one of them the main character in the scene is being respectful, but then that's kind of an anomaly since in a lot of movies libraries are rarely quiet places and don't tend to be utilized just for their books and other resources. In fact in some movies the library is one of the prime places for a funny or dramatic or even horrific scene to take place. Looking at some libraries throughout the world you wouldn't get this feeling, but if you look at some of the older, more decrepit libraries you might understand why.
Here are just a few scenes in which libraries are used to great extent.
5. The Mummy
This is definitely one of the funnier moments in which poor Rachel Weisz is all alone in the library and true to her character is such a klutz that she can't help but find herself stuck on a ladder that's suddenly gone perfectly perpendicular to the ground, at least until she somehow falls forward and knocks over a shelf that probably weighs far more than her slight frame could affect. In any case the domino effect is kind of impressive as every shelf in the library then gets knocked over.
4. IT
https://www.youtube.com/watch?v=iFMJFFRyqKE
So you're reading up on the grisly history of a town that seems to live in a continual state of denial about its past and you happen to notice something odd drifting behind you. A flash of color, a hint of movement, and you're turning in your seat to stare a bright red balloon that slowly drifts across the floor, attracting no notice at all from the other patrons. Why oh why would you think that's the moment to go wandering off alone?
3. Se7en
This is the calmest scene in the bunch since Somerset is in the library to do some actual research so that his new partner and eventual replacement, Mills, doesn't have to do so much legwork to catch the newest confirmed killer on the block. Dante Aligheri plays a big role in this films since his 7 deadly sins are the basis of John Doe's killings, and are quite brutal in the original book and the film.
2. The Breakfast Club
Okay, so this one was kind of a gimme. The entire film takes place in one location for the most part, and aside from a few other spots the students rarely if ever leave this space. But given its size that opens up the film for a lot of hilarious and meaningful exchanges between the students, who can't get far enough away to forget one another but thankfully don't have to be in a regular-sized classroom.
1. Ghostbusters
Yep, this had to be added, no doubt about it. The opening location of this movie is classic in that it offers so much opportunity for satire and buildup. Of course the one odd thing is that no matter what anyone says you never see the Ghostbusters come back to this place once they start up their business. Maybe the ghost finally split?
Libraries aren't just for reading after all.